California Recall Poll Worker Removed for Wearing Pro-Donald Trump Gear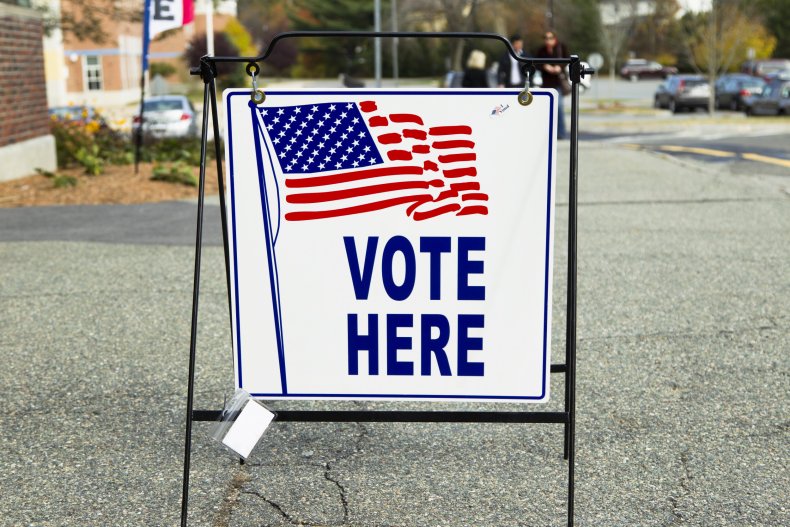 A California gubernatorial recall election poll worker has been removed after greeting voters in clothing professing support for former President Donald Trump.
Photographs appearing online on the day of the election showed an unidentified man working the polls during early voting on Monday while wearing a "Trump 2020" hat, a "Trump Train" face mask and a red Trump campaign t-shirt reading "Where's Hunter," a line that the former president often repeated at pre-election rallies in reference to President Joe Biden's son Hunter Biden. California election officials said that the worker had been "released" from working the polls.
"The election worker was contacted and advised that the attire was inappropriate and unacceptable," a Los Angeles County Register-Recorder/County Clerk spokesperson said in a statement obtained by Newsweek. "Based on his response and reports that other workers had previously counseled him on this, he was released and is no longer working at the vote center."
Wearing clothes that promote a particular candidate is illegal within 100 feet of a polling place under electioneering laws in California. During the 2020 presidential election, multiple voters in the state were reportedly forced to alter their pro-Trump clothing before entering polling places. Although Trump is not a candidate in the recall election, leading GOP candidate Larry Elder is an outspoken supporter of the former president.
Polls suggest that Elder is the top choice for a replacement candidate, while having nowhere near the support of the majority in a crowded field. Regardless, California Governor Gavin Newsom appeared poised to survive the recall effort heading into Election Day. An average of polls compiled by polling analysis site FiveThirtyEight showed that retaining the Democratic governor had a nearly 16 point lead over recalling him.
Republican enthusiasm for the possibility of replacing Newsom in the heavily-Democratic state remains high. The state's last recall election, in 2003, saw former Democratic Governor Gray Davis removed and replaced by Hollywood actor-turned-politician Arnold Schwarzenegger, a Republican.
However, no Republican has won a statewide election in California since Schwarzenegger was reelected in 2006, and the current recall has taken on a different tone than in 2003. Newsom and his supporters have painted the election as a referendum on Trump, a deeply unpopular figure in the state who lost to President Joe Biden by almost 30 percent in 2020.
Biden campaigned with Newsom in Long Beach on Monday night and urged voters to reject the recall while insisting that Elder, a conservative talk show host who would be the state's first Black governor, was a "clone" of Trump.
"The leading Republican running for governor is the closest thing to a Trump clone that I've ever seen in your state," Biden said. "I really mean it. And he's leading the other team. He's the clone of Donald Trump. Can you imagine him being governor of this state? You can't let that happen."