California Recall Risks Becoming Another Disputed Election as Larry Elder Talks Up 'Voter Fraud'
Republican candidate Larry Elder, who has the best chance of unseating Democratic Governor Gavin Newsom in California's gubernatorial recall election, is already preparing to dispute the results with escalating talks of "voter fraud" in the days leading up to election day.
Ahead of Tuesday's recall election, Elder's campaign has created an election fraud section on its website where supporters can join a petition to demand a special session of the California legislature to investigate the results. The website also contains a link for supporters to report any alleged election fraud.
"We trust in our officials to safeguard that ballot box... however, when those officials, either through laziness or incompetence, allow thieves to steal amidst the dead of night and cheat our ballot box, we can no longer rely on its contents," the petition reads.
The conservative radio host has also been talking up possible fraud on the campaign trail, drawing criticism from Newsom and comparisons to former President Donald Trump's ongoing effort to undermine elections with baseless claims of wrongdoing.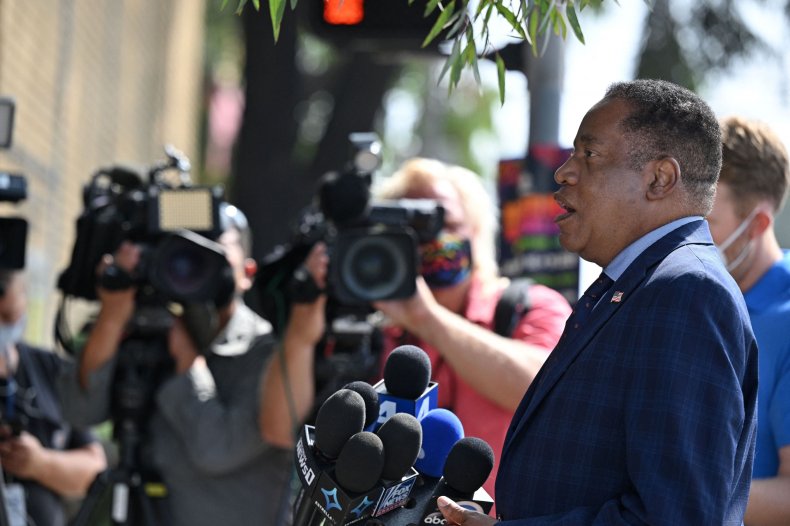 After he cast a ballot for himself on Wednesday, Elder echoed Trump as he told reporters "there might very well be shenanigans" comparable to what happened in the 2020 election.
Since President Joe Biden won in November, his predecessor has been continuously pushing baseless claims that widespread voter fraud caused his defeat and that Democrats "stole" the election from him. Those claims have been thoroughly litigated in court and discredited.
Last weekend on Fox News, Elder voiced his belief that the 2020 election was "full of shenanigans" and his fear that "they're going to try that in this election right here."
Newsom recently described Elder's talks of voter fraud as an "extension of the Big Lie and 'Stop the Steal.'" On Friday, the governor told reporters "we're four days out, the election hasn't even happened, and now they're all claiming election fraud. I think that's important to highlight that."
Elder has also threatened to file a lawsuit to dispute the election results, according to the Sacramento Bee. "We have a voter integrity board all set up—most of these are lawyers," the candidate said. "So, when people hear things, they contact us. We're going to file lawsuits in a timely fashion."
During a campaign event Thursday, officials for Newsom said they are prepared to fight any lawsuits from Elder following the September 14 election, where voters will be asked to choose whether they want to keep or remove the governor with a replacement candidate.
Newsom will remain in office if more than 50 percent of California voters choose to keep him and recent polling indicates that he's well positioned to beat the recall.
In a poll released Friday by the Los Angeles Times and the University of California Berkeley Institute of Government Studies, 60 percent of likely voters opposed recalling Newsom and 38.5 percent said they wanted him out of office. Another poll by Data for Progress showed that 57 percent of voters supported keeping Newsom and 43 percent wanted to remove him.
Newsweek reached out to Newsom for further comment.