California Recall Supporter Assaulted During Rally 2 Days Before Election: Police
A man attending a rally in support of recalling California Governor Gavin Newsom in San Rafael was assaulted Sunday, just two days before Californians take to the polls, police said.
The rally-goers were posting banners in support of the recall onto chain-link fences on the Coleman pedestrian overpass at about 3:20 p.m. local time when the suspect—a man in his late 20's or early 30's—began cutting down the banners with a knife, the San Rafael Police Department said in a press release.
The victim, who was not identified by police, confronted him, and the two men began to argue and push each other, police said.
"The altercation escalated when the suspect began to punch the victim several times and caused the victim to fall to the ground," the statement said.
He was taken to a local hospital, where he was treated for his injuries, police said.
The suspect allegedly fled the area, possibly in a vehicle. Although San Rafael police searched for him, they were not able to locate him on Sunday.
He has not been arrested, and there were no updates as of Monday afternoon, San Rafael Police Lieutenant Scott Eberle told Newsweek. Another rally was planned for Monday, he said. Police continue to investigate, and anyone with information is asked to report it at (415) 485-3000.
San Rafael is a city of just over 61,000 people in Marin County—north of San Fransisco. In the 2018 governor's race, Newsom won the county, a Democratic stronghold, with nearly 80 percent of the vote, while going on to win statewide with 62 percent.
The assault came two days before voters in California will decide whether or not to recall Newsom.
On Tuesday, voters will be asked two questions. The first asks if voters want to recall him, and the second asks if so—who should replace him?
Recent polls indicated that Newsom holds a comfortable lead in the recall—following months of having only a narrow, single-point lead in solidly-blue California—quelling fears among Democrats that their voters would not turn out due to complacency.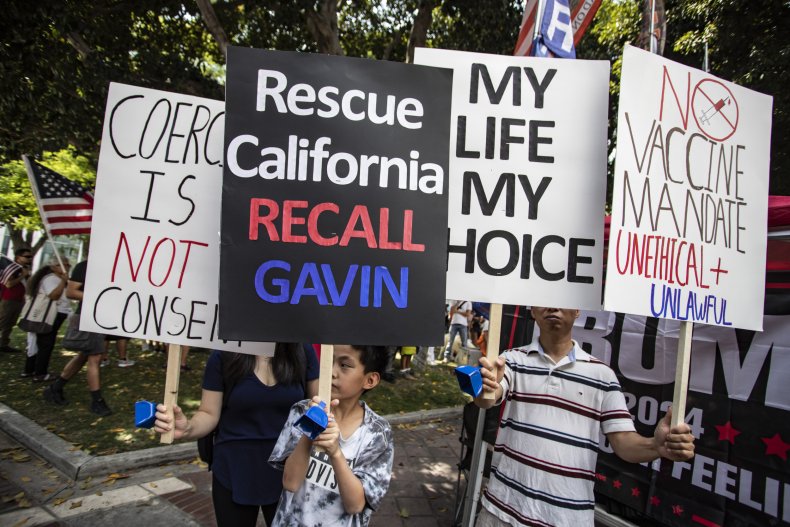 In the second question to replace Newsom, conservative radio show host Larry Elder has long been the favorite—in part because no Democrat with significant name recognition opted to run.
In the weeks ahead of the election, both sides have hit the campaign trail. Newsom has drawn the support of several big-name Democrats, including Vice President Kamala Harris. Elder, on Sunday, campaigned at a prominent church in Anaheim.