California, Engine of U.S. Economy, Reeling From Double Blow of COVID-19 and Wildfires
California Gov. Gavin Newsom proudly declared in February that his state was "not just thriving but, in many instances, leading the country, inventing the future, and inspiring the nation."
In his state of the state address, Newsom added: "We remain the fifth-largest economy in the world—enjoying 118 consecutive months of net job growth, some 3.4 million jobs created since the Great Recession and nearly 4 million small businesses call California their home."
Six months on, the picture is a starkly different one.
Days after that address, Newsom declared a state of emergency due to the coronavirus—and issued the first of many executive orders shutting down much of the economy in the nation's most populated state. He reopened businesses a few months later only to close them again when cases spiked.
Now, if California was a county, it would have the fifth highest number of coronavirus infections with more than 770,000 confirmed cases.
Researchers at the University of California this week revealed that the number of workers in the state receiving unemployment benefits is "startlingly high."
More than 3.5 million people, or 19 per cent of the state's labor force were paid benefits for unemployment in the week ending August 15, the California Policy Lab reported.
Much of the job losses came from the hospitality sector—after California abruptly shut down dine-in restaurants in March as the virus took hold in the U.S.
Experts predict that a third of California's estimated 90,000 restaurants will never reopen, the Associated Press reported. Those that did were forced to invest in gloves, masks and other protective supplies to meet the criteria for safe reopening amid the pandemic—and in the worst affected areas, limited to outdoor operations only.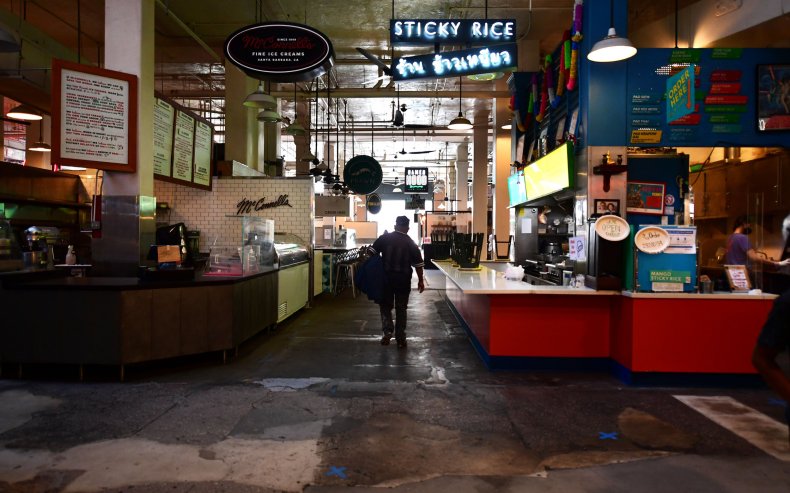 Now, adding to their woes, are record-setting wildfires that have already burned more than 3 million acres so far.
"I don't see how we recover"
Sarah Trubnick said The Barrel Room, the wine bar and restaurant in San Francisco's financial district she owns with her business partner Manuel Hewitt, was set to have a "very promising" year before the pandemic hit.
When lockdown measures were lifted, they cautiously reopened the restaurant for outdoor dining in July. A month later, they closed their doors again.
Trubnick told Newsweek the business was losing money staying open because the area was "a ghost town."
Some neighborhood restaurants in the city were just about managing to stay afloat by only serving customers outdoors, Trubnick said, but many were forced to close recently due to the smoke from the wildfires.
"A good friend of mine manages a restaurant that's right on the Bay," she said. "He told me they just had to close the doors because the smoke levels were such that it was painful to breathe. Even with an N95 mask, it's not possible to breathe."
While her business has enough cash to survive staying closed until January, she fears it may never reopen if more federal aid isn't available by then.
"I feel like we're just being left to shrivel up and die and it's really disheartening. We just keep getting hit by one thing after another," she said.
"I think that a lot more restaurants are going to close. With the fires as well, it's like nothing I've ever seen before. It's like something out of a really bad movie. I don't see how we recover."
James Wilcox, a professor of economics at UC Berkeley's Haas School of Business, said even though the wildfires are localized to less populated areas of the state, the smoke and air pollution will significantly impact the state's economy—particularly the tourism and hospitality industries already battered by the COVID-19 pandemic.
"In a year when we've already had untold disruption to our lives, personal, work lives and everything else, this is just an additional disruption to the California economy," he told Newsweek.
"Restaurants, travel, lodging, visits to the Napa wine country, visits to the California coast in Los Angeles... this is another hit to that whole industry, an industry that's already been hit pretty hard by the pandemic."
"There's definitely a lot of fear"
Samantha Welch, the operations manager for a group of restaurants in San Luis Obispo, a city in the Central Coast region, explained that it's been "exhausting" trying to do everything possible to ensure the safety of staff and customers while also running a business that is financially viable over the past few months.
"It wears on the staff," she said. "There's still a lot of a lot of stress around all of it... are people following social distancing protocols, having to help manage those guests that might not necessarily be as aware or as willing to follow the different protocols. It just adds a whole other level of stress to an already pretty stressful business… and then throw wildfires on top of it!"
She said the restaurants she operates, including Luna Red and Mint + Craft, were able to stay afloat when shelter-in thanks to the support of the local community. More recently, they saw an uptick of visitors coming from California cities where restaurants weren't permitted to open amid rising coronavirus infections.
But when the wildfires in the region took hold last month, all four restaurants were forced to close for two days.
"Our county is fortunate enough to not have fires you know, in our immediate vicinity, but the counties north and south of us do, so no matter which way the wind is blowing right now we have smoke infiltrating our air," she said.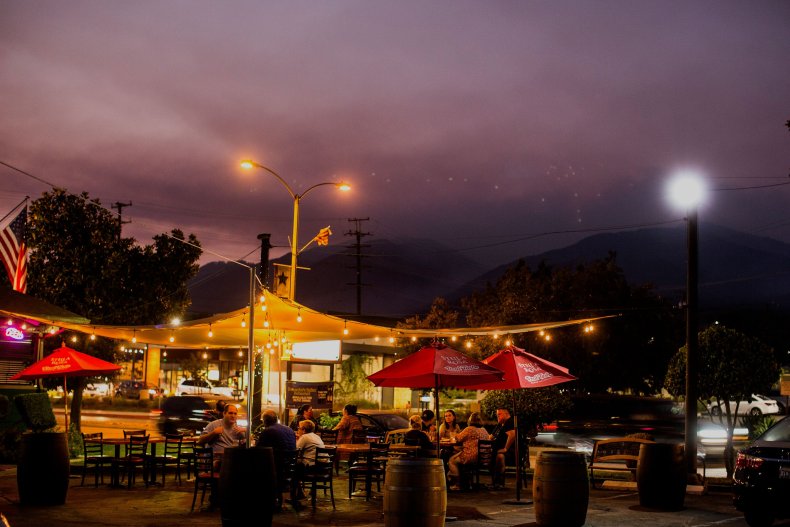 On days when the air is particularly bad, Welch said there has been a drop in business. But she adds there has also been a rise in people visiting from areas where the impact of the fires is far worse.
"When the smoke is really bad here, then we definitely see a significant drop in our business," she said. "While the air quality is unhealthy, we don't have active fires in our region [so] we're seeing customers coming from other areas where active fires are right in their backyard."
Nevertheless, Welch said many businesses in the region have been unable to weather both the pandemic and the fires.
"I've definitely seen a lot of businesses that have, between coronavirus and the air quality, permanently shuttered," she said. "There's definitely a lot of fear from business owners in the community about what the next six to 12 months are going to bring."
"Huge shrinkage"
According to the California Economic Development Department's Labor Day Briefing, the COVID-19 pandemic had a "profound impact" on the state's labor market.
Th state's unemployment rate surged from a record low to a record high between February and April—a period in which 2.6 million jobs were lost. The 16.4 per cent jobless rate in April was higher than it ever got during the Great Recession.
While 800,000 jobs were added after the reopening, the jobless rate in July, at 13.3 per cent, was still higher than the peak during the recession.
The EDD said every one of California's 11 major industry sectors lost jobs during the shutdown, but the leisure and hospitality sector, which includes hotels, restaurants and bars, was the hardest-hit. Nearly one million jobs, half of the sector's total jobs, were lost.
Wilcox says restaurants have now been dealt a double blow—unable to serve people indoors because of the virus and now, struggling with outdoor operations because of the wildfires.
"Clearly if you had a restaurant that because of COVID, you can't eat inside and because of the fires, you can't eat outside, that means you're out of business," Wilcox said. Even if more restaurants operate as takeout-only, there'll be a "huge shrinkage" in the industry, he adds.
He argues that the situation is perhaps not as dire for the biggest hospitality industries—in Los Angeles and San Francisco—as there is little threat from actual fires and they are located along the coast where breezes "tend to blow in nice clean air." While winds can have varying effects on fires, Wilcox believes those areas will remain attractive to visitors.
But he adds: "At this point, because of the pandemic, even clean air isn't going to bring people because people don't want to stay in hotels, sit outside in restaurants and get on airplanes."