California, the first state to shut down due to COVID-19, lifted most of its pandemic restrictions Tuesday including capacity limits, physical distancing and mask requirements for those fully vaccinated.
Gov. Gavin Newsom tweeted a good morning to Californians, outlining what residents had to look forward to with the reopening.
"No more social distancing. No more capacity limits. No more colors or county tiers. And if you're vaccinated—no more masks. It's a good day," Newsom wrote.
In a news release on Friday, Newsom outlined the restrictions that would be lifted on Tuesday, as nearly 40 million doses of the COVID-19 vaccine have been administered in California.
"California is turning the page on this pandemic, thanks to swift action by the state and the work of Californians who followed public health guidelines and got vaccinated to protect themselves and their communities," Newsom said.
"With nearly 40 million vaccines administered and among the lowest case rates in the nation, we are lifting the orders that impact Californians on a day-to-day basis while remaining vigilant to protect public health and safety as the pandemic persists."
A tweet from the Office of the Governor of California included a graphic giving a simple rundown of what Californians should expect on Tuesday.
Masks will still be required in schools, hospitals, jails and on public transportation, in line with the Centers for Disease Control and Prevention's guidelines. Social distancing guidelines have been completely lifted.
Newsom drew 10 winners for the "Vax For The Win" campaign, who would each be awarded $1.5 million, for a total of $15 million during a livestream at Universal Studios. Previously, 30 winners were selected for $50,000 each.
Newsom said the names would not be released during the stream for privacy concerns, but the counties where the winners reside were announced.
One winner was selected from Marin, Riverside, Santa Barbara, Sacramento, Stanislaus, and Ventura counties, and four winners were selected from Los Angeles county.
This story is no longer being updated.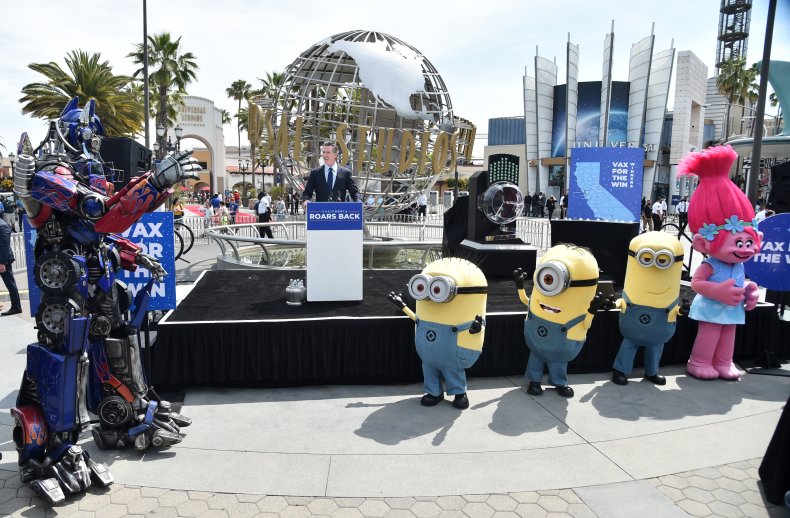 Even as the majority of restrictions are lifted in California, some confusion remains as to who is required to wear a mask.
Justin Andrews of local CBS affiliate KPIX posted a video to Twitter where he helps to outline when and where masks are still required.
For unvaccinated and partially vaccinated individuals, they are still required indoors at most establishments. Vaccinated individuals still need to wear masks in the following locations: Airports, ships, ferries, trains, subways, taxis, K-12 schools, childcare centers, long-term care facilities, homeless shelters and cooling centers.
For indoor events of over 5,000 people, attendees must have proof of vaccination or a recent negative COVID-19 test. Outdoor events with an attendance of over 10,000 have the same verification requirements. People who have not been fully vaccinated must still wear a mask.
While many have rejoiced over the reopening of California, many who cannot get vaccinated due to health reasons fear the return to "normalcy" as they're unable to participate.
Rebecca Fielding-Miller, an epidemiologist at UC San Diego, spoke with California Public Broadcasting Service KPBS about the lack of attention paid to people with disabilities during the pandemic.
"We have not done a great job thinking about people with disabilities, we've only thought about the able-bodied throughout this pandemic, and that isn't changing now," Fielding-Miller said.
Vaccines are generally not recommended for people taking immunosuppressive drugs, as they are less effective compared to those whose immune systems are working normally.
Bianca Santos had a kidney transplant four years ago and continues to take immunosuppressive drugs. Though she received both doses of the Moderna vaccine, she told KPBS she doesn't feel as confident going out with her friends.
"While everyone else is thrilled about opening up, I still stay home and plan to stay home," she said. "It's very unclear to me when I'm free to be honest. Occasionally I feel sad and there are many moments when I do envy people with normal immunity after seeing their posts on social media."
Though workplaces may still require masks for people who are unvaccinated, those who cannot get vaccinated due to medical reasons including allergies to the vaccine or immunosuppressive treatments for HIV, organ transplants or chemotherapy among others, feel there may be social backlash or unsafe around coworkers not wearing masks.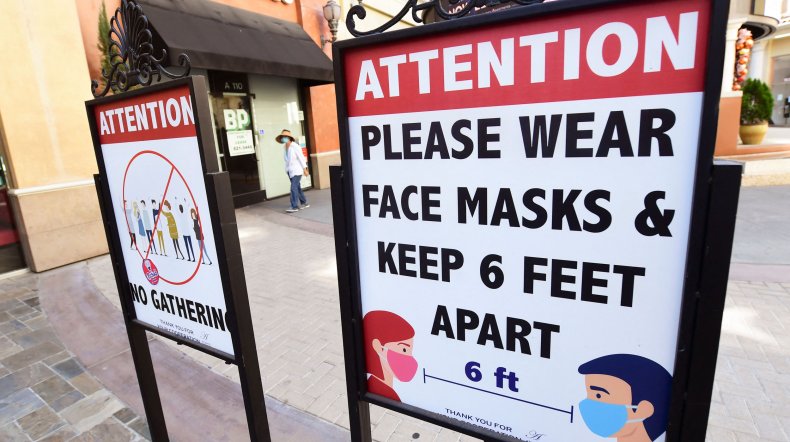 As California reopens, Gov. Gavin Newsom continues to urge people to get vaccinated. The first person in California to receive the vaccine spoke during the livestream where Newsom named winners of the "Vax For The Win" campaign.
Journalist Craig Fiegener posted a video on Twitter where Newsom asks nurse Helen Cordova her advice for people who have not received the vaccine.
"I know early on there's just that hesitancy, it's new, it's unknown, just how when we first started this pandemic we just didn't know about this virus," Cordova said. "We've seen just so many people roll up their sleeves and get that vaccine and be okay. And so I think that's an encouraging point for those on the fence."
Ten winners were announced during a livestream taking place at Universal Studios as part of California's "Vax For The Win" campaign, and 30 winners of $50,000 each had been previously announced.
Gov. Gavin Newsom spoke about the lifted restrictions and the strides California took over the past 15 months during the course of the pandemic. Newsom was also joined by several Universal mascots, including Shrek and Optimus Prime.
Los Angeles Daily News reporter Elizabeth Chou posted a video on Twitter taken during the livestream.
The counties where the winners live were announced during the livestream. Names were not disclosed for privacy reasons.
Before and after the lottery, Newsom stressed the importance of those without vaccines to wear masks and social distance.
"We are still encouraging unvaccinated individuals to be mindful of others," Newsom said. "The bottom line is at the end of the day, we've got to trust people to do the right thing."
California was the first state to shut down when the COVID-19 pandemic started, but Newsom also offered a message of hope.
"Today's about hugging again. Today's the day to celebrate the incredible journey we've been on for the past 15 months," Newsom said. "Give people hugs and remind them we're not out of the woods, and remind them we're all in this together."
Newsom's sentiments were echoed by one of the Universal mascots at the end of the livestream.
"Until we meet again, protect the planet, protect each other," Optimus Prime said.
California has administered 40.7 million doses of the COVID-19 vaccine, and 18.5 million people are fully vaccinated, according to Our World in Data.
California's tourism revenue suffered heavily in 2020 due to the pandemic, and is hoping the reopening will help it bounce back.
In 2019, California saw $144.9 billion in travel spending, according to a report by travel and tourism research group Dean Runyan Associates.
The following year, during the height of the COVID-19 pandemic, spending dropped by 55 percent to $65.10 billion.
"Tourism spending in California dropped to $65.10 billion in 2020, only 45 percent of the 2019 amount. The last time tourism spending in California was below $60 billion was 1996," the report read.
The report stated travel-related spending from American visitors is expected to recover to 76 percent of 2019 levels this year. International spending will only recover to 32 percent, as a majority of international visitors to California are from China and Mexico.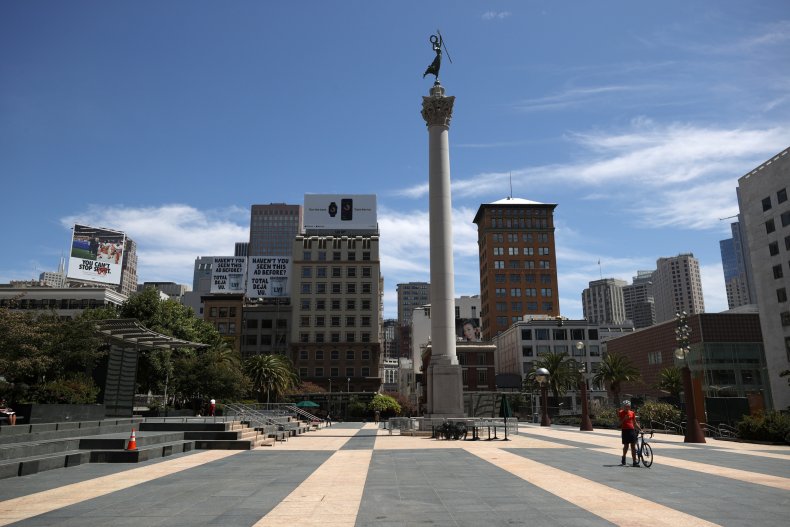 News of the reopening has been met with mixed reactions on social media, with some declaring excitement or plans now that restrictions and social distancing guidelines have been lifted. Others were not quite so optimistic, expressing their decisions to remain at home and continue wearing masks.
"Just putting this out there as we head into California 'reopening' tomorrow. There will be people who still want to wear their masks out in public. Let them be," Jenna Liston of FOX news tweeted on Monday. "Stay safe and be nice to people."
Actor Billy Eichner tweeted his plans to keep to himself after over a year of mandatory self-isolation and social distancing, which received over 1,700 retweets and 24,000 likes.
"California is officially reopening tomorrow but please note that I remain emotionally unavailable. Thank you," Eichner tweeted.
For some, the reopening doesn't affect their regular schedules, for essential workers who continued working through the pandemic or those accustomed to holding virtual meetings.
Mark Potts, an editor for YouTube Nation said "It's reopening day in California! Or, as essential workers call it, 'Tuesday.'"
Aaron Levie, CEO of the cloud content management company Box, wrote on Twitter: "California officially reopening today. Which means it's time to do video calls for the entire day."