California Reservoir Overspills for First Time in Over a Decade After Rain
A California reservoir is overspilling for the first time in decades following heavy rainfall.
Lake Cachuma, a reservoir in the Santa Ynez Valley in Santa Barbara County, was 99.7 percent full on February 8. The lake was less than a third full two months ago.
The reservoir has been overflowing the Bradbury Dam, which provides the majority of the county's water supply. It is the first time the dam has spilled over in a decade.
Footage posted by the County of Santa Barbara Public Works Department shows the water spilling over the dam at 4,100 cubic feet per second. The U.S. Bureau of Reclamation scheduled this dam release to allow for anticipated water flows in the coming days, the department said in a statement.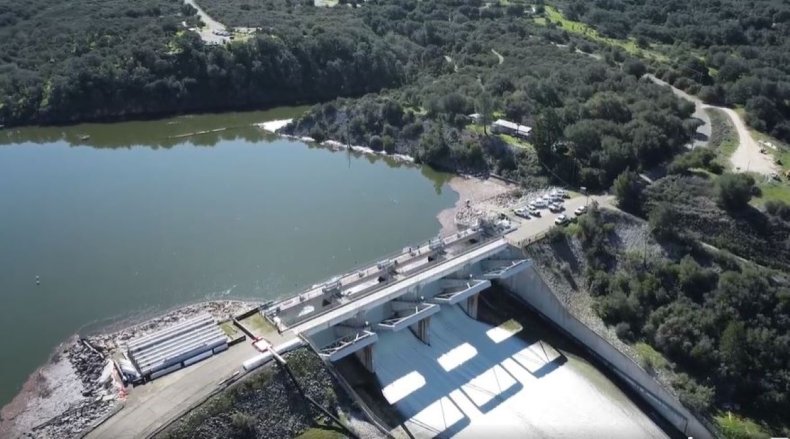 Mary Lee Knecht, a public information officer for the U.S. Bureau of Reclamation, told Santa Barbara Independent that the National Weather Service is forecasting more rain, meaning there needs to be more room in the reservoir.
Lake Cachuma is vital to south coast communities, an area historically low on water.
Many of California's reservoirs—including Lake Cachuma—have been in a dire state due to the ongoing drought in the western U.S. But the state has recently been battered by heavy storms in January, that caused widespread flooding.
Lake Cachuma has a maximum capacity of 753 feet above sea level. On January 9, a day when rain slammed the county, levels rose to 700.02 feet.
The reservoir's high water levels should ensure the surrounding county has enough water supply for the coming years.
The drought has gripped western states since 2000. The heavy rains in California, while destructive, provided some welcome replenishment for the state's reservoirs.
The rain was so heavy in some parts of the state that the drought status changed— 97.93 percent of California is still experiencing drought, but the remaining 2.07 percent is classified as "abnormally dry."
Lake Cachuma is not the only California reservoir to be filled by the storms.
The state's largest reservoir, Shasta Lake in Shasta County, has seen a huge increase in water levels as a result of the recent heavy rains. On December 26, when the rains began, the lake was at 921.08 feet. Levels rose throughout January and as of February 9, it was at 990.63 feet.
Despite the heavy rain, it would take a lot more to fully lift California out of its drought. It could take years of wet weather to do this.
Do you have a tip on a science story that Newsweek should be covering? Do you have a question about California reservoirs? Let us know via science@newsweek.com.