How California is Resisting Trump's Immigration Policies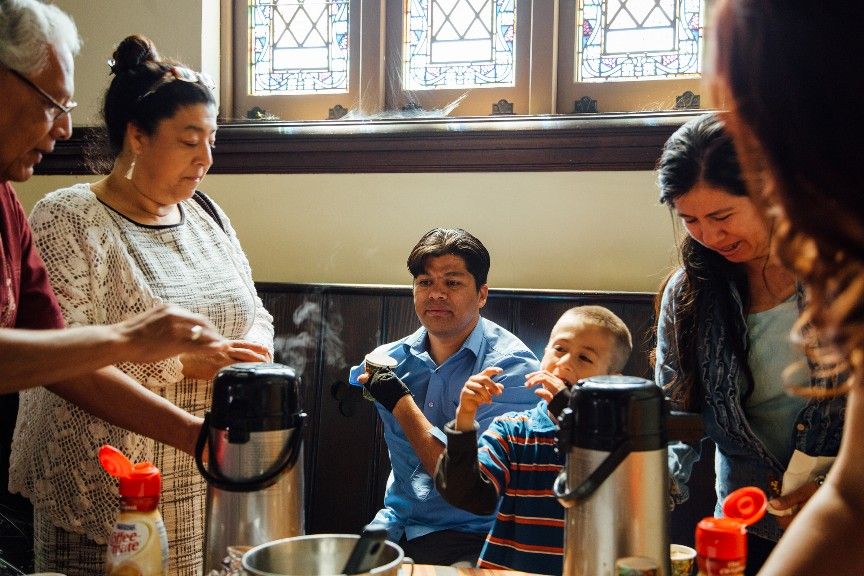 Capital & Main is an award-winning publication that reports from California on economic, political and social issues.
On a recent Saturday, "the resistance" gathered in the parish hall of Christ the Good Shepherd Episcopal Church in Leimert Park, California. "This work we're doing right here is what we call 'sacred resistance,'" said the Reverend Francisco Garcia, the visiting rector of Inglewood's Holy Faith Episcopal, addressing about 40 representatives from various Episcopal churches around Southern California. As Garcia helped direct questions to two invited attorneys, the room buzzed with ideas for protecting undocumented immigrants from deportation by agents of the U.S. Department of Homeland Security Immigration and Customs Enforcement, or ICE.
Scenes like these are happening in churches, union halls, community centers, grade schools and colleges across the country, but in California the nationwide wave of resistance to President Donald Trump's anti-immigrant executive orders has become a tsunami.
"Many of you will want to engage ICE agents, but don't do it!" said longtime L.A. civil rights attorney Mark Kleiman. "Keep the door closed and don't talk to them." Under what's called the "Plain View" doctrine, an open door can give a police officer probable cause to investigate, based on immediate observations. Five or six more hands flew up.
RELATED: Unsafe sanctuaries? Undocumented immigrants swept up in ICE stings
"What if ICE walks through the doors of the church—they're already in the building and they want to show me a warrant? Am I toast?" asked a newly ordained reverend, looking sharp in a new suit.
"Not if you designate private space," replied attorney Cynthia Anderson-Barker. "You have to post signs in the church that clearly indicate 'Private.' That differentiates your rectory or private areas from the public areas of the church."
Providing a Sanctuary
In California, citizens have declared they will defy the federal government to protect the estimated 2.6 million undocumented immigrants woven into the state's civic, economic and spiritual life. The state legislature is currently arguing Senate Bill 54, the California Values Act, which would declare California a "sanctuary state" and prohibit committing local police resources to federal ICE investigations. San Francisco, Los Angeles, Oakland and other cities have already passed similar resolutions, as has every county other than San Diego, though these city and county motions have vastly differing degrees of implementation on the ground.
In a written reply to questions from Capital & Main, ICE Western Region communications director Virginia Kice wrote, "U.S. Immigration and Customs Enforcement (ICE) believes local law enforcement's cooperation with the agency is crucial in promoting public safety. It's unfortunate that current state laws here in California to a great extent tie the hands of local law enforcement agencies that want to work with us."
Local communities, however, have to live with the results of deportation: local businesses, schools and churches disrupted and children, who are often American citizens, left behind. The Rev. Garcia, who is part of a task force implementing a Sanctuary Resolution passed by his diocese in December, broke down the various responses to the idea of "sanctuary.
"Not every congregation is going to embrace physical sanctuary," he said. "But there's so many ways to show our love and solidarity." Those tactics include:
Lobbying and demonstrating in favor of bills like SB 54 or passing "safe haven" resolutions in local school districts.
Accompaniment programs that help immigrants, who often don't speak English, navigate immigration and deportation proceedings.
Legal work such as Know Your Rights meetings (like the one in Leimert Park), webinars and connecting immigrants directly to pro bono representation.
Basic support such as food, clothing, housing or school transportation for families of deportees; or helping families create plans in case a parent with children who are legal residents is deported on short notice.
Sanctuary funds.
Physical sanctuary for those who are resisting detention or deportation.
Setting up hotlines and rapid-response teams to react to arrests and detentions.
"The administrators in schools know, and there's been training of teachers, that ICE immigration agents are not welcome on campus and can't ask to see students or their records unless they have a court order," said California State Superintendent of Public Instruction Tom Torlakson in a separate interview. Over 60 school districts have now passed "safe haven" resolutions declaring their campuses off-limits to ICE agents after Torlakson sent a December letter pressing all 1,100 state school districts to do so.
This policy has taken on special urgency after 48-year-old father of four Romulo Avelica-Gonzalez was arrested under a deportation order February 28 by ICE agents who staked out the drop-off lane of his daughter's school in the Los Angeles neighborhood of Highland Park.
"I have been organizing around immigration issues and housing for the last 17 years and never have I seen it like this," said Lorena Melgarejo, coordinator for human life and dignity at the Catholic Archdiocese of San Francisco. She said at least 2,500 American citizens have shown up for what she calls "community defense" training since the inauguration. "We've been working around the clock to try to capture all this energy!"
Like the U.S. sanctuary movement that sheltered Central Americans from right-wing death squads in the 1980s, this work has found its spiritual heart in places of worship, but it has quickly grown beyond religions and beyond protecting only Latin-Americans. Labor organizations like the National Day Laborer Organizing Network have joined immigrant groups such as the Council on American-Islamic Relations and the Black Alliance for Just Immigration in performing Know Your Rights outreach and advocacy efforts; the National Lawyers Guild has started a project that sent Anderson-Barker and Kleiman to the Leimert Park meeting and others; Los Angeles created a $10 million fund for legal aid to immigrants; people are organizing to support Muslim immigrants arriving at airports.
"In my congregation, we have a diverse community including Africans and Afro-Cubans, as well as people from Central America and Mexico," said Rev. Garcia. "So we also stand in solidarity with Black Lives Matter because that's what it means to do the work of sanctuary in my congregation."
Joanne Leslie, an archdeacon with the Episcopal Diocese of Los Angeles, took the mic at Good Shepherd to describe her Acompañero program and her work with a girl named Patricia, whose parents sent her to the U.S. alone as 12-year-old to escape gang violence in El Salvador. Patricia was finally granted asylum in the U.S. and, Leslie said, "I see Patricia's face in every one of these other people. I owe it to her … to put my shoulder to the wheel and do this work."
Developing Leaders
The Reverend Zach Hoover took some heat when he revealed in a February 26 CNN website piece that his interfaith community organization, L.A. Voice, was preparing safe houses around Southern California to hide immigrants from deportation. "Yeah, I've had a few trolls here and there, and accusations of things, but thank God nothing too serious," Hoover said.
No one from ICE has contacted him, he said, and the work continues. ICE spokesperson Kice declined to comment on the legality of the safe houses. The LA Voice network now has homes and rooms to hide about 150 people, though Hoover would not say whether this was currently being done. This, Hoover and others say, is a move "beyond sanctuary," expanding the accepted notions of sanctuary normally associated with places of worship. As an example, he referred to the story of undocumented immigrant and activist Jeanette Vizguerra, a mother of four in Denver who resisted a deportation order by taking sanctuary in First Unitarian Church on February 15, 2017. In Vizguerra's case, ICE knows exactly where she is. Under an informal memorandum issued by ICE, agents have agreed not to make arrests in "sensitive locations" such as churches and schools. But Hoover and other members of LA Voice, which includes Rev. Garcia, are preparing to move undocumented persons into private homes, as searching those homes would require a detailed warrant under the Fourth Amendment.
"We're interested in building longer-term organizing power and infrastructure," said Hoover. "If we don't develop leaders out of this, then shame on all of us, you know? We've got to actually nurture their development. Walk with people."
One of these rising leaders may be Jose Luis Hernandez Cruz, who was invited to speak to the gathering at Good Shepherd. An immigrant from Honduras, Cruz urged the attendees to look past building walls and deportations to understand why people leave their home countries in the first place. A handsome, athletic 20-something, and a powerful speaker, Cruz has a prosthetic leg, is missing his right arm and has only one working finger on his left hand—the result of falling off a train in Mexico on his way to the U.S.
"In Honduras there is rampant unemployment, poverty and corruption and violence, and the jobs that are available don't provide a living wage or sustenance, so why aren't all governments taking a look at this situation, to really address these conditions?" Cruz said.
Work Motivated by Fear
Spurred by the urgent humanity in these migration stories, community infrastructure is taking shape in the form of rapid response teams. Like a neighborhood watch, they keep an eye on ICE and are increasingly focused on hotlines, which have been set up in many counties, including San Francisco, San Mateo, Alameda, Santa Clara and Los Angeles. They are often created by local member organizations of the PICO National Network, a faith-based community organizing group that has set up hotlines and rapid response teams in 17 states and 39 major cities in the last two months. If someone reports ICE activity to the hotline, the teams are dispatched to act as legal and moral observers, and then legal and material resources are activated.
"Our volunteers can get to places within three to four minutes, because we have around 700 rapid response volunteers around [San Francisco] and in San Mateo, also. And these are American citizens, they're not immigrants," said Lorena Melgarejo. "I've never seen so many regular American folks being really motivated or called to step into this moment and respond!"
Melgarejo admits that all this action is motivated by fear: In the first few months of the Trump administration, ICE enforcement actions have increased from what was seen under President Obama, although not in California. The biggest increase has been in Texas and Georgia, including a large increase in arrests of immigrants with no criminal records.
ICE's Kice forwarded a link to a fact sheet on the Department of Homeland Security (DHS) website detailing which immigrants are priorities for enforcement actions, but then added, "That said, while criminal aliens and those who pose a threat to public safety will continue to be a focus, DHS will not exempt classes or categories of removable aliens from potential enforcement."
This leaves the streets charged with a fierce new energy. And that has Melgarejo, like Hoover and others, thinking beyond sanctuary. The next phase of this work, she says, is to get to a place where it won't take an existential threat to gin up this kind of action.
"The question is: How do we become the sanctuary?" said Melgarejo. "Not just sanctuary legislation or sanctuary churches, but how does the community create sanctuary by the way that it acts toward each other?"
For instance, she noted, it's not okay for ICE to show up at someone's door at 6 a.m. and deport them. How do the neighbors themselves make sure that doesn't happen?
"Legislation is a piece of paper unless we enact it," she added. "And a church is just walls. So we're encouraging people to step into it and to live it."
Dean Kuipers is an L.A.-based writer on ecology and renewable energy, and the author of Burning Rainbow Farm.