California Restaurant, Fed Up With Restrictions, Encourages 'Unvaccinated' Customers Only
A restaurant in California that has been defiant against COVID-19 restrictions for months is now displaying signs encouraging its customers to show "proof of unvaccination."
Basilico's Pasta e Vino in Huntington Beach has frequently rebuffed coronavirus lockdowns and mandates, often going against the state's suggestions to provide safety measures to slow the spread of the virus.
In December, it refused to shut down during a lockdown order initiated by Governor Gavin Newsom. Then, when officials issued several orders for establishments to mandate face coverings, the Orange County restaurant declared itself a mask-free zone and required that diners remove them before entering.
Now, Basilico's Pasta e Vino is displaying multiple signs on its door encouraging its customers to be "unvaccinated."
"More American counties, cities, and businesses doubling down on anti-American lockdown mandates? Well 'Basilico's Pasta e Vino' just tripled down: From day one, never complied, banned masks, and now ... requiring proof of being Un-vaccinated!," the restaurant wrote in a social media post on Friday.
The signs on display read "Notice: proof of being UNvaccinated required," with a message underneath stating, "We have zero tolerance for treasonous, anti-American stupidity. Thank you for pondering."
Though the signs suggests that proof is required to enter the building, an employee of the restaurant told the Los Angeles Times that they are not actually checking patrons for information regarding their vaccine status.
Nonetheless, restaurant owner Tony Roman said the message represents another "missile of defiance."
"With warning signs of another impending lockdown, and many business owners again emboldening those who I refer to as 'the lockdown tiny tyrants'—this time by imposing proof-of-vaccination policies—we chose to fire another missile of defiance to further make our point in defense of American liberty and freedom," Roman said, according to The Times.
The restaurant has been hit with more than $152,000 in fines from the state Division of Occupational Health and Safety (Cal/OSHA) for violating COVID-19 safety precautions, according to The Times.
But in a video posted to the restaurant's Instagram in July, Roman said that he does not intend to pay the fines to the "American traitors at OSHA."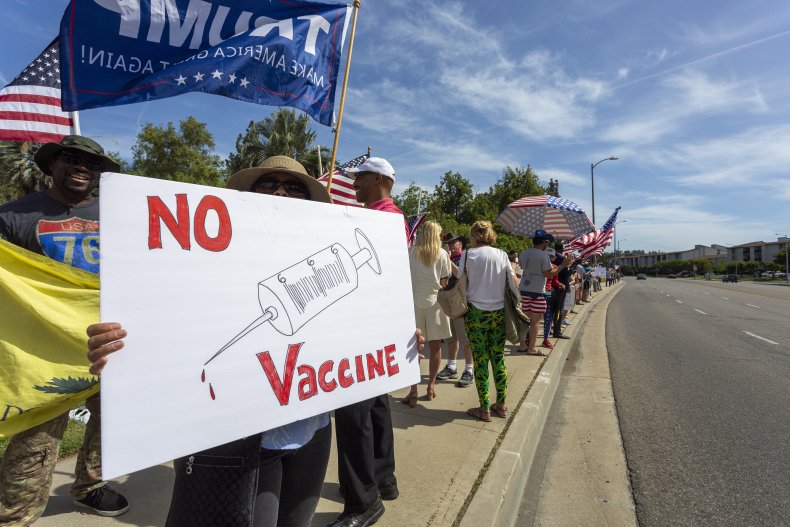 Basilico's latest action comes amid a startling rise in COVID-19 cases across the state. In the past week, California has reported an average of nearly 5,000 new coronavirus cases a day, more than four times the number from a month ago, according to data compiled by The Times.
As the virus continues to spread, largely due to the highly contagious Delta variant, one-third of California counties have begun encouraging even fully vaccinated people to wear face coverings indoors.
In San Mateo, where nearly 90 percent of the population has been fully vaccinated, officials reinstated a mask mandate on Monday "out of an abundance of caution."
The California Department of Public Health (CDPH) issued a mask mandate for all public school students in early July that opposes July 9 guidance from the U.S. Centers for Disease Control and Prevention (CDC) stating that vaccinated students could remain unmasked during in-person classes.
On Monday, Newsom said that 75 percent of California's eligible population has received at least one dose of the coronavirus vaccine, while 77 percent of the adult population have done the same.
"Get vaccinated. Protect yourself. Protect your loved ones," Newsom tweeted.