California Restaurant Has Allegedly Been Refusing Mask-Wearing Customers
A Northern California restaurant's would-be customers are denouncing the establishment for its alleged failure to abide by coronavirus health protocols and its refusal to serve mask-wearing patrons.
Apple Bistro is located in Placerville, roughly 50 miles east of Sacramento. Its Yelp page was filled with one-star reviews on Monday afternoon, with numerous anecdotes chronicling reported health violations and anti-mask practices.
"I literally could not even get food," one Yelp user, identified as Mad C., wrote on Monday. The user went on to say Apple Bistro refused service because the reviewer arrived wearing a face covering.
"There is a sign basically saying don't social distance, don't wear a mask and don't wear gloves," the review continued. "I am stunned a business would actively try to make the community worse, I will never return."
Another disapproving Yelp review, posted Sunday, included a photo of a sign displayed outside Apple Bistro. The sign appears to reference social distancing, face masks and protective gloves, but instead describes the virus mitigation measures as "social conditioning," "oxygen deprivation masks" and "latex dirty germ spreaders." It notes that none of the three is required for entry.
"This sign was horrifying," wrote the Yelp user, Michael S. "None of their staff wear masks or gloves. They actively discourage patrons from wearing masks or social distancing, treating COVID-19 as a conspiracy hoax."
CBS Sacramento reporter Anna Giles shared an additional photo of the sign on Twitter this past Friday. "A Placerville restaurant called Apple Bistro is openly violating public health rules by not enforcing mask wearing or social distancing at their restaurant," Giles tweeted alongside the photo. She said El Dorado County health officials plan to serve Apple Bistro with a warning after receiving "close to 20 complaints" about the restaurant.
Newsweek reached out to Apple Bistro and El Dorado County Public Health Services for comments but did not receive a reply in time for publication.
California residents are required to wear face coverings in most indoor and outdoor public settings, according to the terms of a statewide order imposed in June. The order, backed by California Governor Gavin Newsom and the California Department of Public Health (CDPH), has a short list of exceptions. They include concessions for individuals younger than 2, anyone eating or drinking and those able to maintain 6 feet of distance from others while outdoors.
A link to the CDPH's mask guidelines appears on El Dorado County's website, under a section of its COVID-19 resource page that references "mandatory face coverings."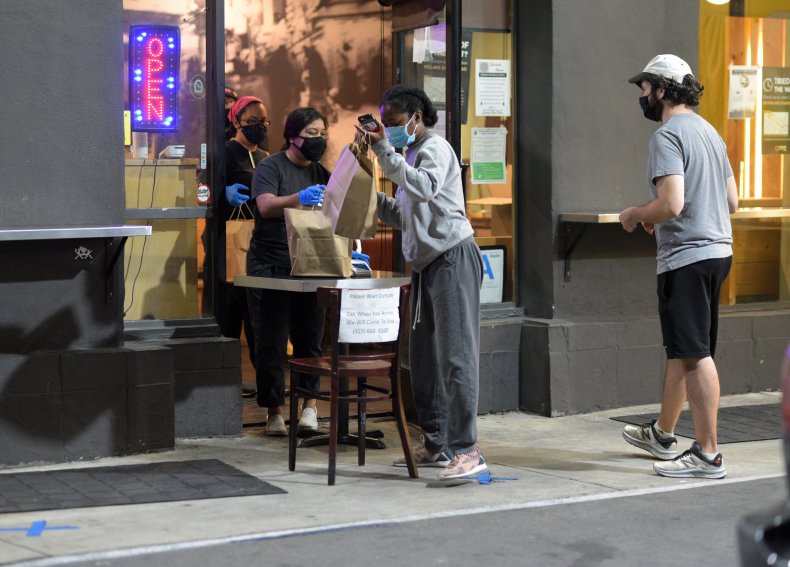 California's statewide mask order aims to curb further spread of the virus as the state faces an ongoing spike in new cases, hospitalizations and fatalities. The mandate faced some pushback from local authorities. Shortly after it went into effect, Sacramento Sheriff Scott Jones' office released a statement saying officers would not enforce its terms.
However, the office still recommended "exercising safe practices, including wearing masks pursuant to the Governor's recommendation, especially around those in high-risk groups," the statement said.