Former Police Chief Among Eight Arrested During California Stay-at-Home Order Protest
A retired police chief who organized a demonstration against California's stay-at-home orders mitigating against the coronavirus, was among those arrested in the latest protests calling for the state to reopen.
There were around 200 people at the action which started on the pier area of San Clemente on Thursday morning. Four were arrested on suspicion of trespassing and three were detained for failing to disperse, according to Orange County police.
The organiser of the protest was Alan Shane Hostetter of San Clemente who once headed the La Habra Police Department for eight months before he took disability retirement in 2010, the Orange County Register reported.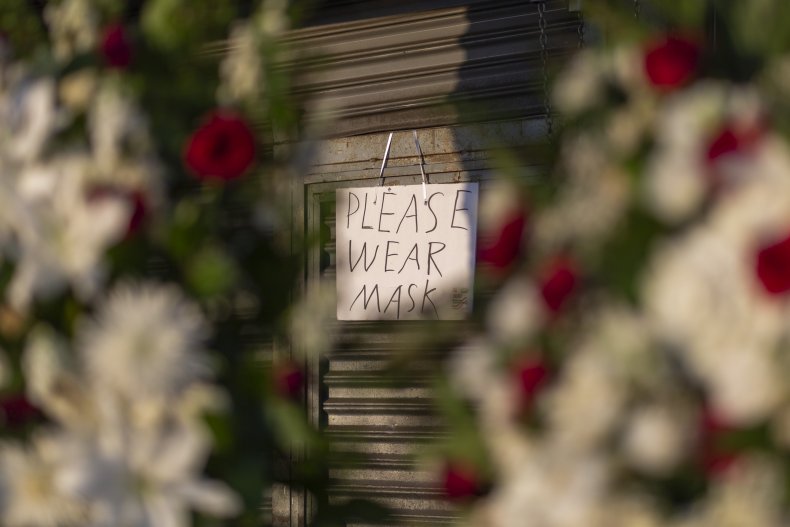 Hostetter, 55, was detained for inciting a riot, destroying city property, trespassing and resisting arrest. Deputies arrested him after he refused orders to stop dismantling fencing. He had organized three prior rallies, the publication added.
Police said in a written statement that most of the protesters had "peacefully" exercised First Amendment rights, but "despite numerous warnings prior to the event, some individuals chose to commit unlawful activity."
"We always have and always will protect First Amendment rights," Orange County Sheriff Don Barnes said.
"That does not entitle individuals to commit other violations of law. We appreciate the support we have received from the community as we defend the rights afforded to us by the Constitution and uphold the law." Newsweek has contacted Orange County police for an update.
There have been a number of protests against the lockdown in California which is currently in phase two of a four-phase reopening plan ordered by Governor Gavin Newsom.
On May Day, protesters from a group called We Have Rights ignored closure orders on Huntington Beach where they gathered to demand permission to return to work, CBS Los Angeles reported.
Gradual reopenings are taking place but they come with a number of conditions and vary by city across the state, with restrictions expected to stay in place throughout the summer, The Los Angeles Times reported.
Retailers and restaurants have been allowed to reopen for curbside pickup, pet grooming businesses and car washes in Los Angeles can also open, as can golf courses, trails and beaches.
Meanwhile after being shut down for two months, Hollywood may start to reopen soon after Newsom said that guidelines would be issued that the state's 58 counties would have to meet to allow a resumption of filming.
He suggested that the industry could reopen as early as next week although Los Angeles is expected to be several weeks behind any such easing of restrictions, The LA Times reported.
The infographic below, provided by Statista, shows the countries with the most confirmed COVID-19 cases across the U.S. as of May 22.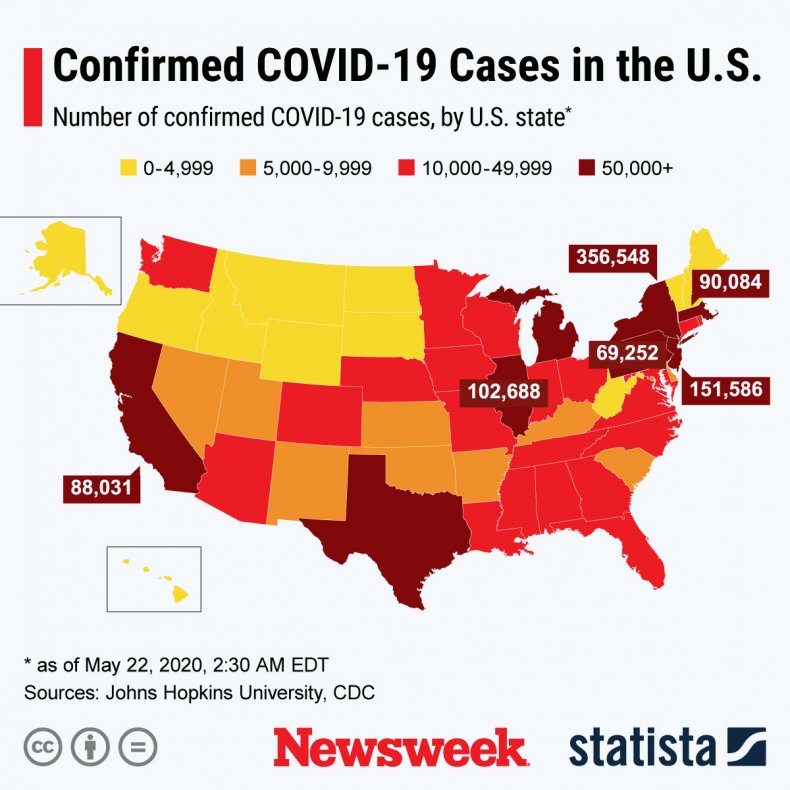 Former Police Chief Among Eight Arrested During California Stay-at-Home Order Protest | U.S.