Stingrays in California Are Lurking in Shallow Waters and Stinging Beachgoers
California lifeguards are warning about a surge of stingrays lurking in shallow waters, saying more than 30 people had to be treated for stings on San Diego beaches yesterday.
Like humans, a rise in temperature lures rays closer to the beach—and experts warn this is leading to a spike in injuries, as anyone wading into their habitat is putting themselves at risk of a painful surprise. Luckily, authorities say there are a number of ways to stay protected against a stingray barb.
"When getting in the water make sure you shuffle your feet, that disturbs their habitat," Charles Knight, a San Diego lifeguard, explained to Fox 5. "They feel the vibrations, they don't like it and they simply leave the area. If you have any questions about stingrays or are concerned about the area contact the lifeguard and we will show you where to go and give you the best information you need to stay safe."
On Twitter yesterday, San Diego Lifeguards urged beachgoers to stay vigilant when entering the water. It wrote: "There are many stingrays in shallow water today at all beaches. Getting stung is no fun! Shuffle your feet in the sand to avoid the painful injury. Already today we have treated a couple dozen people."
The safety technique is often dubbed the "stingray shuffle."
KGTV (10news), a San Diego media outlet, named one sting victim as 11-year-old Tobias Appel, who was barbed by a ray after jumping into water at a beach in Coronado. "Today is not my lucky day," he said.
NBC San Diego reported more than 20 people were injured by stingrays at La Jolla Shores.
One victim, Kevin Burgess, said he was stung while surfing. He said he felt a sharp pain on his foot and was left with a single puncture. "I broke my femur a few years ago and if I consider that a 10 this would be an 8. It was one of the most painful things that has happened, that was centralized on one spot," he noted.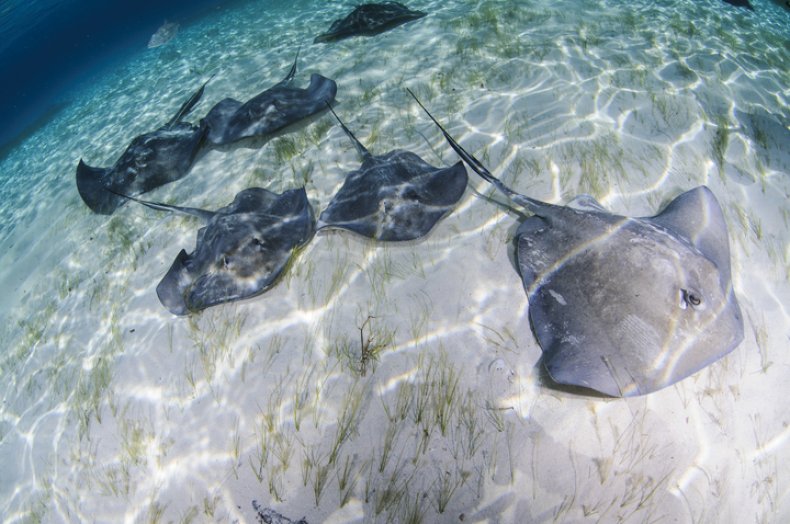 According to the California Department of Fish and Wildlife, the rays are known to lurk in shallow sandy environments. Humans are often attacked on their feet as they walk along the seafloor.
"The barb is a unique weapon in that it not only can stick its attacker, but also can transmit a venom from the mucus coating on the barb. This can cause intense pain and throbbing—even the toughest surfer dudes have been brought to tears by stingrays," the California State University's Shark Lab explains in an online fact sheet. "Stingrays strictly sting out of defense, never as an offensive maneuver," it adds.
As noted by the National Geographic, toxins from the stings can often be neutralized by hot water. Most injuries are the result of round ray attacks, according to the California Sea Grant research institute.
In December 2017, 73 people suffered stingray injuries on Huntington Beach in a single day, the Orange County Register reported. "We're infested," Marine Safety Lt. Claude Panis said at the time. "That's just how many we treated. In my 40 years, that's as many as I've had in a single day. It's a problem." One day prior, 45 injuries were recorded.