California Sand Fire Spreads Across 1800 Acres, 500 Firefighters Battle Yolo County Blaze
Tens of thousands of California residents faced power outage blackouts and hundreds of firefighters worked to slow Sunday's Sand Fire, the first major blaze in the state's fire season.
The Sand Fire in Yolo County — located between Napa and Sacramento, about 70 miles northeast of San Francisco — that was sparked Saturday afternoon has spread to about 1,800 acres with no containment near the town of Guinda in the Capay Valley, Cal Fire officials told KCRA-TV.
Smoke from the Sand Fire could be seen by residents of the Bay Area and about 500 firefighters and several helicopters are battling the blaze as "red flag" alerts continue amid the day's heat and 30 to 45 mph winds, according to the National Weather Service San Francisco Bay Area.
The Sand Fire is the biggest wildfire in Northern California this year and continues to spread due to strong winds and record heat.
"This was a pretty strong wake-up call," said Paul Muller, whose family had decided to stay on the farm Sunday, the Mercury News reported. "It makes us realize we're very, very lucky — if this was later in the summer and it was 110 degrees, that would have been a lot more destructive."
In adjacent Napa County, a 50-acre fire near Calistoga was 75 percent contained by 7:30 p.m. Sunday.
The Sand Fire first broke out Saturday on County Road 41 and Highway 16 north of Rumsey at 2:37 p.m. PT, representatives for Cal Fire told the Sacramento Bee. Pacific Gas and Electric Company (PG&E) officials said power had been cut to 1,700 customers Saturday afternoon in parts of Yolo, Napa and Solano counties.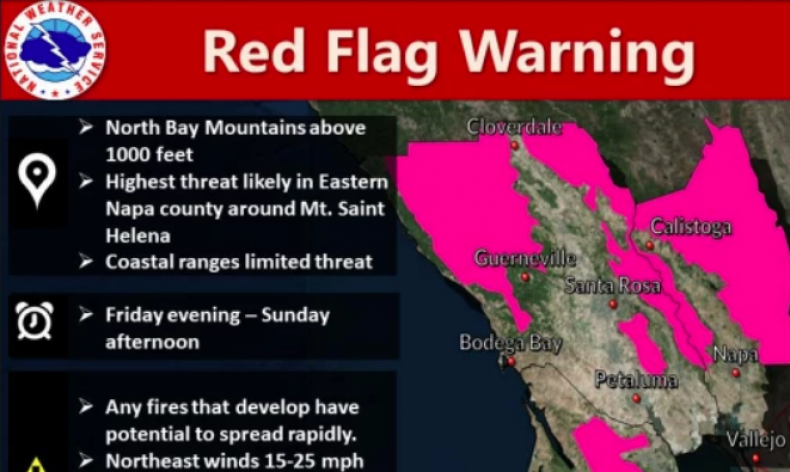 PG&E officials said they are still using deliberate blackouts and power shutoffs as a "last resort" and are monitoring weather conditions in El Dorado, Placer and Nevada counties Sunday afternoon.
The fire grew exponentially and quadrupled in less than two hours Saturday, spreading from 125 acres to 600 acres. On Saturday night, Cal Fire officials said the fire reached 1,700 acres without containment.
A mandatory evacuation order was issued to all residents on County Road 41, Cal Fire officials told KCRA-TV Sunday. An evacuation center for residents affected by the the Sand Fire was set up at the Esparto Boy Scout Cabin, at 16980 Yolo Ave. Highway 16 has been closed between Highway 20 and the town of Brooks, Mercury News reported.
The Sutter County Sheriff's Office told the Sacramento Bee Sunday the West Butte Fire that also broke out Saturday afternoon across 1,000 acres was up to more than 60 percent containment and "no structures at risk."