California Scam Artist Allegedly Posed as Holy Firefighter's Wife to Swindle Donations
A Southern California woman has been accused of defrauding people on Facebook after she posted to say she was collecting donations to help her purported firefighter husband who was battling the Cleveland National Forest "Holy Fire" in Orange and Riverside Counties.
28-year-old Ashley Bemis reportedly posted on a Facebook group asking for donations, and said that her husband "Shane" described the blaze as a "living hell." She said in her post that she was willing to collect donations to help the firefighters. Bemis ultimately collected more than $10,000 through donations, police say.
"My Shane works for Cal Fire and is out on the Holy Fire right now," Bemis said in her post, according to ABC News. "I also have two other family members and many friends out on this fire and other fires burning here in California. I received a text today from Shane saying it's pretty much a living hell out there battling the unpredictable 'Holy Hell Fire.'
"I wanted to put it out there to everyone and say I will happily meet you and pick up any donation to the firefighters and first responders that are on the front lines right now," Bemis wrote.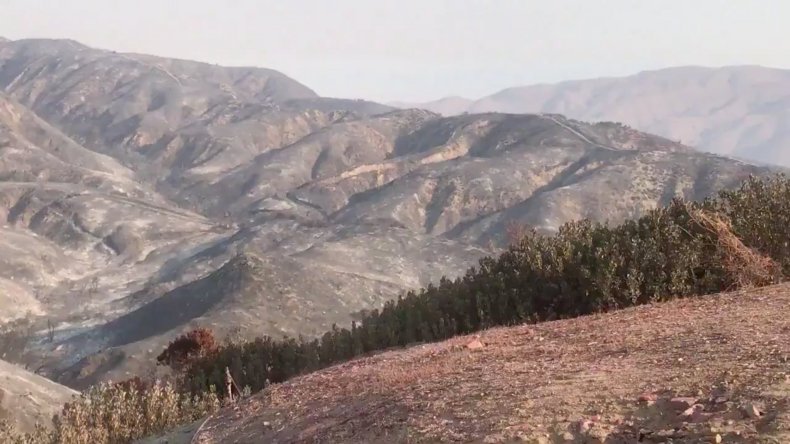 Several people who didn't buy into Bemis's post—which has now been deleted—contacted investigators. They revealed Bemis has a history of performing social media scams. Officials obtained a search warrant for her property and found $11,000 worth of cash and gifts. Orange County Sheriff's Department spokesperson Carrie Braun told ABC News that police believed the donations were not taken to help firefighters.
"We took this very seriously because we know that people were donating out of the good of their hearts to a cause that they believed was really going to be going to the people they were donating to. Unfortunately this seemed to be well planned, well organized fraud case," Braun said.
One of the members of the Facebook group where Bemis uploaded her post was a firefighter for Cal Fire. They ran a search for Bemis's alleged "husband" Shane Goodman and found no employee had that name.
"We've also collected some evidence related to past scams including some possible faked pregnancies and baby showers," Braun said, according to The Los Angeles Times. "I believe she was relatively active on that particular Facebook page and it seems like she's lived in San Clemente for a good majority of her life."
Bemis is yet to be charged or arrested by police.