California School Mask Mandate Staying As Fans Go Maskless at Super Bowl
California's school mask mandate is still in place as fans went maskless at the Super Bowl on Sunday.
While the indoor mask mandate will be lifted for vaccinated people on February 16, it will stay in place for schoolchildren, California Health and Human Services Agency Secretary Dr. Mark Ghaly announced Monday, according to KABC-TV. The state will review the current mask requirements for schools on February 28.
The NFL also had a mandatory mask requirement in place for everyone over the age of 2 at the big game regardless of vaccination status. Attendees over the age of 5 had to show proof of COVID vaccination, a negative PCR tests within 48 hours of the game, or a negative antigen test within 24 hours of the game. However, many fans went maskless Sunday despite the rules and after receiving KN95 masks at the stadium, KTLA reported.
The statewide mask mandate was re-implemented in mid-December when Omicron began its surge and was extended last month through February 15, according to KXTV. Ghaly said that COVID cases have decreased over 75 percent from a month ago and hospitalizations related to the virus have gone down over 40 percent, KCRA-TV reported. The test positivity rate has also decreased almost 73 percent from a month ago, Ghaly said.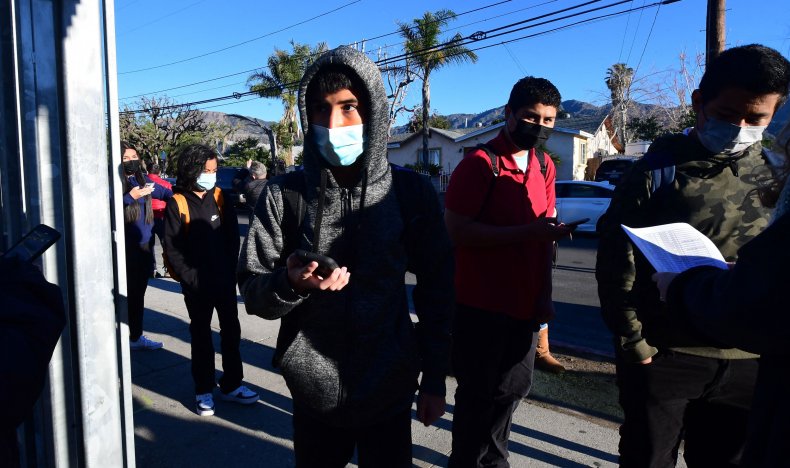 As of February 14, California's current daily average of COVID cases is 23,715 with an average of 163 COVID-related deaths daily, according to the state's COVID dashboard. Out of California's population, 73.9 percent are fully vaccinated.
Ghaly "anticipates" being able to announce a potential end date for the state's school mask mandate in two weeks, KCRA reported.
"Masking requirements were never put in place to be there forever," Ghaly said, according to KCRA. "It's not a question of if. It's a question of when."
The new recommendation will be based on figures, like pediatric COVID-19 related hospitalizations, hospital admissions, test positivity rates, and case rates, KABC reported.
While California is set to lift its indoor mask mandate for vaccinated people, each county's health department had the ability to determine what to do by region, KTLA reported.
The NFL's mask mandate had been in line with the Los Angeles County's outdoor mask requirement, according to KNBC. The mandate is on track to lift by mid-week due to another decrease in COVID patients in hospitals. However, health experts are watching the Los Angeles area for a COVID surge after the Super Bowl, KTLA reported.
Update 02/15/22 12:10 p.m. ET: This story was updated to include background information.