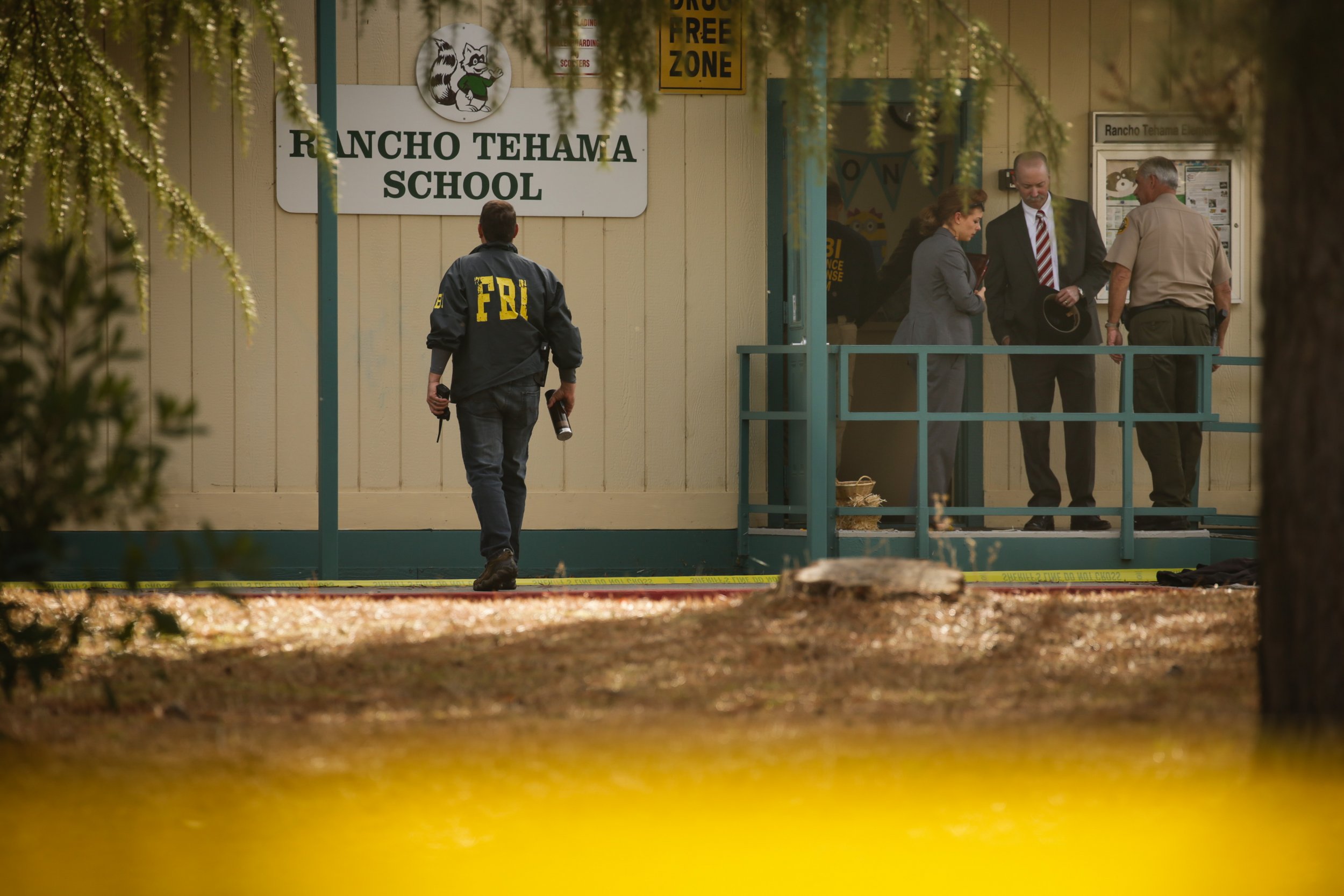 The rapid lockdown that police credited for saving dozens of children during a California school shooting this week is still not a standardized practice across the country—leaving thousandsof schools with no rehearsed plan in place to save lives during such an attack.
Less than half of states have reported having mandates for schools and districts to carry out active shooter drills, according to a Government Accountability Office (GAO) report. This is despite 40 states saying individual schools are required to run general emergency drills, and an estimated two-thirds of school districts holding active shooter exercises as of March 2016.
Those numbers hint at a larger debate within the school security community about how to prepare kids and teachers for potential mass shootings without freaking them out, sensationalizing violence or over-relying on expensive surveillance gadgets.
"Lockdowns work. It's been proven time and time again," said Ken Trump, president of the Cleveland-based firm National School Safety and Security Services. "We need to focus our efforts at least equally, if not more so, from the hardware on procedures, staff training, drills and overall the people side of school safety."
Tuesday's rampage in Rancho Tehama Reserve, which left five people dead and at least eight hurt, was one of more than 40 school shootings so far this year and one of about 200 since 2013, according to Everytown For Gun Safety. But, as superintendent Richard Fitzpatrick told the Los Angeles Times, it "could have gone a lot worse."
Police said gunman Kevin Janson Neal murdered his wife and stuffed her body under floorboards, then killed two neighbors and started driving around in a random shooting spree that claimed two other lives. By the time he arrived at Rancho Tehama Elementary, a 100-student school about two hours from Sacramento, teachers and administrators had already swept students into classrooms, under desks and behind locked doors. Neal rammed his stolen truck through the school's front gates and fired randomly, wounding one boy who is expected to survive.
But no other students were shot by the timeNeal fled. Police eventually shot and killed him during a pursuit.
"All of the staff were absolutely heroic in making sure that students were getting into the classrooms as shots were being fired," Fitzpatrick said afterward. "This was a question of minutes."
Trump said school trainings for lockdowns—especially those associated with shooter-type threats—have been growing in popularity since the Columbine High School shooting in Colorado in 1999. Interest ticked up after the Sandy Hook Elementary massacre in Newtown, Connecticut in 2012, which left 20 children and six adults at the school dead.
By the 2013-2014 school year, 88 percent of public schools said they had a plan for what to do if there's a shooting, according to the National Center for Education Statistics. Seventy percent said they had drilled students on it, matching up with the estimate in the GAO report.
"There was a very understandable, visceral punch-in-the-gut reaction by parents and everybody because the most vulnerable of our vulnerable were hurt: kids," Trump said.
But what exactly these drills entail is difficult to pin down. A spokeswoman for the U.S. Education Department told Newsweek there's no national procedure schools are required to follow. Instead, protocol is set at the local level.
Community leaders often have to figure out for themselves whether active shooter drills are worth the resources and, if so, how they should be conducted. It's a daunting task from the outset because such plans aren't one-size-fits-all.
Even the terminology can be confusing. The word "lockdown" is often used as an umbrella term to mean a school's response to any threatening situation, said Amanda Nickerson, a school crisis prevention and intervention expert at the University at Buffalo. What constitutes an "active shooter drill"—and whether kids are told that they are specifically preparing for an active shooter situation—varies.
For example, the Government Accountability Office report details how agencies have different ideas when it comes to the "Run, Hide, Fight" response to an active shooter. A 2013 guide made with input from the Federal Emergency Management Agency, Education Department, FBI and Department of Homeland Security features "Run, Hide, Fight" as a survival method for adults who end up in a confrontation with a gunman. It doesn't mention students running, hiding and fighting. The Education Department wanted that recommendation for students to be left out of the guide, and the FBI said community leaders can decide if they want to teach it.
The GAO concluded that this and other factors have led to "the absence of a well-coordinated strategy for school emergency management planning efforts" at the federal level.
There's also an ideological split between those who advocate for a hardware-based approach to security and those who want to focus on human training. The market for products like Bullet Blocker backpacks, which start at $210 and come in colors like magenta, pink and army green, is growing. But experts like Trump argue that high-quality equipment alone is not enough to keep kids safe.
That said, there's disagreement over where to draw the line. Nickerson explained that some people insist school personnel and students need to feel a level of anxiety during shooter drills in order to take them seriously. That has led to full-scale exercises like the one at Troy Buchanan High School in Missouri in 2014, in which police officers fired blanks to simulate an attack while theater student "victims" sustained faux bullet wounds. Or the one at Jewett Middle Academy in Winter Haven, Florida the same year, which caused a brief panic because administrators didn't tell teachers or parents about it in advance.
Intense approaches like those can traumatize young students, Nickerson said. The National Association of School Psychologists and National Association of School Resource Officers have said maneuvers like simulated gunfire can trigger everything from asthma attacks to hysterics, so drills need to be conducted carefully.
"The message needs to be, 'We're doing this to keep you safe. Not, oh my gosh, you could be the next one because school shootings are rampant,'" Nickerson said.
The psychologists and resource officers associations have released best practices for crisis exercises. Among the recommendations: Form a school safety team; tell students and staff ahead of time if props will be used; make sure drills are age-appropriate; monitor kids how kids are coping during the drills; focus on empowerment over fear; and give everyone access to mental health resources afterward.
Nickerson said administrators can also switch up the times lockdown drills are conducted to give them a more realistic feel. It shows teachers and students how to react if a crisis were to strike during lunch, for example, or in between classes.
In Tuesday's case at Rancho Tehama Elementary, the school day hadn't even started when the gunman began shooting. But staffers knew what to do, and their hasty lockdown likely ensured students and staff left the school alive.
"We need more examples out there that show when schools are doing what they've been trained to do that it helps, that it does make a difference," Nickerson said.