California Schools Pull Ancient Aztec Chant After First Amendment Battle With Parents
An indigenous Mexican affirmation will no longer be used in California schools after San Diego parents and an advocacy group successfully argued in court that it constitutes an Aztec prayer.
The California Department of Education on Friday settled a lawsuit brought by a trio of San Diego parents and Californians for Equal Rights Foundation who argued that the affirmation was religious and violated the 1st Amendment's prohibition on prayer in schools.
The lawsuit is an early legal challenge to California's landmark law that will make it the first state to require all high school students to take an ethnic studies class in order to graduate beginning in the 2029-2030 school year. Signed into law in October, high-schoolers will be taught about the experiences of African Americans, Latinos, Asian Americans and Native Americans.
"Our state has simply gone too far in attempts to promote fringe ideologies and racial grievance policies, even those that disregard established constitutional principles," Frank Xu, the foundation's president said in a statement. "Endorsing religious chants in the state curriculum is one glaring example."
The lawsuit targeted the use of the "Lak Ech" affirmation. According to the National Association for Multicultural Education, the affirmation translates to "you are my other self" and emphasizes the power of students as equal partners capable of changing the world. It also took issue with the "Ashe" affirmation used by the Yoruba of Nigeria to invoke the power to enact change.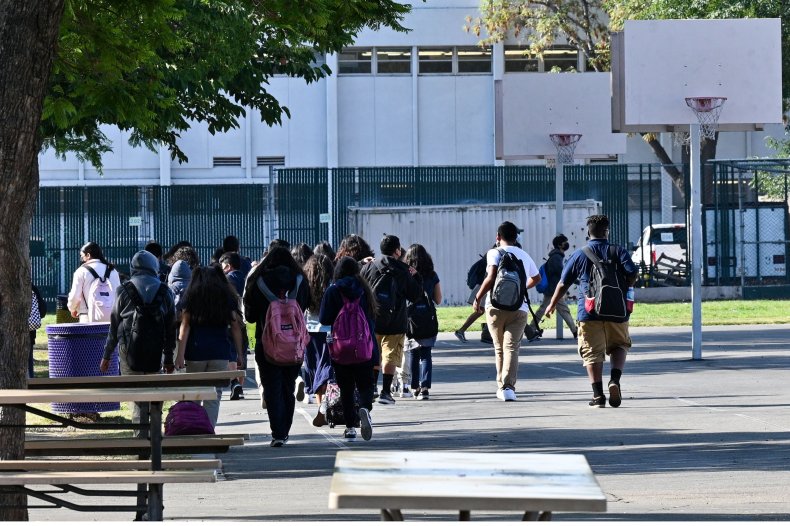 The Californians for Equal Rights Foundation said in its statement that both prayers invoke specific deities. In particular, it said the Lak Ech affirmation is used to invoke Aztec gods that were offered human sacrifices.
The foundation also linked the Ethnic Studies Model Curriculum approved by a state board in March 2021 to "critical race theory." The academic theory has been used as a catchall term to criticize efforts to bring discussions of racism into classrooms.
The state's curriculum, which is currently voluntary for districts, drew swift criticism in conservative media after its approval.
"Research shows that well-taught ethnic studies courses benefit students by increasing school connectedness, understanding of peers and graduation and college-going rate," Education Department spokesman Scott Roark said in a statement to Newsweek. "The ethnic studies model curriculum provides guidance to schools and districts working to develop a local course based on the needs of local students. Its use is not mandatory."
Roark also pointed out that the pair of affirmations that attracted the litigation were optional. Using the affirmations as prayers is "contrary to the State Board of Education and the California Department of Education's long-standing commitment to ensuring that instruction is both constitutionally and academically appropriate."
The department will send a letter to all local educational agencies later this week informing them that the affirmations are now deleted, he said.