When Will California Schools Reopen? Gov. Gavin Newsom Targets Late July as Part of Four-Phase Lockdown Exit Plan
California's coronavirus lockdown measures will be eased in phases and could see some schools reopen from late July or early August. Venues within the retail, manufacturing and entertainment sectors, as well as churches and public spaces, will be reopened gradually, California Gov. Gavin Newsom announced on Tuesday.
The reopening plan aims to "modify the Stay-At-Home order" and "these modifications are based on science, health & data & will happen in 4 stages," the governor's office confirmed in a post on its official Twitter account.
The state is currently in the first stage of the reopening plan, which focuses on increasing testing, contact tracing and hospital surge capacity as well as sourcing more PPE (personal protective equipment).
Expressing concern for the "loss of learning" among students, Newsom confirmed the second stage may also include the reopening of schools from late July or early August, the governor noted at a press briefing on Tuesday.
In response to the latest announcement regarding schools, California State Superintendent of Public Instruction Tony Thurmond noted in a statement: "If this [reopening schools] is going to work, there are some major questions we will have to answer. First and foremost: Can this be done in a way that protects the health and safety of our students, teachers, and school staff?"
"We also must consider the fiscal implications. Social distancing in schools may require smaller class sizes, but schools are going to need additional resources to make it happen—including the possibility of hiring more teachers," he added.
Thurmond also highlighted that "teachers and school staff will need personal protective equipment and cleaning supplies so that our schools are sanitized. We expect that some form of social distancing will be with us through the summer, so if we start school early, we need resources to make it a reality."
The second stage of Newsom's plan will also see the gradual reopening of some "lower risk workplaces with adaptations" including businesses within retail and manufacturing as well as offices (where remote working is not possible) and public spaces.
The third stage will gradually reopen "higher risk environments" with adaptations and limits on the size of the gatherings. Venues to be reopened at the third stage will include ones within personal care (gyms, hair and nail salons), entertainment (movie theaters and sports facilities without live audiences) and in-person religious services (churches and weddings).
The fourth stage will see the reopening of "high risk environments and venues once therapeutics have been developed," the governor's office notes. The facilities to be reopened at the fourth stage include concert venues, convention centers and sports venues with live audiences.
"CA [California] has made progress bending the curve but the risk of #COVID19 is still very real," the governor's office warned.
"If we pull back too quickly and we walk away from our incredible commitment to not only bend this curve, but to stop the spread, and suppress the spread of this virus, it could start a second wave that could be even more damaging than the first, and undo all of the good work and progress that you've made," Newsom said at the press briefing on Tuesday.
"The virus has not gone away. Its virulence is still as acute. Its ability to be transmitted still is dominant, and so we by no stretch are out of the woods," he added.
Newsom's latest announcement comes as tens of thousands flocked to the beaches of Southern California over the weekend during a heat wave, including to Huntington Beach and Newport Beach, ignoring social distancing guidelines issued by the state.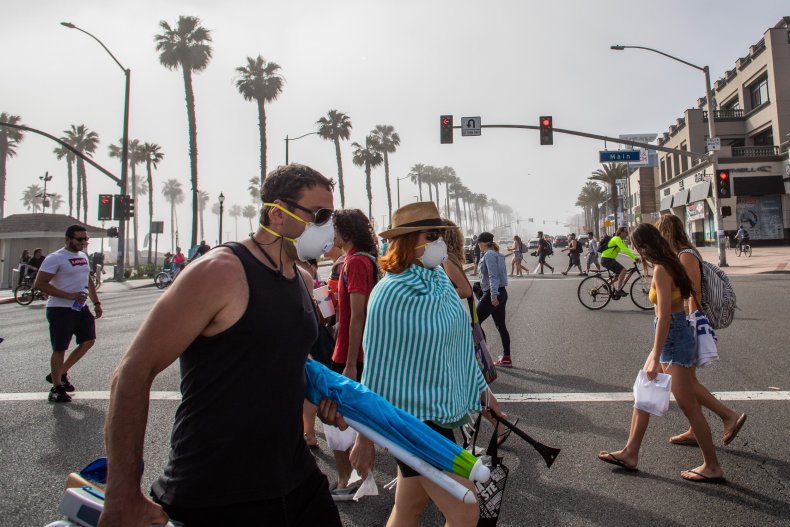 The migration of beachgoers was condemned by Newsom, who said at a Monday press conference: "This virus doesn't go home because it's a beautiful, sunny day around our coasts."
"The virus is as transmittable as it's ever been...it is ubiquitous, it is invisible, and it remains deadly. Ask the 45 families who lost a loved one in the last 48 hours," the governor said.
Earlier this month, hundreds in Sacramento gathered to protest against California's stay-at-home order and to put pressure on Newsom to lift restrictions.
"We are losing our small businesses, which are the backbone of our economy. The shutdown is not warranted, nor sustainable for our area," a statement on the Reopen California Facebook group page read.
"The vulnerable can be isolated or protected in other ways, without sacrificing our entire state economy. It's important to note, several other states have not enacted stay at home orders," the statement said.
California, the country's most populous state with a population of nearly 39.5 million, has reported over 46,400 confirmed cases, including at least 1,875 deaths, as of Wednesday, according to the latest figures from Johns Hopkins University.
The novel coronavirus, which was first reported in Wuhan, China, has infected more than 3.1 million people across the globe, including more than a million in the U.S. More than 218,400 have died, while over 947,500 have recovered.
The graphic below, provided by Statista, illustrates the states with the most COVID-19 cases across the U.S.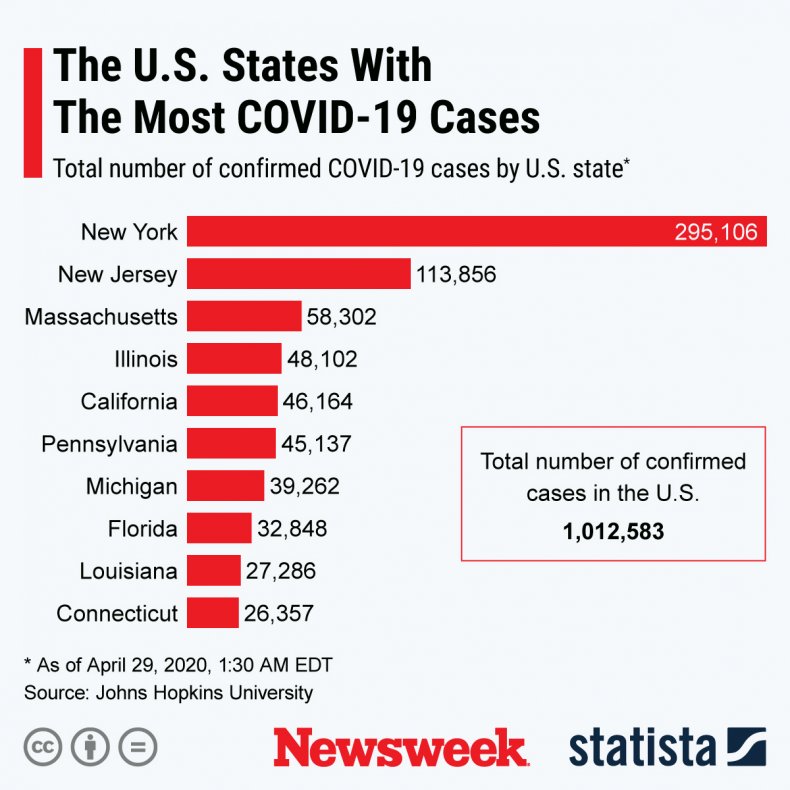 The graphic below, provided by Statista, illustrates the spread of the COVID-19 virus across the U.S.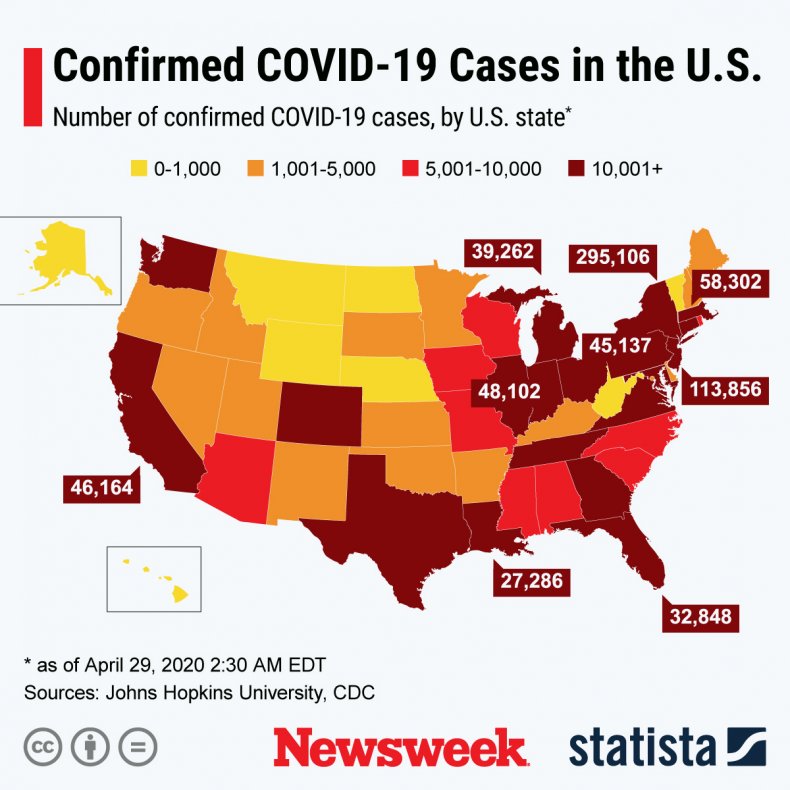 Data on COVID-19 cases is from Johns Hopkins University unless otherwise stated.
Centers for Disease Control and Prevention Advice on Using Face Coverings to Slow Spread of COVID-19
CDC recommends wearing a cloth face covering in public where social distancing measures are difficult to maintain.
A simple cloth face covering can help slow the spread of the virus by those infected and by those who do not exhibit symptoms.
Cloth face coverings can be fashioned from household items. Guides are offered by the CDC. (https://www.cdc.gov/coronavirus/2019-ncov/prevent-getting-sick/diy-cloth-face-coverings.html)
Cloth face coverings should be washed regularly. A washing machine will suffice.
Practice safe removal of face coverings by not touching eyes, nose, and mouth, and wash hands immediately after removing the covering.
World Health Organization advice for avoiding spread of coronavirus disease (COVID-19)
Hygiene advice
Clean hands frequently with soap and water, or alcohol-based hand rub.
Wash hands after coughing or sneezing; when caring for the sick; before, during and after food preparation; before eating; after using the toilet; when hands are visibly dirty; and after handling animals or waste.
Maintain at least 1 meter (3 feet) distance from anyone who is coughing or sneezing.
Avoid touching your hands, nose and mouth. Do not spit in public.
Cover your mouth and nose with a tissue or bent elbow when coughing or sneezing. Discard the tissue immediately and clean your hands.
Medical advice
Avoid close contact with others if you have any symptoms.
Stay at home if you feel unwell, even with mild symptoms such as headache and runny nose, to avoid potential spread of the disease to medical facilities and other people.
If you develop serious symptoms (fever, cough, difficulty breathing) seek medical care early and contact local health authorities in advance.
Note any recent contact with others and travel details to provide to authorities who can trace and prevent spread of the disease.
Stay up to date on COVID-19 developments issued by health authorities and follow their guidance.
Mask and glove usage
Healthy individuals only need to wear a mask if taking care of a sick person.
Wear a mask if you are coughing or sneezing.
Masks are effective when used in combination with frequent hand cleaning.
Do not touch the mask while wearing it. Clean hands if you touch the mask.
Learn how to properly put on, remove and dispose of masks. Clean hands after disposing of the mask.
Do not reuse single-use masks.
Regularly washing bare hands is more effective against catching COVID-19 than wearing rubber gloves.
The COVID-19 virus can still be picked up on rubber gloves and transmitted by touching your face.