On July 28, California reimposed mask mandates for some indoor activities. In the weeks since, the state has seen its daily COVID-19 numbers begin to flatten.
Three weeks ago, California announced that it was following guidance from the Centers for Disease Control and Prevention (CDC) and recommending mask wearing when indoors for all individuals, regardless of their vaccination status.
California now requires masks for all people regardless of vaccination status on all public transit, indoors at K-12 schools, and in emergency shelters. Additionally, masks are also required for all people in healthcare and correctional facilities. Unvaccinated people need to don face coverings in all indoor public spaces and businesses.
"With the emergence of the more contagious Delta variant in California which now accounts for over 80 percent of cases sequenced, cases and hospitalizations of COVID-19 are rising throughout the state, especially amongst those that remain unvaccinated," the California Department of Health said in a statement announcing the new guidelines.
In the week leading up to the announcement, California was experiencing an increase in daily COVID-19 cases. According to data from the CDC, from July 24 to July 28, the state saw its 7-day moving average number of daily cases increase from 7,317 to 8,533.
In the week after the masking guidance was announced, the daily number of cases continued to increase, and the state was reporting an average of above 10,000 new daily cases until early August.
However, the number of new daily cases started to decline after August 13 and as of Sunday, CDC data showed that California had a 7-day average of 7,707 new COVID-19 cases.
According to an analysis by The Los Angeles Times, over the past week, California has seen a 7 percent rise in cases compared to the previous week. In comparison, the analysis found that over the previous two-week period, the state saw a 30 percent rise in new cases.
While COVID-19 hospitalization rates in the state have slowly increased over the past three weeks, California has seen lower hospitalization rates than other states that have not reinstated COVID-19 restrictions—including Florida, Georgia and Texas.
According to data from the Department of Health and Human Services (HHS), there are currently 8,122 patients hospitalized with COVID-19 in California, which accounts for roughly 13 percent of all hospital beds in the state.
In comparison, Florida is currently reporting over 17,000 patients hospitalized with COVID-19, which is around 30 percent of all hospital beds. Similarly in Georgia and Texas, COVID-19 patients account for more than 21 percent of all hospital beds in each state.
In addition to the updated masking guidance, California has also seen a rise in the number of COVID-19 vaccinations administered. According to data from the CDC, at least 54.4 percent of the Golden State's population is considered fully vaccinated against the novel virus, compared to 28 other states that have vaccinated below 50 percent of their population.
While speaking with The Los Angeles Times, Dr. Robert Kim-Farley, a medical epidemiologist and infectious disease expert at the UCLA Fielding School of Public Health, cited the state's mask mandate and vaccination numbers as a reason California has seen lower case rates than other states.
"Due to the more rigorous application of public health measures, such as strongly recommending or mandating mask use, and the increasing numbers of persons becoming vaccinated, we may very well be cresting in terms of the numbers of cases in California — as compared to other parts of the country — that are still on a major upswing in this fourth surge," Kim-Farley explained.
In a statement sent to Newsweek, a spokesperson for the California Department of Public Health wrote: "The most important action we can take to end the pandemic is getting vaccinated, which saves lives, prevents serious illness, and reduces the spread of COVID-19."
The statement continued: "While California has administered more vaccines than any other state, the state is implementing additional public health measures to help reduce slow the spread. This includes recommended masking indoors for everyone, vaccinations for health care workers, and vaccine verification or testing for K-12 school employees, state employees, and visitors at health care facilities."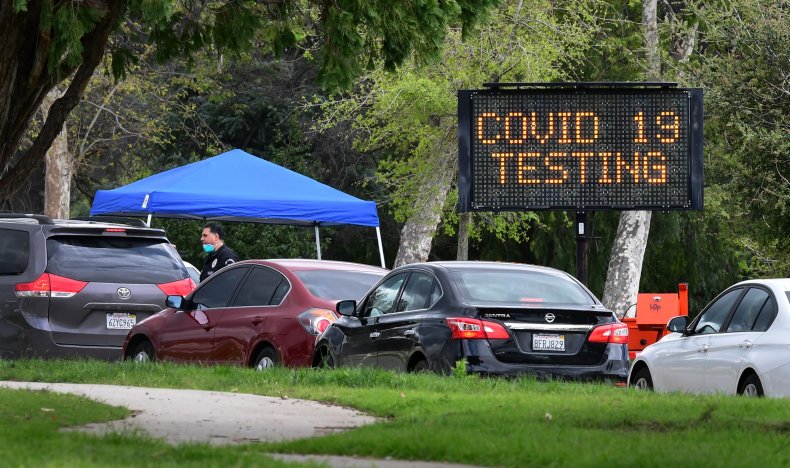 Updated 3:03 p.m. ET, to include a statement from a spokesperson for the California Department of Public Health.