California Shut Down Again—Which Counties Are Closing?
California Gov. Gavin Newsom ordered businesses to close across the state with immediate effect on Monday, July 13. But the worst-affected counties in California have had more extensive closures put back in place to help stop the spread of the coronavirus.
Across California, indoor operations at restaurants, bars and breweries, wineries and tasting rooms, movie theaters, family entertainment centers, zoos and museums, and cardrooms, were ordered to close, effective immediately.
Bars, brewpubs, breweries, and pubs must close unless they are offering sit-down, outdoor dine-in meals, and alcohol can only be purchased with a meal.
In the worst affected counties, further closures include fitness centers, places of worship, indoor protests, offices for non-critical infrastructure sectors, personal care services, hair salons and barbershops, and malls. These businesses have had to close unless they can be modified to operate outside or with pickup.
California is among a number of states reversing on their reopening plans, including Florida and Texas, as demonstrated in the map by Statista below.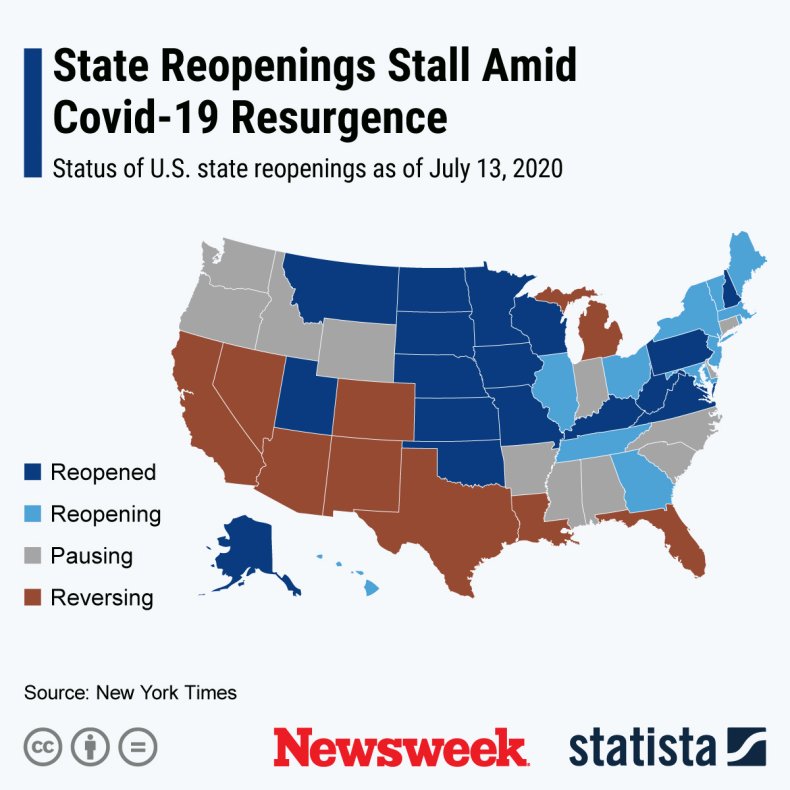 California Counties Closed Down
The further closures apply to counties that have been on the County Monitoring List for three consecutive days:
Colusa
Contra Costa
Fresno
Glenn
Imperial
Kings
Los Angeles
Madera
Marin
Merced
Monterey
Napa
Orange
Placer
Riverside
Sacramento
San Benito
San Bernardino
San Diego
San Joaquin
Santa Barbara
Solano
Sonoma
Stanislaus
Sutter
Tulare
Yolo
Yuba
Ventura
Alameda County and Santa Clara County are on the County Monitoring List but have not been for three days so are not subject to the same closures.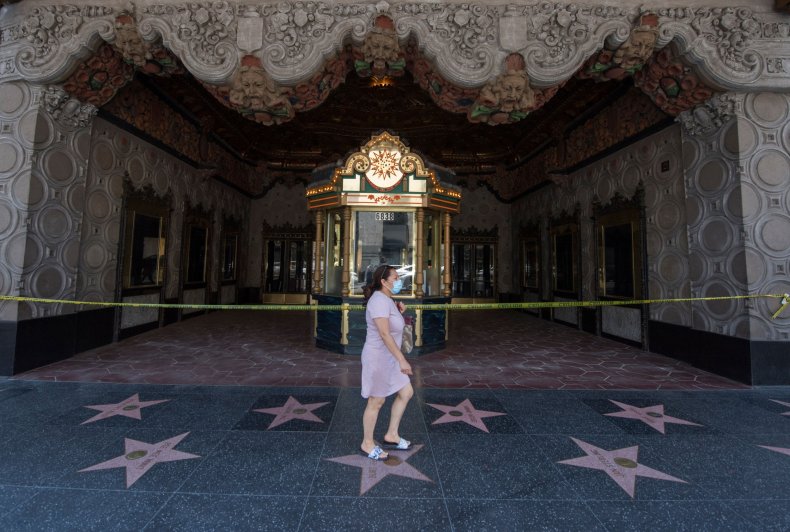 While the statewide closures apply across California, the counties that have not been on the County Monitoring List for three days or more are allowed to keep some businesses open as long as they operate outdoors only, including dine-in restaurants, wineries and tasting rooms, family entertainment centers, zoos and museums, and cardrooms.
Also in these counties, hair salons and barbershops, casinos, gyms and fitness centers, hotels (for tourism and individual travel), campgrounds and outdoor recreation personal care services, like nail salons, body waxing and tattoo parlors, are permitted to remain open.
In a press conference on July 13, Newsom described the state's response as a dimmer switch and said: "We are moving back into a modification mode of our original stay at home order, but doing so using what is commonly referred to as a dimmer switch, not an on and off switch."
Newsom said: "The point of a dimmer switch is to make the point that as the data, trendlines, as the experience of reopening in different parts of the state, and people begin to mix in different parts of the states begin to manifest, different conditions would present themselves, and as a consequence, we wanted to be prepared for those consequences based on those trend lines and based on that data, based on the science, to modify our stay at home order subsequently.
"Not meaning 'on,' open economy, or 'off,' shut down, but a dimmer switch, looking at conditions throughout the nation's most populous state as they present themselves, as those trendlines become points of concern, before they invariably become headlines."
In the last 14 days, California has reported 109,910 new cases of the coronavirus. In total California has reported 333,357 cases of the coronavirus, according to Johns Hopkins University. The graph from Statista below shows the surge in cases of the coronavirus in the U.S. as of July 12.