California Stimulus Checks, Rent Relief, Grants: What to Know as State Weighs More Financial Help
California's state legislature is weighing several new budget proposals to provide financial help to residents suffering from the COVID-19 pandemic, which could include rent relief, state stimulus checks, and business grants.
Earlier this month, Democratic Gov. Gavin Newsom unveiled more than a dozen proposals as part of his $100 billion California Comeback Plan. The plan is Newsom's final budget proposal and came amid a Republican-led effort to have him recalled from office.
"California's economic recovery will leave nobody behind, that's why we're implementing the nation's largest state tax rebate and small business relief programs in history, on top of unprecedented investments we're making to address California's most persistent challenges," Newsom said on May 14.
"This is a jumpstart for our local economies, and it's how we'll bring California roaring back," he added.
Newsom plans to finance additional COVID-19 relief partially through higher-than-expected tax revenues and with $25 billion in federal relief approved by Congress, the Los Angeles Times reported.
The new proposal would expand on previous relief that was issued in March, when the state gave $600 stimulus checks to 5.7 million Californians largely with incomes of less than $30,000.
On Wednesday, state legislators began holding public hearings on the new budget proposals. Here's what it could mean for Californians.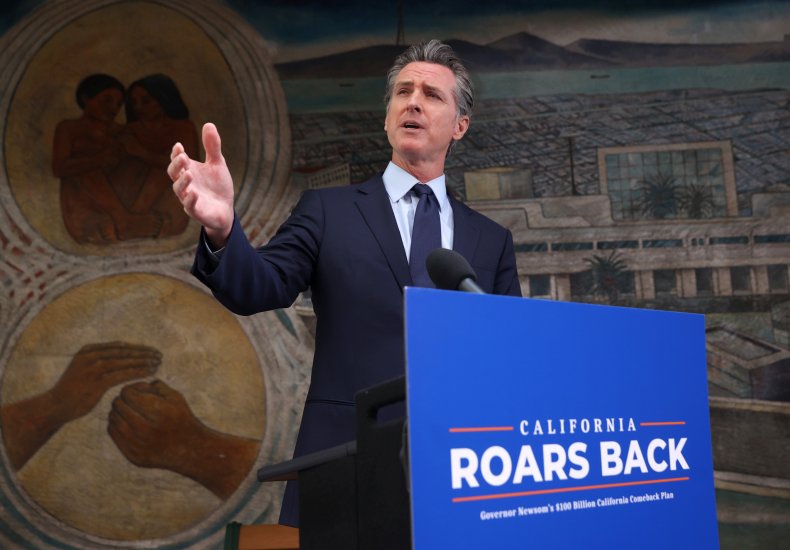 Stimulus Checks and Grants
Under the new proposal, the state would provide additional $600 direct payments issued to all taxpayers who make up to $75,000 a year and did not receive the state's first stimulus payment.
According to Newsom, the plan would be "the largest state tax rebate in American history" and two out of every three Californians will qualify for the payments. Qualified families with dependents, including families living in the U.S. without legal immigration status, will be eligible for an additional $500.
Additionally, new grants totaling $1 billion would be made to workers who lost their jobs during the pandemic so they can go back to school or start their own businesses. It also includes $35 million for cities and counties to implement Universal Basic Income programs.
Housing and Utilities
The California Comeback Plan includes $2 billion to help residents with overdue water and utility bills as well as "more money than ever" to help cover tenant legal services, according to the plan.
Newsom has also proposed expanding the state's rent relief program to help low-income renters pay 100 percent of their back rent accrued during much of the pandemic. The state has already begun paying a portion of back rent if landlords agree to waive some of the money owed, the Times reported.
The governor's plan will also invest $12 billion to tackle the homelessness crisis, in an effort to help more than 65,000 people get off the streets or avoid homelessness.
Business grants
According to Newsom, the plan will invest an additional $1.5 billion for a total of $4 billion in direct grants to California's small businesses on top of a $6.2 billion tax cut. Lawmakers are also considering a plan to make available state grants of up to $25,000 for thousands of additional small businesses, The Times reported.
The budget also proposes $50 million for the state's I-Bank Small Business Loan Guarantee Program to continue to provide loans to small businesses still recovering from the pandemic.
The state would also boost the State Small Business Credit Initiative to strengthen state programs that support the financing of small businesses. The state is estimated to receive $895 million from the federal government for this program.
Student Aid
Newsom proposed providing $2 billion to create a California Child Savings Accounts program for 3.7 million children from low-income families. Through that program, each child would receive $500 in an account that would grow over time to help them afford college.
The budget would also create a $1 billion program through the California Student Aid Commission for the state's public colleges and universities to provide grants to workers who lost jobs throughout the pandemic.
Newsweek contacted Newsom for additional comment, but did not hear back in time for publication.