California Stocks up on Body Bags in Anticipation of COVID-19 Death Surge
California Governor Gavin Newsom said Tuesday the state purchased thousands of body bags and is preparing refrigerated storage units as new COVID-19 infections and deaths continue rising throughout the state.
California on Tuesday led all other U.S. states in terms of statewide COVID-19 infections. New case and death numbers were expected to increase in the weeks ahead, with experts at the Institute for Health Metrics and Evaluation predicting California could report a total of 54,000 virus-related deaths by early April.
State health officials on Monday reported 1,585,044 COVID-19 cases and 21,046 virus-related deaths since the start of the pandemic. The state's seven-day average of new COVID-19 cases was 32,523 by Tuesday, Newsom said during a Tuesday news conference.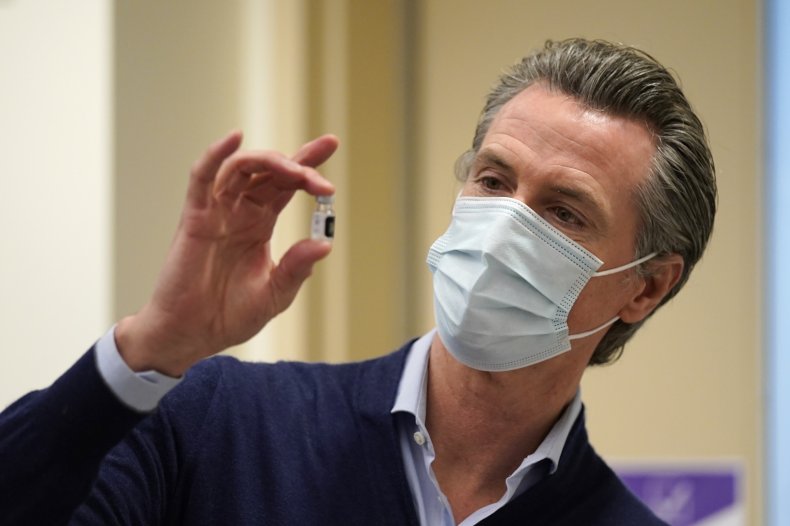 With new infections on the rise since November and recent daily case tallies breaking records set during earlier surges, Newsom said 60 53-foot refrigerated storage units were ready for use near county hospitals. State officials also recently purchased 5,000 body bags to add to the state's inventory, some of which were distributed to Inyo County, Los Angeles County and San Diego County, Newsom said.
Brian Ferguson, the deputy director of crisis communication and public affairs with the Governor's Office for Emergency Services, told Newsweek the state purchased the 5,000 body bags to support similar purchases by local coroners.
"Typically the local county coroners purchase their own supplies," Ferguson said. "Due to the severity of the COVID-19 pandemic the state has stepped in to support procurement and commodities movement on items that may not be otherwise available on the open market or are not available in the quantities needed by local jurisdictions."
Inyo, Los Angeles and San Diego counties are part of the state's Southern California region, which had only 1.7 percent ICU availability by Tuesday, the Democratic governor said.
"That should be sobering," Newsom said of the state's ongoing coronavirus preparations. "I don't want people to scare folks, but this is a deadly disease, and we need to be mindful of where we are in this current journey together to the vaccine. We are not at the finish line yet."
The Food and Drug Administration last week granted emergency use authorization for a two-dose COVID-19 vaccine from pharmaceutical company Pfizer. The FDA is expected to approve another vaccine candidate, developed by Moderna, in the coming days.
Following the FDA's approval of Pfizer's vaccine, doses began arriving in states earlier this week so health officials could begin the vaccination process. The Centers for Disease Control and Prevention recommended health care workers and long-term care facility residents be offered vaccinations first.
Newsom said 33,150 doses of the Pfizer vaccine were distributed to four California locations on Monday. Two dozen additional locations are expected to receive doses later today, and the state is expecting to receive another 393,900 doses next week, the governor said. By the end of the month, California is also expecting to receive 672,000 doses of Moderna's vaccine, pending its emergency use approval by the FDA, Newsom said.
Though the governor said the arrival of the vaccine provided "a very optimistic 48 hours" at the start of this week, he cautioned Californians about the tough weeks ahead.
"We're going through perhaps the most intense and urgent moment since the beginning of this pandemic," he said.
Updated 12/16 at 11:20 a.m. ET: This article has been updated to include comments from Brian Ferguson with the Governor's Office for Emergency Services.