California Students Refuse To Go To School Unless COVID Safety Demands Met
Almost 1,000 students in Oakland, California, have threatened to strike unless their school district reverts to remote learning or delivers on a list of COVID-19 safety demands.
"There's a lot of concerns regarding safety measures and how to protect us from COVID-19, especially the highly contagious Omicron variant," the petition to the Oakland Unified School District (OUSD) says. "We must go back to distance learning until the cases go down again."
As of early Wednesday, it was signed by more than 980 OUSD students.
The students demanded KN95 or N95 masks for every student, twice-weekly testing for everyone on school campuses, and more outdoor spaces for eating.
If the district doesn't respond to the demands, the students say they will strike "until we get what we need to be safe."
The students gave the district a week, until January 17, to meet the demands or they would stop attending classes from the following day and hold a strike outside the district's headquarters on January 21.
On Tuesday, the district announced that it had distributed KN95 and N95 masks to teachers last week, and will deliver an additional 50,000 KN95 masks to all schools.
The district also said it has ordered 200,000 KN95 masks for its roughly 50,000 students and "is looking to order even more."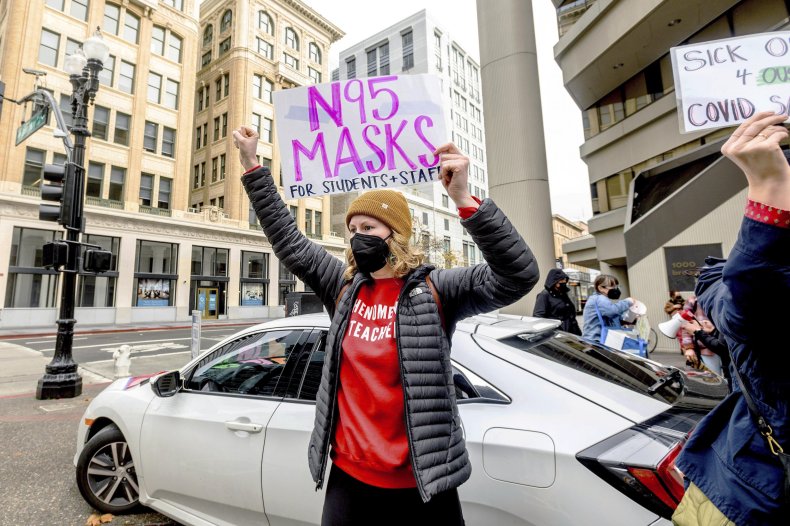 The district also said it had provided every classroom with at least two HEPA filter air purifiers and would expand covered outdoor seating for lunchtime.
The district is providing rapid tests to students in classrooms where someone has tested positive and pooled testing (which involves inspecting several samples at the same time to see if COVID-19 is present) in classrooms without known positives.
"I want to thank you, our families, for working with us and supporting our schools during this very challenging time," OUSD Superintendent Kyla Johnson-Trammell said in a video message on Tuesday.
"Your efforts at getting students tested and vaccinated, supporting their education and partnering with schools and staff to ensure campuses are safe and joyful spaces is helpful, inspiring and appreciated."
It wasn't immediately clear if thee district's updated protocols are enough to stop the proposed student strike next week.
But it comes after at least 12 of the district's 80 schools shut last Friday due to a teacher sickout. According to KTVU, the teachers held a protest to demand the district put more health and safety measures in place, including N95 or KN95 masks for all students.
The district said it has scheduled a community Q&A session on Zoom for January 18 to provide the latest information and answer questions.
The student petition organizers and the school district have been contacted for comment.