How Will 2023 Compare to the Great California Superbloom of 2019?
Spring is approaching and with it, the potential for a particularly vibrant California "superbloom."
The "superbloom" is a rare phenomenon where native wildflowers bloom in California's deserts and grasslands, all at the same time.
These wildflower seeds lay dormant in the soil most years and California is in the midst of a drought, meaning they rarely get enough rainfall to bloom.
But when conditions are just right—usually after a particularly wet fall and winter—they all flower at once, sometimes creating breathtaking carpets of color.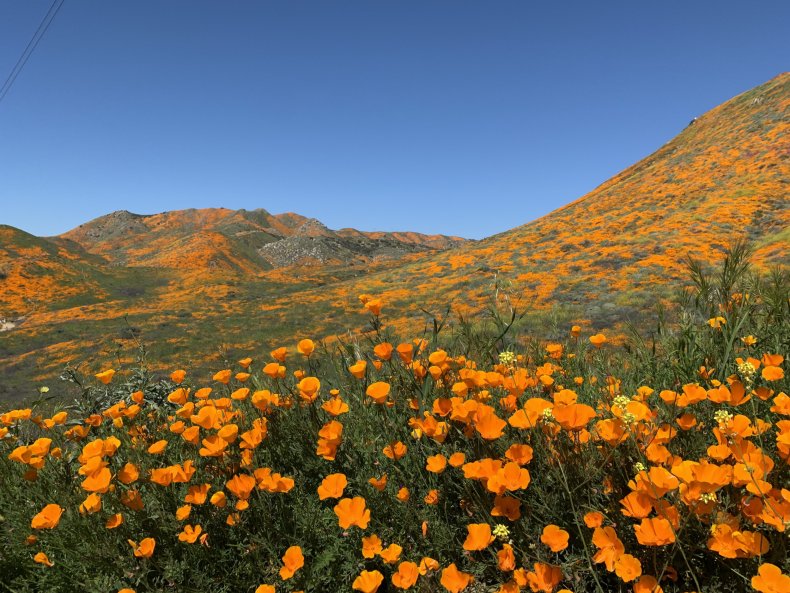 The last superbloom occurred in 2019, and was the most beautiful the state has seen in recent years. This followed a particularly wet season in California from November to March.
A huge number of poppies covered the Walker Canyon and Santa Monica Mountains and the bloom was so vibrant it could be seen from space. Tourists flocked to the area to capture photographs of the rare sight.
Late 2022 and early 2023 have seen historic rainfall sweeping across California meaning it could once again be in for a particularly stunning superbloom, from mid-February to mid-May.
But how will it compare to 2019?
Cameron Barrows, a conservation ecologist at the Center for Conservation Biology at the University of California Riverside, told Newsweek that "the stage was set" for an exceptional superbloom in 2023, at least in parts of California.
Following rainfall in California's Mojave and the Colorado Deserts in late September and early October, the winter rains that have drenched much of the state mostly missed the latter.
"The result, so far, has been a patchy, good wildflower show, but not the extensive carpets of flowers we have seen during those exceptional wildflower bloom," Barrows said. "I was just out this morning in search of the best blooming areas. We found maybe a dozen or so species blooming, but not carpets."
"Maybe, with warming temperatures in February and early March, there could be some patches of exceptional blooming up in the Mojave Desert. However, where I live in the Colorado Desert, all of those winter storms missed us and it is now just too dry."
But superblooms are hard to predict and only time will tell how vibrant this year's bloom will be.
Even if this year does not live up to the beauty of 2019, Barrows said that better than average blooms, "should be celebrated" regardless.
"Such blooms, when they happen, are more often restricted to deserts. As such they can jolt people out of thinking of deserts as empty wastelands and help them realize that the North American are, in fact, among the most species rich landscapes on Earth," Barrows said.
"The best desert wildflower years are those wet years that follow multiple years of drought. Multiple wet years in a row tend to foster extensive growth of non-native grasses and mustards. The desert turns green but it is hardly a painter's pallet of the yellows, reds, pinks, purples and whites that characterize those noteworthy wildflower bloom years."
The best places to see a super bloom are usually national parks such as Joshua Tree and Death Valley National Parks and the Mojave National Preserve.
Do you have an animal or nature story to share with Newsweek? Do you have a question about the superbloom? Let us know via nature@newsweek.com.