California Surpasses New York for Most COVID-19 Cases, But Has Fewer Deaths
California Governor Gavin Newsom said Wednesday that his state had the highest number of COVID-19 cases in the country, surpassing New York.
New York reported 408,886 cumulative positive cases of the virus on Wednesday, but California reported 413,576 cases of the infection. Health officials reported 12,807 new cases of the virus on Wednesday, a number Newsom said was "the highest reported number in our state." Newsom also reported the deaths of 115 individuals from the virus on Wednesday.
"It's just another reminder, if I need to remind anybody, of the magnitude of impact that this virus continues to have," Newsom said.
Although California's case count is the highest in the U.S., California is seeing a mortality rate lower than that of New York's, California has reported a total of 7,912 deaths. In comparison, New York has calculated 32,228 total deaths from the virus—more than four times as California.
The graphic below, provided by Statista, highlights the states with most COVID-19 cases.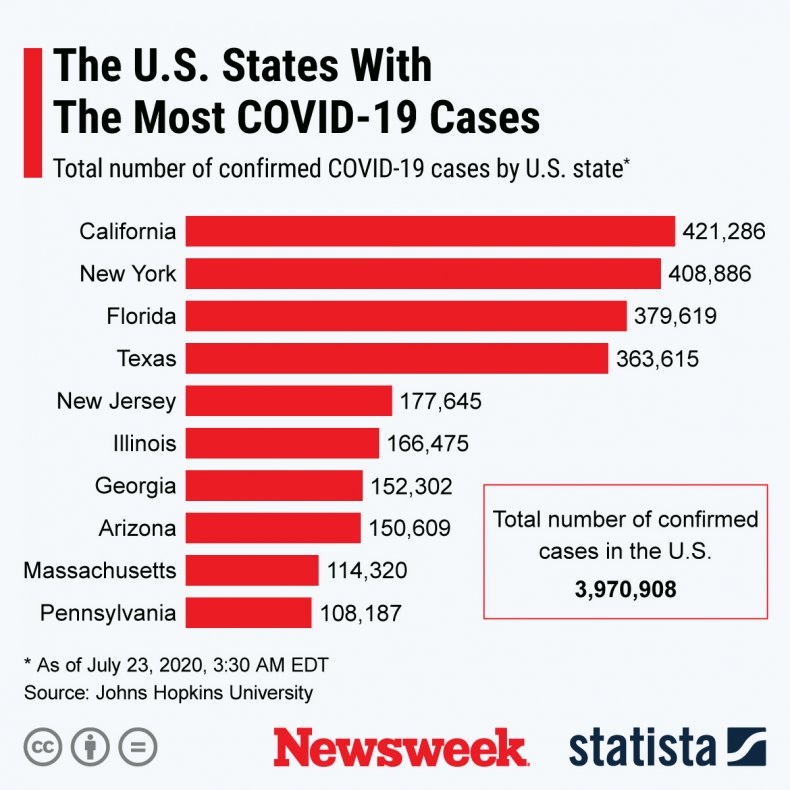 California has the highest population of any state in the U.S., which officials say may be part of the reason for the increased amount of cases. "It's not surprising now, in some respects, as we've begun to reopen key sectors of our economy, people continue to mix and people continue to come in close contact with others that may have contracted this disease, that our numbers would start to go up," Newsom said.
In June, Newsom ordered California residents to wear face coverings in public to help curb the surge in coronavirus cases. Newsom closed bars and indoor restaurants across the state in July. Some California counties were also required to close down non-essential businesses.
In a July news briefing, Newsom explained that the coronavirus was "not going away anytime soon."
"I hope all of us recognize that if we were still connected to some notion that, somehow, when it gets warm, it's going to go away or, somehow, it's going to take summer months or weekends off—the virus has done neither," Newsom said.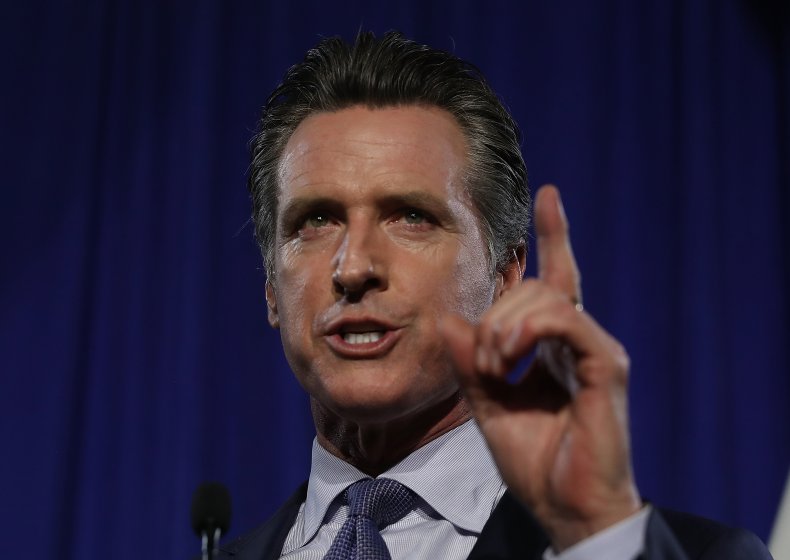 New York, which at one point had the greatest number of cases in the U.S., appears to be getting aspects of coronavirus mitigation under control.
According to the New York Public Health Department, New York City reported 1,724 hospitalizations for the virus in April, which is the state's highest number to date. As of Monday, data from the city indicated that 100 individuals were in the hospital in connection with the virus.
New York Governor Andrew Cuomo said Wednesday that although his state has come a long way in mitigating the coronavirus, case numbers could still rise.
"You'll see this virus ricocheting across the country," Cuomo told MSNBC's Andrea Mitchell. "One state gets it under control but then people from another state will come in. So unless you solve this everywhere, you don't solve it anywhere, and now people coming from Florida, from Texas, from Arizona, that's our issue."
Update 7/23/20: This article was updated to include an infographic.