California Teachers Get Small Victory As Newsom Announces They Can Get COVID Vaccine in March
California will begin setting aside COVID-19 vaccine doses for educators and child care workers on March 1, marking a significant step forward in the state's negotiations with teachers unions about how to safely reopen schools for in-person instruction amid the ongoing pandemic.
Starting next month, 10 percent of the first COVID-19 doses California receives will be set aside for educators and child care workers, Governor Gavin Newsom said Friday. While 35 of California's 58 counties were already making COVID-19 vaccines available to teachers, Newsom said this move will help teachers statewide gain access to vaccine appointments.
Speaking at the Alameda County Board of Education Friday morning, Newsom attributed his announcement to the state's expected increase in vaccine supply.
"The reason we can do that more formally, even though we have allowed for it over the course of the last number of weeks, is the window of visibility into the future, with more vaccinations that we know are coming from the Biden administration," the Democratic governor said.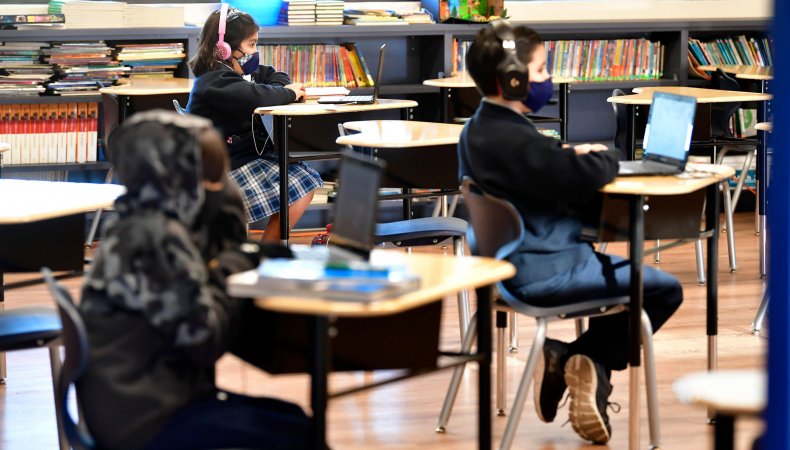 Vaccinating teachers has been one of the sticking points in the state's negotiations with educators about how and when to reopen schools. Earlier this month, the California Teachers Association (CTA) said it was "critical" for the state's educators to gain access to COVID-19 vaccinations.
"As the vaccine rollout continues in California, it is critical that education professionals have the tools to access vaccinations in a safe and timely way," the CTA said.
Toby Boyd, the president of the CTA, told Newsweek earlier this month that the organization favors a layered approach to protecting educators who are either working in schools already or will soon be returning to campus.
"The educators—the ones that are in schools up and down the state—should be prioritized. They should get the vaccine if they want to," Boyd told Newsweek in early February. "That way they can have that extra layer of safety. That's really needed, because our educators want to get back in front of the students."
By Friday, Newsom said 6.9 million vaccine doses had been administered throughout the state. Though some of this week's vaccinations were interrupted due to winter storms throughout the U.S. delaying shipments, Newsom said the number of doses California expects to receive from the federal government in the coming weeks makes it easier to expand vaccination appointments to educators and child care workers.
Opening vaccinations up to teachers throughout California indicates progress in the state's negotiations on how to reopen schools, but the debate remains ongoing. A proposal the state legislature put forth on Thursday "doesn't go far enough or fast enough," according to Newsom, but he said there are signs of progress.
"We're seeing momentum, we're seeing communities like [Alameda] prioritizing their teachers today," Newsom said. "With more vaccines being available and this set-aside, we think that will further advance that cause."
Newsweek reached out to the California Teachers Association for comment and will update this article with any response.
This story has been updated with additional information and background.