California Teen Feared Dead After Slipping Through Blowhole and Disappearing at Sea
A teenager is believed to have died after he fell through a blowhole while hiking on a beach in California. Braxton Stuntz, 18, was walking with friends along Garrapata Beach, south of Carmel, when he slipped and fell 15 feet down the blowhole on Saturday.
Having landed on the rocky beach below, his friends described how he had given them a thumbs-up gesture before disappearing under 14-foot waves that swept him out to sea, CBS San Francisco reported.
Read more: Man dies after falling from Cliffs of Moher while taking selfie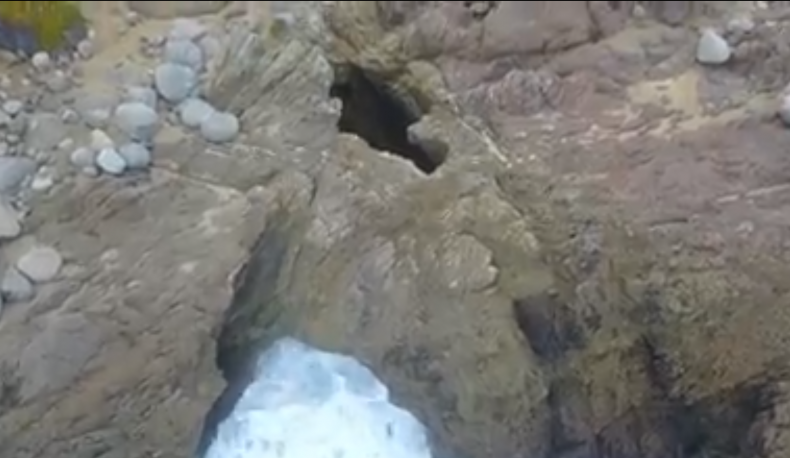 They ran for help and stopped beach goers Ali Bowen and her friend. Bowen, who called 911, told KION: "He said, 'Do you have cell phone service? Our friend fell into a hole between two rocks and we can't get him out.'"
Staff from MCSO Search and Rescue, Mid-Coast Fire, Cal-Fire, California State Park Rangers/Lifeguards, and CHP Helicopter searched through the night but with no success.
"Even though responders came quickly… I mean, we moved as fast as we could, the EMT moved as fast as they could, and it wasn't fast enough," Bowen said.
Witness Kitty Arosteguy said Stuntz's friends had kept sight of him until he lost consciousness. Footage captured by a member of the group shows the panic of his friends, with one of them heard asking: "Where was he last?" Another says: "So see this hole? He slipped. They're saying he's under – over there now."
Divers were reportedly unable to enter the water Sunday morning because the surf was too rough. Helicopters with the Coast Guard circled the area until until it became dark but could not find any sign of the teenager.
Stuntz is now classified as missing. Rescuers are focusing on retrieving his body, according to the Monterey County Sheriff's Office.
Bowen said: "If they had something immediate nearby them, to at least preserve his life a little bit longer… I feel like if we had five more minutes, it might have been a different story."
People have posted comments on his Instagram profile, remembering him as a keen student who loved the outdoors.
There are signs along the path where Stuntz fell warning about climbing on the rocks.
"For people who don't know the risks, it can be really alarming how easily you can slip and fall and then, be in big trouble," said local resident Jared Sandman, WALB News reported.
A GoFund me page has been set up and so far raised more than $23,000 to begin a charitable foundation in his name. The foundation will help causes Stuntz cared about, such as health care in Cambodia and would also provide educational scholarships in his home Monterey County.
This story has been updated to include details about Braxton Stuntz's GoFundMe page.