California Temperatures Could Reach Levels of Deadly 2006 Heat Wave When Hundreds Died
Forecasters have warned that temperatures in California could reach levels seen during the deadly 2006 heat wave, which has been linked to the deaths of hundreds of people.
The National Weather Service (NWS) said that parts of California could see temperatures approaching records as a heat wave that began on Friday looks set to persist until at least mid-way through next week.
In the Los Angeles area, for example, an Excessive Heat Warning is in effect until 9 p.m. Wednesday. This warning means that a period of very hot temperatures, even by local standards, will occur.
The NWS said "dangerously hot conditions" with high temperatures between 102 and 110 degrees Fahrenheit are expected in the Santa Clarita Valley, San Fernandino Valley and San Gabriel Valley, although Antelope Valley could see the mercury rise to as high as 112 degrees.
Forecasters also predicted that overnight temperatures will be very warm in the area, only falling as low as the 70s.
Other parts of the state also have excessive heat warnings and heat advisories in effect. In fact, some desert areas of the state could see temperatures of 120 degrees and higher in the coming days.
In areas set to experience extreme heat, temperatures "will significantly increase the potential for heat related illnesses, particularly for those working or participating in outdoor activities," according to the NWS.
These health problems include heat stress and heat stroke, which can prove deadly in severe cases. As a result, the NWS has made a number of recommendations for people living in affected areas.
"Drink plenty of fluids, stay in an air-conditioned room, stay out of the sun, and check up on relatives and neighbors. Young children and pets should never be left unattended in vehicles under any circumstances. Take extra precautions if you work or spend time outside. When possible reschedule strenuous activities to early morning or evening. Know the signs and symptoms of heat exhaustion and heat stroke."
"Wear lightweight and loose fitting clothing when possible. To reduce risk during outdoor work, the Occupational Safety and Health Administration recommends scheduling frequent rest breaks in shaded or air conditioned environments."
Early signs of heat-related illness include thirst and muscle cramps. Meanwhile, the symptoms of heat stroke may include vomiting; confusion; throbbing headache; decreased alertness or loss of consciousness; high body temperature; hot, dry skin; rapid, weak pulse; rapid, shallow breathing; and seizures.
"Anyone overcome by heat should be moved to a cool and shaded location. Heat stroke is an emergency! Call 911," according to the NWS.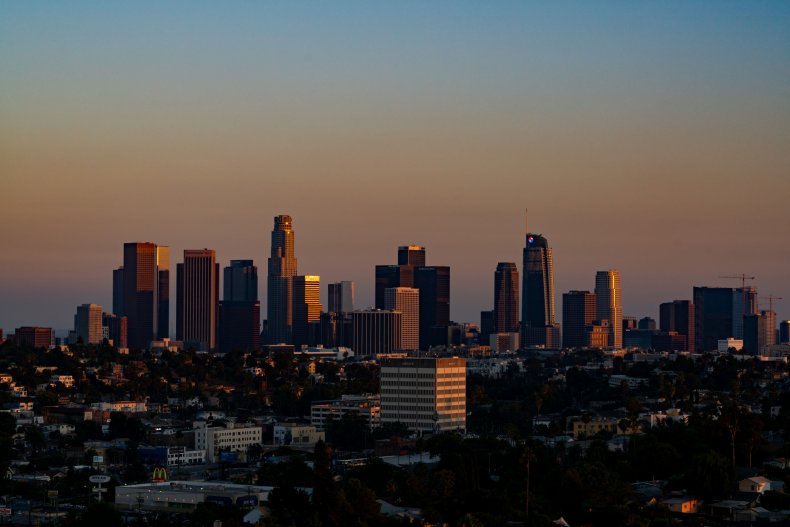 The latest heat wave is the result of a large, high-pressure system that is creating high temperatures across most of the southwestern United States.
The Los Angeles Times reported that temperatures across the next few days could rival those seen during the deadly 2006 heat wave, which affected the state in mid- to late-July, and saw temperatures reach up to 115 degrees in the central valley of California. Meanwhile, Los Angeles County recorded its highest ever temperature—119 degrees in Woodland Hills on July 22.
The Times reported that Los Angeles, San Bernardino and Kern counties initially reported around 130 deaths linked to the heat. However, a subsequent reanalysis of the data suggested the true figure was likely between 350 and 450.