California, Texas and 6 Other States Report Single-Day Highs in Coronavirus Cases
Officials in eight states across the country reported new single-day highs in coronavirus infections on Tuesday, as the U.S. recorded an overall single-day record for new confirmed cases of the novel virus.
The U.S. reported more than 47,000 new coronavirus infections across the entire country on Tuesday June 30, the largest single-day increase to date. The previous record of 45,498 new cases was reported on June 26. Tuesday also marked the fourth time in the past week—and since the start of the pandemic—that the U.S. recorded more than 40,000 news cases in one day.
Meanwhile, Alaska, Arizona, California, Georgia, Idaho, Oklahoma, South Carolina and Texas all reported new single-day highs, with more than 7,800 cases reported in California alone. Texas saw more than 6,800 infections and Arizona saw an increase of more than 4,600 new cases. Across the country, the number of new cases has increased by some 80 percent, according to The New York Times.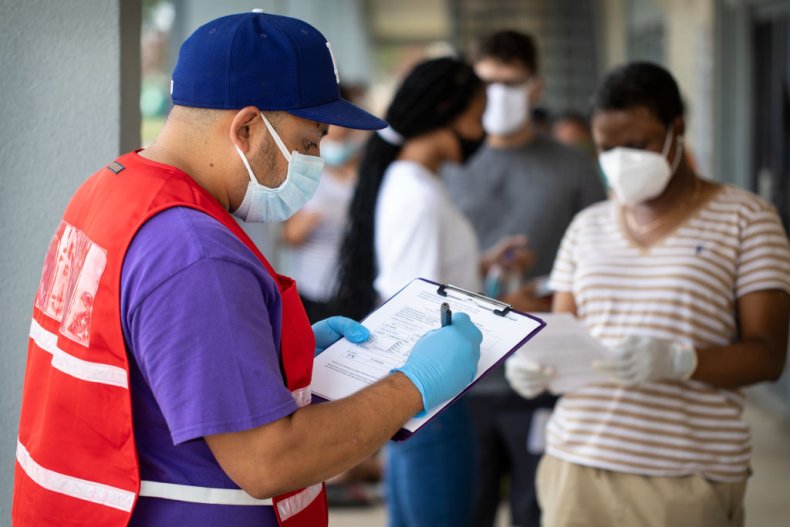 Newsweek reached out to the Centers for Disease Control and Prevention (CDC) and the National Institute of Allergy and Infectious Diseases (NIAID) for comment, but they did not respond by the time of publication.
The new record increase came the same day Dr. Anthony Fauci, director of the National Institute of Allergy and Infectious Diseases, and Dr. Robert Redfield, director of the CDC, testified before the Senate Health, Education, Labor and Pensions Committee. Both public health officials, who are key members of the White House Coronavirus Task Force, presented a stark assessment of the national pandemic response.
"We are now having 40-plus thousand new cases a day. I would not be surprised if we go up to 100,000 a day if this does not turn around and so I am very concerned," Fauci warned.
Redfield urged the public—particularly younger Americans—to follow social distancing guidance and take precautions.
"It is critical that we all take the personal responsibility to slow the transmission of Covid-19 and embrace the universal use of face coverings," the CDC director said. "Specifically, I'm addressing the younger members of our society, the Millennials and the Generation Zs—I ask those that are listening to spread the word."
The U.S. continues to be the country in the world with the highest number of confirmed coronavirus infections and the largest number of deaths. Nationwide the country has recorded more than 2.6 million cases of the novel virus, while more than 127,000 people have died. That means the U.S. alone represents about one-quarter of the planet's total reported infections and deaths.