California's Tier Map Explained as Purple Counties Face Month-Long Curfew
California has issued a month-long curfew that will affect more than 90 percent of the state's population. The state is working with a tiered system based on the amount of spread within its counties, with purple counties facing the most severe restrictions.
From November 21, non-essential activities will have to stop between 10 p.m. PST to 5 a.m. PST in counties in the purple tier. The order will remain in effect until 5 a.m. on December 21, though it could be revised or extended.
This means that all gatherings with members of other households and other activities outside of the residence have to stop.
The order does not apply to activities relating to the operation, maintenance, or usage of critical infrastructure, to activities required by law. Additionally, the order does not apply to people experiencing homelessness.
People from the same household can still leave their homes between these times as long as they do not engage in any interaction or gather with anyone from outside of their household.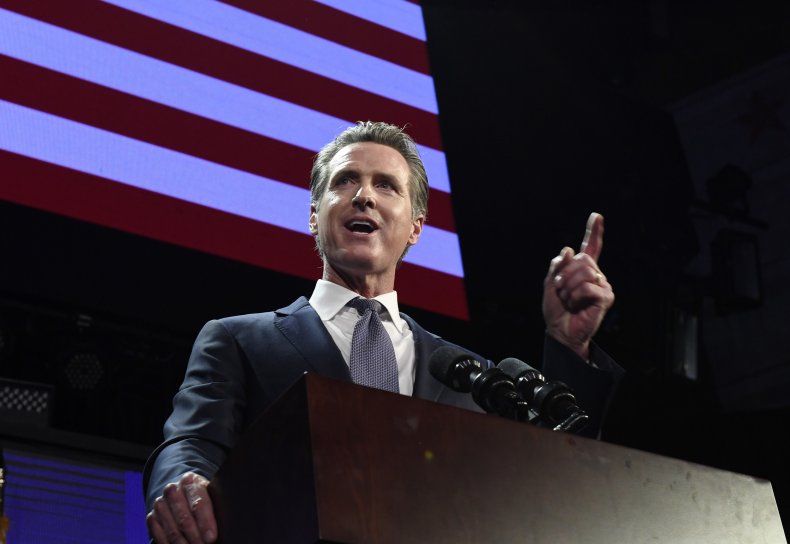 Erica S. Pan, Acting State Public Health Officer of the California Department of Public Health, explained the reasoning behind this curfew in a news release and said: "This Limited Stay at Home Order will reduce opportunities for disease transmission with the goal of decreasing the number of hours individuals are in the community and mixing with individuals outside of their household.
"Every intervention to decrease mixing of households is critical during this unparalleled increase in case rate rise of about 50 percent during the first week in November.
"In particular, activities conducted during 10 p.m. to 5 a.m. are often non-essential and more likely related to social activities and gatherings that have a higher likelihood of leading to reduced inhibition and reduced likelihood to adhere to COVID-19 preventive measures (e.g., wearing face coverings and maintaining physical distance)."
Data from November 18 shows that California has had 1,059,267 cases and 18,466 deaths related to COVID-19.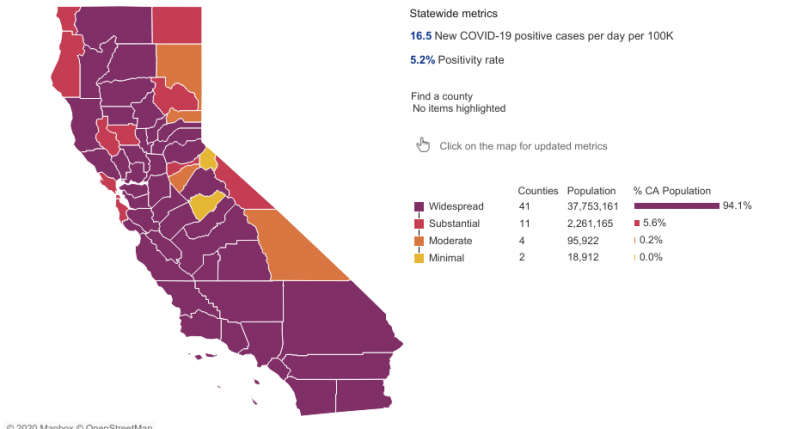 California Purple Counties
The following counties are "purple counties" meaning the risk level is "widespread," with more than seven new daily cases per 100,000 people, or a positivity rate of eight percent or more, (based on a 7-day average of all COVID-19 tests performed that are positive).
In purple counties, many non-essential indoor business operations are closed, and their residents will face a month-long curfew.
Alameda
Butte
Contra Costa
El Dorado
Fresno
Glenn
Imperial
Kern
Kings
Los Angeles
Madera
Mendocino
Merced
Monterey
Napa
Nevada
Orange
Placer
Riverside
Sacramento
San Benito
San Bernardino
San Diego
San Francisco
San Joaquin
San Luis Obispo
Santa Barbara
Santa Clara
Santa Cruz
Shasta
Siskiyou
Solano
Sonoma
Stanislaus
Sutter
Tehama
Trinity
Tulare
Tuolumne
Ventura
Yolo
Yuba
California Red Counties
The following counties are "red counties" which means that there is a substantial risk, with between four and seven new daily cases and a positivity rate of five to eight percent.
In red counties, some non-essential indoor business operations are closed.
Amador
Colusa
Del Norte
Humboldt
Lake
Marin
Modoc
Mono
Plumas
San Mateo
California Orange Counties
The following counties are "orange counties" which means there is a moderate risk, with between one and 3.9 new daily cases and a positivity rate between two and 4.9 percent.
Calaveras
Inyo
Lassen
Sierra
California Yellow Counties
The following counties are "yellow counties" which means there is a minimal risk, with less than one new daily case and a positivity rate of less than two percent.
California Gov. Gavin Newsom shared the news on Twitter and said: "Together—we can flatten the curve again."