Two tourists from California found themselves trapped in the partial ruins of an ancient European castle last week.
Niki Ghofranian and Ritta Nielsen from Manhattan Beach were enjoying their visit to Dunstaffnage Castle in western Scotland so much they failed to notice staff lock up for the day on Wednesday, The Times of London reported.
Ghofranian documented their castle captivity on Facebook, before local news outlets picked up the story Friday. The women's plight hit the British national press Tuesday.
In one Facebook video, Ghofranian said: "I don't know if we're going to have to climb over the castle walls or what. What a nightmare this is. It's still fun, but I can't believe the mess we're in."
Luckily for the tourists, local police and firefighters soon arrived to help the women escape the seemingly unassailable stronghold.
"Can't think of a worse place to be locked in," Ghofranian said in another video. "Thank god the police have got here and maybe they'll figure out a way to get us out. I don't really know but everybody is searching…the gates of the castle are locked very, very tight."
Firefighters from nearby Oban eventually managed to free them by opening up two locks. Per The Times, a castle staff member explained: "There are two locks on the door and the firefighters had a thing that could turn the first lock. They then managed to open the second lock. It was slightly damaged but it has been repaired."
Ghofranian claimed on social media she would rather have stayed at the castle overnight than let firefighters break down the castle's door. "I walked the walls for hours thinking of how many hundreds of years this castle was defended from invaders and how impenetrable it was. They mentioned they might have to break down the castle door and I was not going to let them ruin it," she wrote. "I would rather have slept there!"
Ghofranian did not immediately respond to Newsweek's request for comment.
As The Press and Herald noted, a fire crew spokesperson said: "It was a bit of an unusual request for us. But we are always happy to help."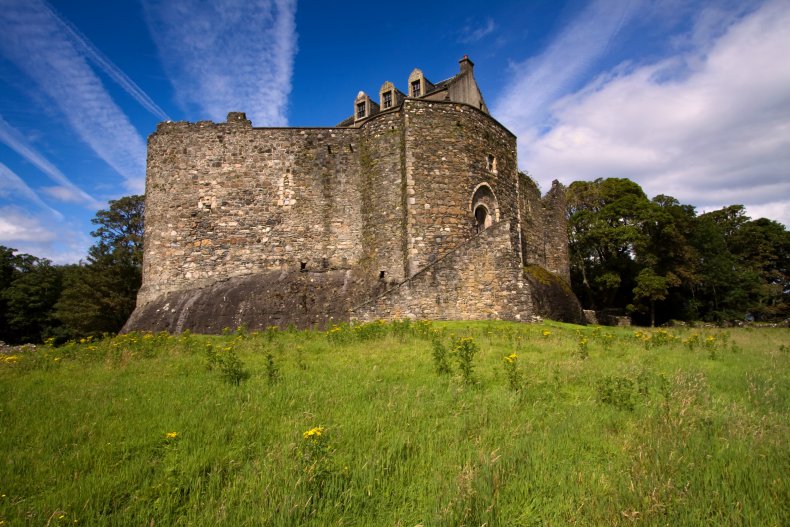 Dunstaffnage is a partially ruined castle from the 13th century. Likely built for Duncan MacDougall, Lord of Lorn, the site was captured by Robert the Bruce, King of Scotland, in around 1308. James III gave the castle to Colin Campbell, 1st Earl of Argyll, in 1470.
The fortress held out against attacks during the civil war, before being burned after a failed rebellion in 1685. It was home to government agents for much of the Jacobite risings in the 18th century.
The castle eventually fell into a period of decay, before it was partially restored in the early 20th century. Today, it is open to the public, and operated by Historic Scotland.