Viral Video Shows California Mom Hold 13-year-old Girl, Tell Daughter to Fight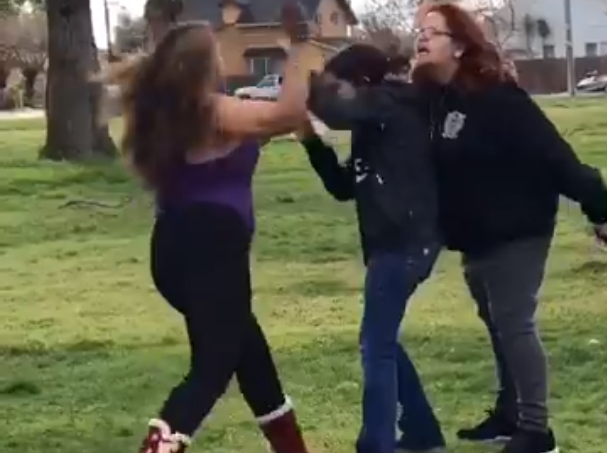 A California mother was arrested this week after viral footage appeared to show her holding a 13-year-old girl and ordering her daughter to fight after school.
Barbara Christine Cypress, 40, was detained at home on Tuesday and booked into Stanislaus County Jail on one charge of false imprisonment and two misdemeanors, The Modesto Bee reported. After the arrest by Turlock Police Department, she was held on $20,000 bail.
A 23-second clip of the incident, which took place at 3 p.m. last Friday, was posted to Facebook by the victim's mother, Iriana Lizarraga Acuna. It was reportedly filmed by a friend of the teenage victim. The shocking footage has since been viewed more than 267,000 times.
"Hit her. It's after school. It's after school," the woman was heard shouting after forcefully grabbing the teenage victim and pushing her in the direction of another child, later identified as the woman's 12-year-old daughter. The teen victim is then hit repeatedly in the head. "What the f*** is wrong with you?" the 13-year-old girl responded as the mother continued to yell in her face.
"F*** with my kid! F*** with her! F*** with her!" the mother loudly challenges, before again insisting that her child can't get in trouble because it was happening after school hours.
Both children attend Turlock Jr. High, CBS13 Sacramento reported. It remains unclear what initially sparked the confrontation but it is believed an argument started on the school bus.
Warning: The below clip features cellphone footage of violence and strong language.
CBS13 identified and named the teenage victim. "[The student's] mother came out of nowhere and was pressing her body against me," the girl told the news outlet on Tuesday. "I was like, 'I want you to stop talking to me' and her mom comes out of nowhere," she added.
Alongside the brief video, the victim's mother Acuna wrote: "This mom holds my daughter while her daughter hits her at their bus stop! Someone please help me identify her! Share please!!!!! I don't even have words to explain how I feel right now this bullying needs to stop please."
A spokesperson for the Turlock Police Department, Sgt. Russell Holeman, said it was Acuna who contacted deputies. He said additional complaints were filed as the footage spread.
The 12-year-old student could face suspension because of the incident. The mother's misdemeanor charges include child abuse and contributing to the delinquency of a minor, The Modesto Bee reported. Acuna said that she is likely to press charges.
"I'm not mad at the teenager. I'm mad at the mother because the teenager doesn't even want to fight my daughter, the mom comes telling her daughter hit her," Acuna said on Tuesday.
Viral Video Shows California Mom Hold 13-year-old Girl, Tell Daughter to Fight | U.S.