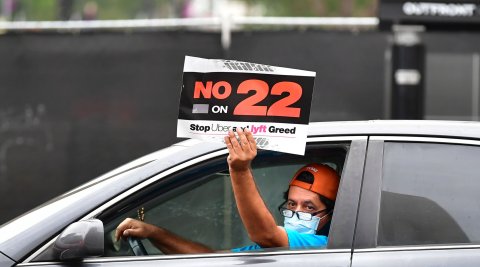 In a resounding vote in favor of the gig economy with broad implications beyond the Golden State, Californians have passed Proposition 22, a measure that advocates claim put the future of Uber, Lyft, DoorDash and other app-based work companies on the line, along with the livelihoods of the people who drive for them. The new law, which passed with nearly 60 percent of the vote after the companies spent a record-setting $205 million to help secure a win, maintains the status of these workers as independent contractors, rather than employees, while providing them with a few new benefits.
The net result, labor experts say: The companies will save billions of dollars a year in operating costs, helping to ensure their survival and the availability of this type of gig work for the hundreds of thousands of Americans who make their living or supplement their income by delivering passengers, food and other goods to their desired destinations. But survival comes at a potentially high cost for these workers, who will now be entitled to fewer protections around pay, healthcare, sick leave and other issues than they'd be entitled to as employees. Proposition 22, Ken Jacobs, chair of the Labor Center at the University of California-Berkeley, says bluntly, "will take away basic rights and benefits for drivers under the law."
Critically, the new measure is also expected to reverberate beyond California as other cities and states fight their own battles to regulate gig work. Perhaps because so many of these companies—Uber, Lyft, Instacart—are headquartered in California, the state has led much of the national conversation on gig workers' rights. When Sacramento passed a measure last year to push companies that rely on independent contractors to reclassify many of these workers as employees, it kicked off similar legislative efforts in New Jersey, New York, Rhode Island, Pennsylvania and Washington and other states were expected to follow suit. Says Lindsey Cameron, a researcher and assistant professor of management at the Wharton School, University of Pennsylvania, "Labor scholars said it was the biggest change in labor policy in the past 20 years."
The Ubers and Instacarts of the world claimed the measure, Assembly Bill 5 or AB5, would kill their business, by sharply driving up operating costs, and they have been fighting back with legal challenges ever since. Then the pandemic dealt a second, potentially deadly blow to gig work: In August, Uber reported a $1.8 billion dollar loss after a sharp decline in users and Lyft revenue declined by 61 percent. Meanwhile, even the independent contractors who were supposed to be the beneficiaries of AB5 and similar legislation, appeared to have mixed feelings about the efforts to save them from exploitation. Some welcomed the opportunity to get traditional workplace protections but others complained about the loss of flexibility and worried opportunities to make money in the gig economy would dry up.
The passage of Proposition 22 is likely to reframe and reignite the debate over gig work yet again.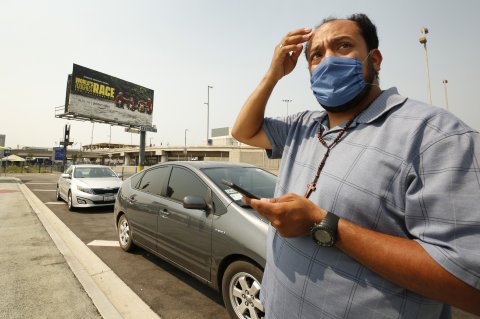 What Prop 22 Will—and Won't—Do
The enormous amount of money spent on Prop 22 reflects the high stakes involved in the outcome. In fact, the initiative turned out to be the most expensive state ballot measure in recent history, with a total of $225 million spent, according to Ballotpedia. The campaign to pass it was led by Uber, Lyft, DoorDash, Instacart and Postmates, with support from groups as diverse as the California Chamber of Commerce, the California Police Chiefs Association and the California NAACP. The opposition, including many unions and labor rights groups, spent less than 10 percent, or $20 million, of the total dollars involved.
The proposition exempts ride-sharing companies from AB5, allowing app-based drivers to continue to be classified as gig workers rather than employees. As a nod to the charges of exploitation that drove the passage of AB5 last year, the new measure also included a handful of new benefits for drivers that are not typically extended to independent contractors. They include setting a partial minimum wage (only for the actual time on the road), a stipend to help cover the cost of a healthcare plan for the most active drivers and insurance coverage for accidents, illness and lost wages.
What the measure won't do is address the larger problem AB5 aimed to stop: companies mislabeling workers, who are in essence on their staff, as independent contractors, a type of employer fraud known as "labor misclassification." According to the Economic Policy Institute, between 10 to 20 percent of employers misclassify at least one worker as an independent contractor. These freelancers aren't entitled to the full suite of benefits allowed under employment law, including broader minimum wage rules, overtime pay and sick leave, explains Cameron, nor do employers have to pay into the Social Security and Medicare systems on the workers' behalf.
Potential discrimination is also an issue. "Contractors aren't protected by basic Equal Employment Opportunity laws," Cameron says. "They're at the mercy of the company hiring them."
For the companies, though, not having to pay full benefits is a big boon to the bottom line, with savings of up to 30 percent of operating costs, the National Employment Law Project (NELP) has found. That's a big appeal of a mostly-freelance workforce for employers at any time but especially compelling for businesses struggling financially during the pandemic.
For the economy as a whole, though, the picture is darker. Billions of dollars in federal revenue are lost each year due to worker misclassification, NELP reports. Officials also estimate that misclassification costs the state of California $7 billion a year in payroll taxes, which was part of the motivation for passing AB5 in the first place and for the similar laws subsequently considered in other states as well.
Unintended Consequences
While employer pushback to AB5 was understandable, it turned out that many gig workers didn't love the new law intended to help them either, largely because it ended up costing them money too. The reason: As Tristan Blaine, a small business lawyer in Los Angeles, explains, while some companies converted their freelancers to employees in order to comply with the law, others simply avoided California-based freelancers altogether.
For example, last December, Vox Media announced it would cut 200 freelance writing jobs in California in order to comply with the new law. VIPKid, a company that hires contractors to teach English online, also announced it would no longer accept applications from California in the wake of AB5. And they were far from the only ones.
In the estimation of many experts, the problem AB5 tried to address was real but the bill itself backfired, by failing to recognize that identifying labor misclassification isn't a straightforward, one-size-fits-all issue. "They passed a series of rules in AB5 for all contracting, killing the fly with a cannon," says Christopher Thornberg, director of the Center for Economic Forecasting and Development at the UC Riverside School of Business. "It's the law of unintended consequences, in action and on steroids."
Thornberg says ever since the bill was passed, the state has been "handing out exemptions in every direction." Less than a month into its implementation last January, a state judge ruled the bill wouldn't apply to truckers. And in September, California Governor Gavin Newsom signed an emergency measure to modify AB5 and loosen requirements for writers, photographers, musicians and other creative professionals. Now with Prop 22 passed, ride-sharing drivers will also be exempt.
As a result, the widespread changes to the gig economy that were anticipated after AB5 took effect haven't materialized and legislation has stalled in other states. For example, after the backlash against AB5, the New Jersey Senate let S4204, its own version of the initiative, die during the legislative session.
Questions Remain
That said, AB5 did raise important questions about how companies treat independent contractors and clearly was the driving force behind the inclusion of some limited benefits in Prop 22. Among them: The measure establishes a new pay structure for app-based drivers that offers them 120 percent of the local minimum wage, health insurance subsidies on a sliding scale for drivers who work at least 15 hours a week and reimbursement of 30 cents a mile while they're on a trip or en route.
The protections aren't as extensive as those offered to employees under state and federal law, though. And drivers are only paid that minimum wage for "engaged time," meaning when they're waiting for a ride or delivery, they won't earn a penny.
"I'll sit around and wait for an hour and finally get a ride, and it's five bucks," says Kimberly James, 45, a full-time gig worker in Georgia who drives for Uber. James says that when the apps were first introduced, she was able to earn a decent income, but with more drivers using them, it's become a less lucrative income stream. These days, driving for Uber feels less like a way to earn extra income and more like she has no other choice. "They keep changing things and now I don't know what I'm going to do," she says. "My car payment was due two weeks ago."
Despite feeling exploited by these apps, James doesn't want the alternative. "I don't want to be Uber's employee," she says. "Because then what happens? I don't see it helping."
Many labor groups say that Prop 22 has its own share of unintended consequences. NELP claims that the measure could leave drivers vulnerable to COVID-19, since the companies aren't required to follow any California health and safety laws. It's also unclear, even with the new minimum-wage stipulations, how Prop 22 will impact driver income; estimates vary widely. In one study, for instance, the UC Berkeley Labor Center found that drivers will earn as little as $5.64 per hour under Prop 22. Thornberg, by contrast, estimates that drivers are more likely to earn between $25 and $27 an hour, after accounting for driver expenses and wait time.
Another potential problem: The measure also make it nearly impossible for lawmakers to amend it in the future, Jacobs says. Changes in any of its provisions need to be approved by a super majority of seventh-eighths of the state legislature to pass.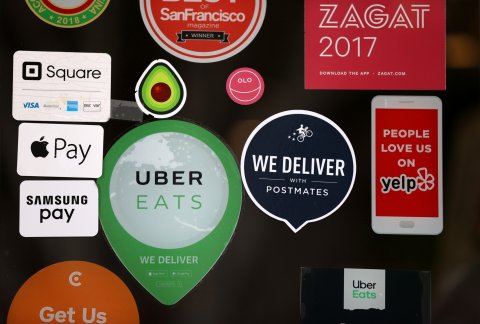 Clouds Over the Future of Gig Work
One thing is certain: The new legislation, both Proposition 22 and its AB5-like predecessors, has opened an important conversation about how to ensure the rights of gig workers, who now make up an important part of the labor force—at least 30 percent of adults in the U.S. currently do some type of gig work, according to Federal Reserve estimates. "It will be interesting to see what the state does with AB5 now," Thornberg said. "After all, the primary reason for it was just exempted from it. Do you dump it and try again?" Jacobs, for one, predicts the battle over gig worker rights will likely move to the federal level.
The discussions will be about more than compensation. As a driver, James says she's been sexually harassed several times. "One guy was sitting in the backseat of my car and pulled out his penis. Someone else pulled a gun on me," she says. "You report it to Uber, but they just say they won't pair you with that rider anymore." Another driver, 28-year-old Erika Betts, says the automated, hands-off business model of the apps is also problematic. "The fact that I don't have a direct boss is a big barrier," she says. "It's created an unsafe, insecure environment for workers. That's why I think the reclassification was needed."
If the gig economy is so bad, why keep working in it? Workers are gravitating more toward freelance work because they're having a hard time finding traditional employment, or having a hard time making ends meet on a single income. A survey from Deloitte found that only six percent of Millennials say they've chosen to be in the gig economy instead of working full time.
"I also have a multitude of health issues that make it hard to do a traditional job," says James, who believes many of her fellow drivers are in the same situation. "They're disabled, or they're single moms who need flexibility with child care, or they're elderly and they can't find work." This dynamic is what allows these companies to function, she says. "We're desperate for work, and they know it."
Although Prop 22 doesn't offer app-based drivers the same protections as full-time employees, it's also true that the nature of gig work doesn't fit the traditional employee work-model. Drivers set their own working hours, for example, and they use their own vehicles. On the other hand, gig work is no longer just a flexible way to pick up some extra cash—it's become a livelihood for many workers.
Prop 22 may have saved the gig economy, but criticism of the measure raises an interesting question: Is the gig economy worth saving? If so, what about it needs to be changed?
For better or worse, Millennials and Generation Z might be the age groups most affected by these changes. A 2019 study commissioned by Upwork and the Freelancers Union found that 53 percent of Gen Z workers and 40 percent of millennials are freelancing, compared to 31 percent of Gen X and 29 percent of baby boomers. Cameron points out that minority workers are also among those most affected—according to the research firm Edison, over half (55 percent) of African-American gig workers rely on a gig job as their primary source of income.
For their part, ride-sharing companies are breathing a sigh of relief, Thornberg says. "Albeit a temporary one, in as much as California is not the only state taking aim at these systems." Other cities, states, and countries continue to debate the rights of gig workers. Britain's Supreme Court is currently deciding whether two Uber drivers are entitled to employment protections; Canada recently ruled in favor of a driver in a similar case. The Massachusetts Attorney general is suing Uber and Lyft over alleged labor misclassification, and the state of New York recently ruled that Postmates drivers should be considered employees who are entitled to unemployment benefits.
The big, still open question: Will California's passage of Proposition 22 undermine these efforts?
Cameron believes the one certainty is continued discussion around rewriting the rules of the gig economy. "We're going to see a rejiggering of how these companies are actually classified, in other words, what kind of company they are," For example, because Uber is considered a technology rather than a transportation company, they've thus far been able to skirt other types of regulations, like vehicle inspections, she explains. She adds that companies in industries that have typically relied on contract labor, such as cleaning services, are now hiring individuals as employees from the start. "I don't know if it's in direct response to the legislation. Maybe it's more of a preemptive move. It could be that they see the writing on the wall, or they want to do better by their workers, or maybe they just want a more positive reputation in the media. There could be a lot of factors."
Time will tell whether the passing of Prop 22 actually addresses worker exploitation in a meaningful way. But in the meantime, it's a conversation that should be ongoing. "I hope they can find a happy medium so that we can continue to provide these services," Betts says. "But it can't be at the expense of workers. We're left with little to no options."
Kristin Wong is a freelance journalist based in Los Angeles. She's written for The New York Times, The Cut, and CNBC.