California to Consider Paying Teachers Like Lawmakers Amid Shortage in Classrooms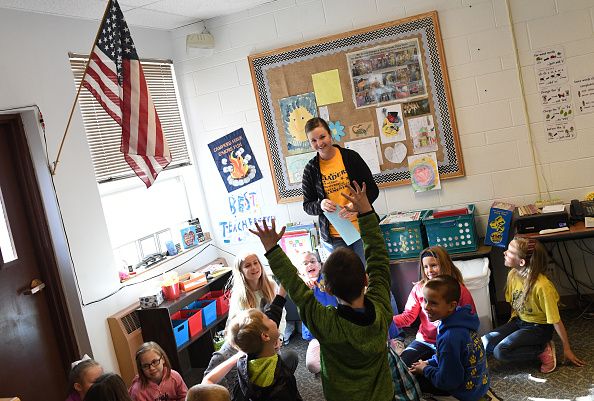 California voters may have a solution to their state's teacher shortage: paying instructors the same hefty salaries as they pay their politicians.
The proposed Teachers Fair Pay referendum would peg teachers' pay to the wages of state lawmakers, roughly $104,000 a year. It's a bold move in a time when schools are desperately scrambling for innovative ways to retain teachers and recruit new teachers.
"If you want to attract better people you have to pay a competitive salary," Marc Litchman, spokesman for Great Teachers, Better Schools, who supports the bill, told Newsweek.
Under the proposal, residents would pay an additional two-cent sales tax, which would fund the higher teacher salaries. Litchman needs 365,880 signatures — and the attorney general's stamp of approval — to get the proposal on the November 2018 ballot.
About 75 percent of 211 school districts in California had a shortage of qualified teachers in 2016-2017, according to Learning Policy Institute, an education research think tank. School districts around the country are struggling to find sufficient science, tech and special education teachers.
Teachers in California make from $44,000 to $96,000. The average salary of a U.S. public school teacher in 2012 and 2013 was about $56,383, according to the National Center for Education Statistics.
California is not the first state to consider increasing teacher salaries to bolster the teaching profession. Oklahoma Governor Mary Fallin proposed giving teachers a $3,000 raise on their lowest in the nation $44,000 salaries. And in South Dakota, lawmakers approved a half-cent sales tax to increase teacher salaries to $48,500.
Some say raising salaries could be the way to motivate more students to join the teacher workforce.
"Higher teacher salaries will eventually get us better teachers," Dick Startz, an economics professor at the University of California, Santa Barbara, told Newsweek.
Six out of 10 Americans believe teachers should be paid more, according to an Education Next Poll.