California Wildfire Map: Updates on the Fires Burning Across the Golden State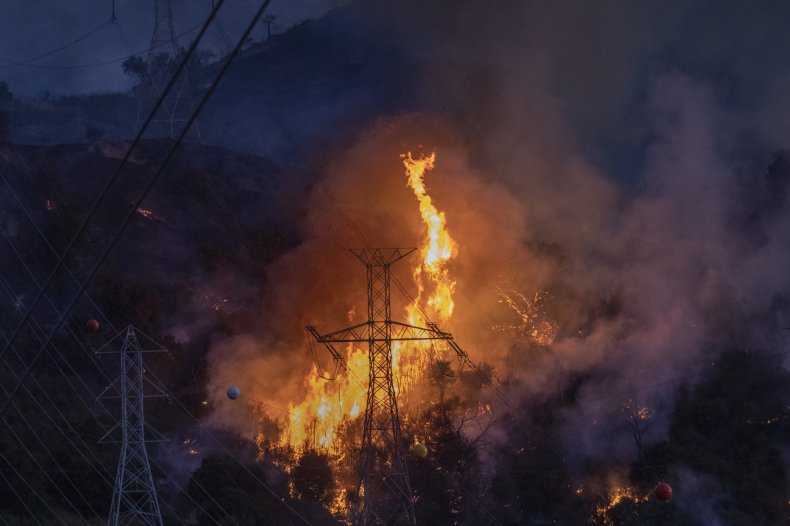 More than 100,000 residents have been forced to evacuate their homes in Southern California, as the state continues to fight numerous wildfires that sprung up starting Thursday.
Fires have also sprung up in the northern part of the state, despite local energy utility Pacific Gas & Electric's effort to minimize fire risks by cutting power to 34 counties ahead of the windstorms. Earlier this year, state fire officials found PG&E responsible for 2018's Paradise Fire, California's deadliest blaze, which left 85 people dead.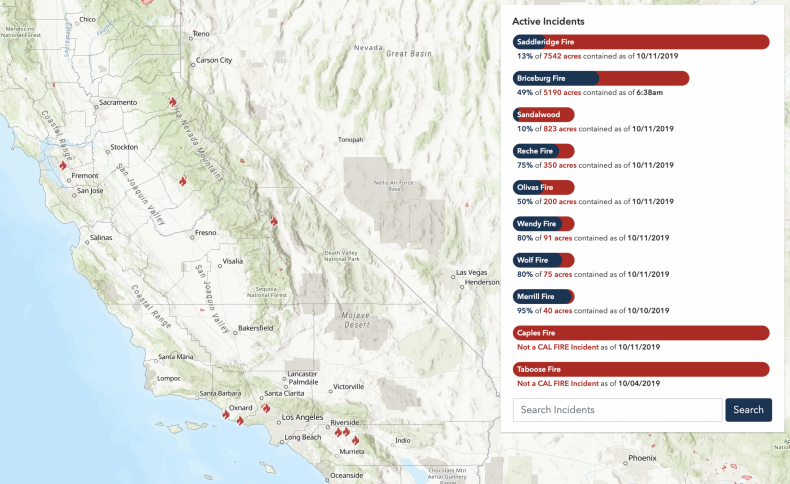 As the Saddleridge Fire continued to blaze in California's San Fernando Valley on Friday, the state announced that a red flag warning for Los Angeles and Ventura counties would remain in effect until 6 p.m. PT Saturday. The warning was previously set to expire Friday evening.
By 8:45 a.m. ET, the Los Angeles County Fire Department's website announced that more than 7,500 acres had been burned and the fire was only 13 percent controlled.
In nearby Ventura County, local firefighters worked to contain the half-acre Ridge View fire, stating on Twitter around 5 a.m. ET that the they had "knocked down" the blaze near the town of Camarillo and were "now working towards 100 [percent] containment."
Near the coast, a larger inferno in Ventura County, the Wendy fire, had burned 90 acres and was 80 percent contained as of 11 p.m. ET Friday according to a notice on the California Department of Forestry and Fire Protection's Twitter page.
The trouble didn't stop there for Ventura County: A third blaze broke out around 4 a.m. local time Friday, according to the Ventura County Star. The Olivas fire quickly spread to 200 acres and was only 50 percent contained by Friday evening.
South of Los Angeles, the Sandalwood Fire had scorched more than 800 acres as of Friday evening and was only 10 percent contained. Nearby, the smaller Wolf and Reche Fires were mostly under control by Friday evening.
In the northern part of the state, the state's second largest blaze, the Briceburg Fire, grew to cover 5,100 acres on Friday. Mandatory evacuation orders previously placed on Mariposa county, near Oakland, were lifted while 1,400 firefighters worked to contain the blaze. Emergency crews were only able to bring 49 percent under control. The fire destroyed one structure and Highway 140, a popular route to Yosemite National Park, remains closed due to the fire according to local news coverage by ABC30.
To the west of the state capital, the 25-percent controlled Caples fire continued to rage Friday as part of a 2,400 acre planned burn project, according to the National Wildfire Coordination Group. That fire was lit on September 30.
Update: A previous version of this story stated that Pacific Gas & Electric is the energy provider in Southern California. That is not correct.