California Wildfire Evacuation Map: Maria, Kincade, Getty Fires Force Residents From Their Homes
California's wildfire season, combined with strong Santa Ana winds, forced thousands of residents from their homes, some for multiple days at a time.
On Friday morning, firefighters battled more than nine blazes across California, including the Maria Fire and the Getty Fire. Winds drove both of the southern California fires to spread and caused officials to issue mandatory evacuation orders for residents whose properties and lives could be at risk.
As Santa Ana winds peaked in the southern California area Wednesday and Thursday, officials urged residents to heed evacuation orders and remain vigilant. After reaching up to 50 miles per hour in some areas of California, the winds began to dissipate and were expected to continue to do so on Friday, bringing more favorable conditions to firefighting efforts.
With weather conditions improving, officials lifted some mandatory evacuation orders, but others remained in place as of Friday morning.
Maria Fire Evacuation Orders
On Thursday evening, the Maria Fire ignited on the South Mountain between Somis and Santa Paula. Overnight, the flames grew to more than 8,000 acres and were zero percent contained, according to the Ventura County Fire Department. Categorized as a "fast-moving brush fire," officials ordered residents to leave the area.
Mandatory evacuation orders were in place for everyone living within the boundaries of South Mountain Road to the north, West Los Angeles Avenue to the west, Balcom County Road to the east and Highway 118 to the south.
A number of roads were also closed to traffic, which the Ventura County Fire Department listed as:
South Mountain Road between 12th Street and Balcom Canyon
Berylwood Road at Aggen Road
West La Loma Road between Center Road and Walnut Avenue
Price Road at E. Los Angeles Avenue (Highway 118)
Clubhouse Drive at E. Los Angeles Avenue (Highway 118)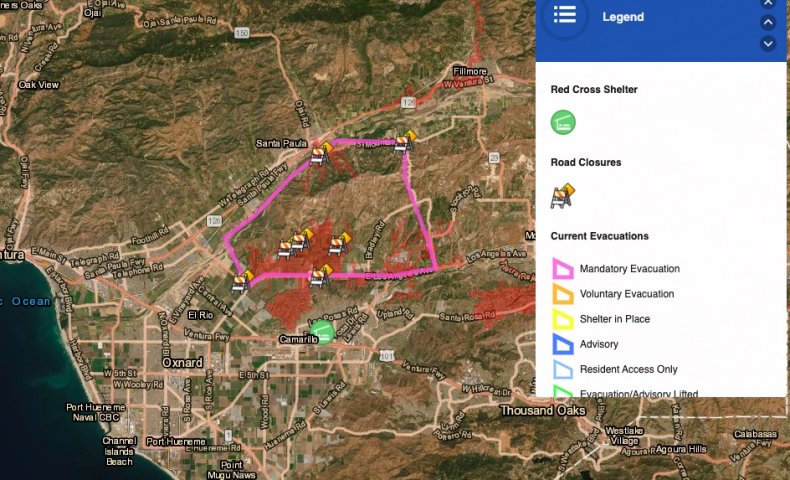 Residents who were forced to leave their homes could go to the Camarillo Community Center in Camarillo, which officials established as an evacuation shelter, authorities said. People could also drop their small animals off at the Camarillo Animal Shelter in Camarillo and large animals could go to the Ventura County Fairgrounds in Ventura or the Earl Warren Showgrounds in Santa Barbara.
Getty Fire Evacuation Orders
On Monday, farther north of where the Maria Fire would ignite, the Getty Fire broke out in Los Angeles. By Thursday evening, the flames burned through 745 acres and firefighters had it 52 percent contained. Crews worked to build upon containment lines and more than 7,000 residences were still considered to be threatened by the flames, according to the Los Angeles Fire Department.
Some residents, who were previously forced to leave their homes, were able to return. However, as of Thursday evening, many Los Angeles residents were still under mandatory evacuation orders, which included everyone who lived within the borders of:
Tigertail Road at Deerbrook Lane to Chickory Lane
Stonehill Lane
Lindenwood Lane
Sky Lane
Canna Road
Chickory Lane
Bluestone Trail to Bluegrass Way
Bluestone Trail
Bluegrass Lane
Bluegrass Way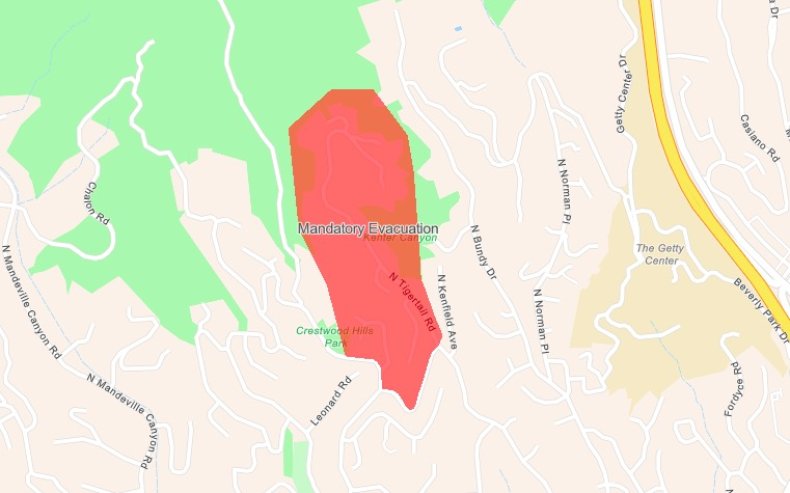 Humans and small animals were welcome at the Palisades Recreation Center and the Westwood Recreation Center, which were both open 24 hours a day. Other small animals could go to the West Valley Animal Shelter or the West Los Angeles Animal Shelter and people could drop large animals off at the Hansen Dam Recreation Area.
As of Thursday evening, the Getty Fire destroyed 10 residences and damaged an additional 15 homes.
Kincade Fire Evacuation Orders
The Kincade Fire, located in northern California, is the largest of all the blazes burning throughout the state. A fire that began in Sonoma County on Oct. 23, it's since burned more than 77,000 acres, destroyed 165 homes and damaged 33 more homes. More than a week after evacuation orders were initially ordered, a number of residents were still unable to return home.
On Thursday evening, according to the California Department of Forestry and Fire Protection (Cal Fire) had mandatory evacuation orders still in place for:
West of Lake County Line
North and east of Highway 128
South of Cloverdale
East of Asti Road/Geyserville Area to the Napa County Line
Highway 128 North Knights Valley Area to the Napa County Line
Area south of Highway 128 and the fireline
East of Windsor Town Limits
North of Faught Road at Shiloh Road and the Zone 5B boundary
Area south of Highway 128 and Yellow Jacket Ranch Road
West of Highway 128 and the Zone 6 boundary to the Zone 3C boundary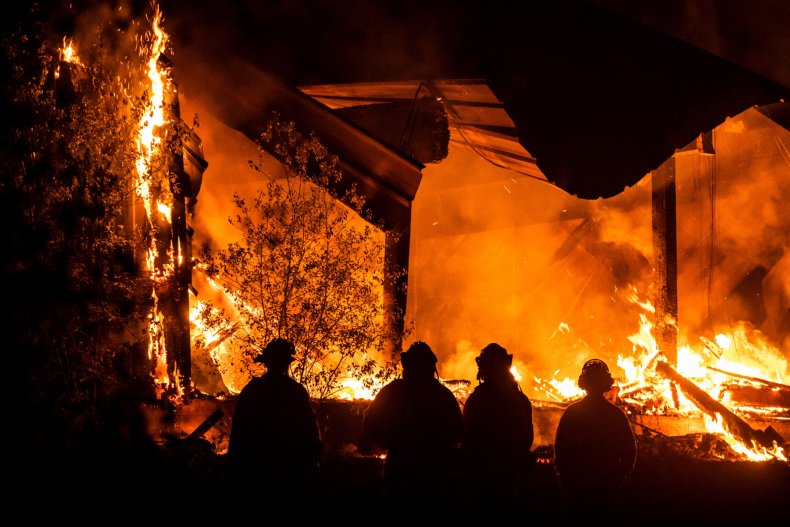 Six evacuation centers were established for residents who had to leave their homes due to the fire. In Petaluma, people could go to the Petaluma Community Center, New Life Church or the Petaluma Veterans Building. Two shelters, the Sonoma County Fairgrounds and Santa Rosa Veterans Memorial Building, were established in Santa Rosa, as well.
There were also shelters established at the Marin County Fairgrounds in San Rafael and at St. Mary's Cathedral in San Francisco.