California Wildfire Air Quality Map: Where Smoke is Raising Health Concerns, Causing Schools to Cancel Class
At least nine wildfires were burning in California Friday morning, bringing heavy smoke to the Golden State. The Kincade fire, the largest of them all, raised concerns among the Bay Area Air Quality Management District, which urged northern California residents to take precautions to protect their health.
The Bay Area Air District issued a Spare the Air Alert Thursday night cautioning Bay Area residents to avoid being outside. Spare the Air alerts are issued when ozone or particulate matter pollution is expected to reach unhealthy levels, potentially causing irritation for those who have asthma or emphysema. Jack Broadbent, executive officer of the Bay Area Air District, said in a statement that air from the Kincade fire was expected to spread throughout the Bay Area on Friday.
"If possible, stay inside with windows and doors closed until smoke levels subside," the Bay Area Air District said. "It is also recommended that Bay Area residents set air conditioning units and car vent systems to re-circulate to prevent outside air from moving inside."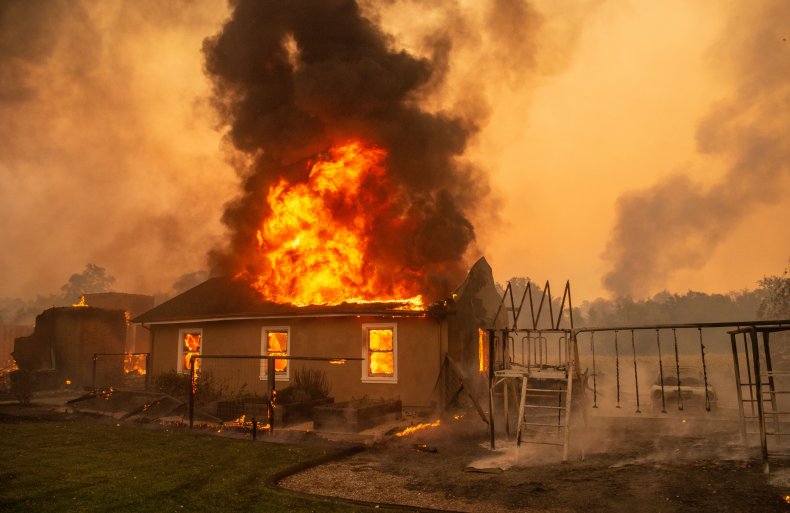 Wildfire smoke can hurt residents' eyes, irritate the respiratory system and worsen chronic heart and lung disease, according to the Centers for Disease Control and Prevention.
Residents appeared to be heeding warnings. Ryan Scott, the manager of Garret Ace Hardware in Healdsburg, California, told the San Francisco Chronicle the store sold out of its entire stock of masks.
As of Friday morning, Pleasanton, Livermore and San Jose had only moderate levels of air quality, according to the Bay Area Air District. Although not at the level where it's considered unhealthy, pollutants could cause health concerns for a small population. However, AirNow forecasted that air quality in the northern part of California would deteriorate to unhealthy levels at some point on Friday.
Farther south, near Los Angeles, residents also experienced changes to their air quality. Multiple fires were burning and school districts canceled classes due to concerns about the flames and the air quality. As of Friday morning, parts of the area were determined to have "moderate" levels of air quality and farther north, in Bakersfield about 100 miles away, the air was determined to be unhealthy for sensitive groups, according to AirNow.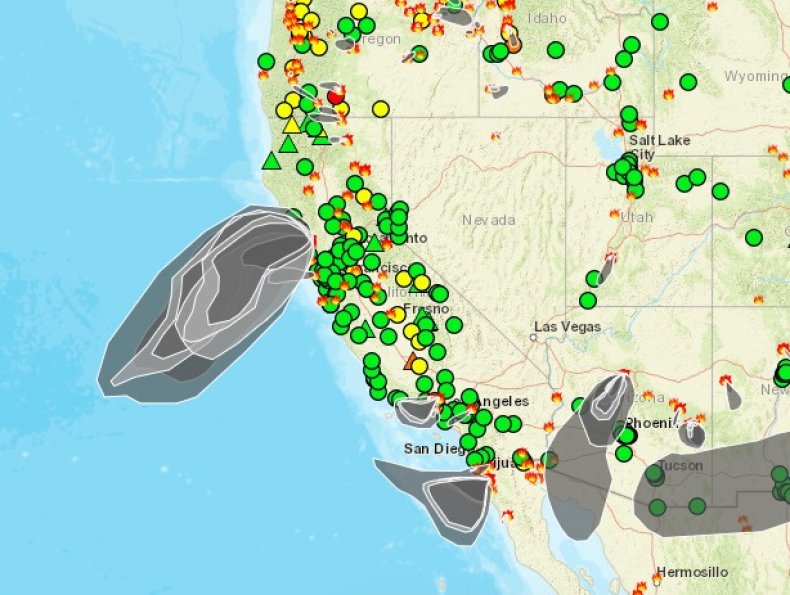 In 2018, California experienced some of the deadliest and most destructive wildfires in its history. The smoke from the flames was so immense that it made the air quality in California the worst in the world. Worse than historically terrible air quality areas, such as China and India, it caused universities to cancel classes and stores to sell out of smoke masks.