California's deadly wildfire season continued into November with the unfortunately record-breaking Camp Fire, as well as the Woolsey Fire and Hill Fire, all of which claimed multiple lives and homes.
The Camp Fire broke out on Thursday in Butte County, California, and has since burned 110,000 acres. At least 6,453 residential structures have been destroyed and an additional 15,500 are threatened by the flames, according to the California Department of Forestry and Fire Protection (Cal Fire).
Since igniting, the fire claimed the lives of 29 people. As of Sunday evening, another three people were injured. The Camp Fire tied with the Griffith Park Fire for the deadliest in California's history. In October 1933, the Griffith Park Fire burned through 43 acres of Los Angeles County, killing 29 people.
Butte County Sheriff Kory Honea said an additional 228 people are still unaccounted for, CNN reported. In an effort to help people locate their loved ones, the Butte County Sheriff's Office established a Missing Persons Call Center. From 8:00 a.m. PST to 8:00 p.m., people can call the center to report a missing person. Anyone who locates someone who is missing is also encouraged to call the center.
Over 4,000 people are working to control the fire in 91 different crews. Almost 600 engines were brought in, as well as 21 helicopters, 88 dozers and 59 water tenders. On Sunday evening, the fire was about 25 percent contained and Cal Fire estimated total containment would be achieved on November 30.
The Camp Fire practically decimated Paradise, California, and has since spread south to Butte College and northeast to Pulga. Deadwood, Concow, and Park Hill, California, are also all among the areas affected by the Camp Fire.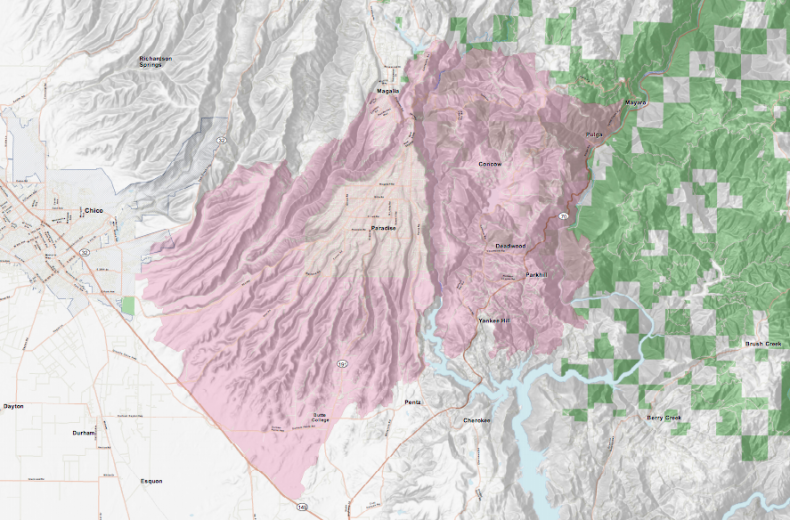 "We drove out of the clouds into the sunshine and could see flames on ridge, consuming everything it was touching," Joanna Garcia, who fled the fire, told NBC News. "You never think you're going to get out of those flames."
Also burning in California is the deadly Woolsey Fire, which broke out on Thursday, the same day as the Camp Fire, according to Cal Fire. It's since burned 85,500 acres and destroyed 177 structures in Los Angeles County and Ventura County. Among the residents who lost homes in the flames were singers Miley Cyrus and Neil Young and actor Gerard Butler.
Butler posted a photo of the charred remains of his home on Twitter and called it a "heartbreaking time across California." He added that he was "inspired" by the "courage, spirit and sacrifice of firefighters."
Two people lost their lives in the Woolsey Fire, which was only 15 percent contained as of Sunday evening. More than 3,000 people were fighting the flames, which spread north of Agoura Hills.
Along with the Woolsey Fire, Ventura County residents are also dealing with the Hill Fire, which also began on Thursday. As of Sunday evening, no fatalities were reported, but two structures were destroyed. The fire burned 4,531 acres and was 75 percent contained on Sunday evening.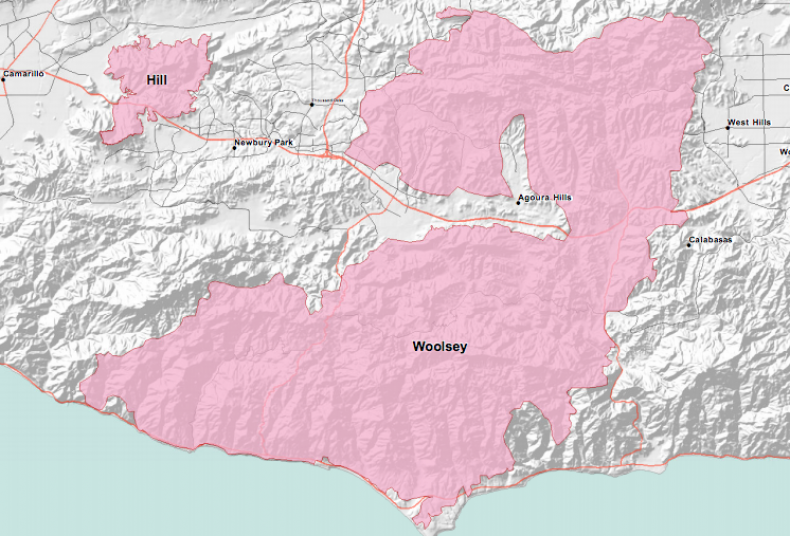 California Governor Jerry Brown credited the spread of the deadly wildfires to climate change and asked President Donald Trump for a major disaster declaration so federal resources could be used for emergency relief.
"This is not the new normal," he said, according to the Sacramento Bee. "This is the new abnormal, and this new abnormal will continue certainly in the next 10 to 15 years."
The cause of the three fires is still under investigation.