California Wildfires Map Update: Holiday, West Fire, Other Blazes Prompt State of Emergency
At least seven wildfires are currently active in the state of California, prompting Governor Jerry Brown to declare a State of Emergency Saturday for for Santa Barbara County. Earlier this week Brown did the same for Siskiyou and San Diego counties.
Brown said he issued a State of Emergency because, "This fire has destroyed homes and continues to threaten additional homes and other structures, necessitating the evacuation of thousands of residents and," his emergency proclamation read. "This fire has caused power outages, forced the closure of roadways, and continues to threaten critical infrastructure."
At least one person has died as a result of the California wildfires.
Unless otherwise specified, all information and official updates have been aggregated from the California Department of Forestry and Fire Protection (CAL FIRE) and the federal government's Incident Information System (INCIWeb).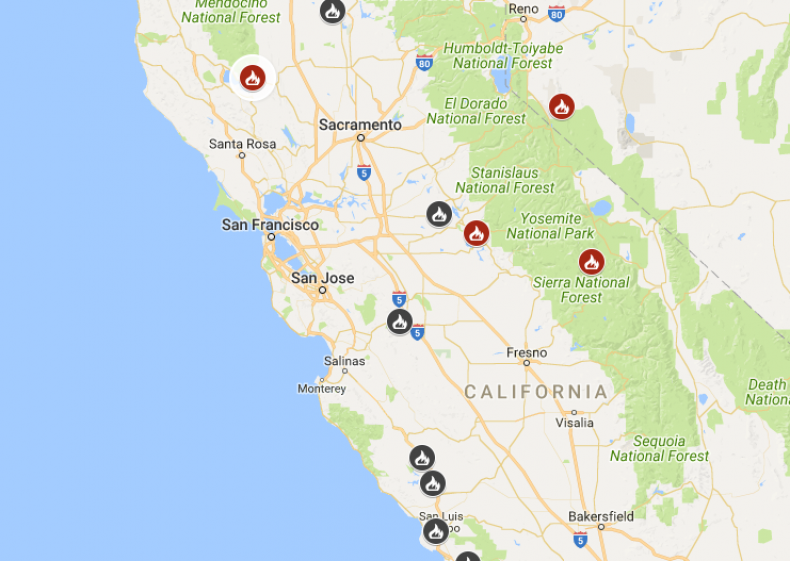 Siskiyou County saw 15 structures destroyed since a fire burned what was last reported to be 21, 803 acred burned in the area. Officials contained five percent of the fire and a small segment of the fire broke off into Oregon. 1,083 personnel have been on the scene since the fire began Thursday afternoon, and officials think there are high chances the forest will spread into nearby Forest Zones. Evacuated areas include the communities of Hornbrook, Hilt, Irongate Reservoir, Iron Gate Estate, and residents straddling the northern state line of California and Oregon. Earlier coverage of the Klamathon fire can be found here.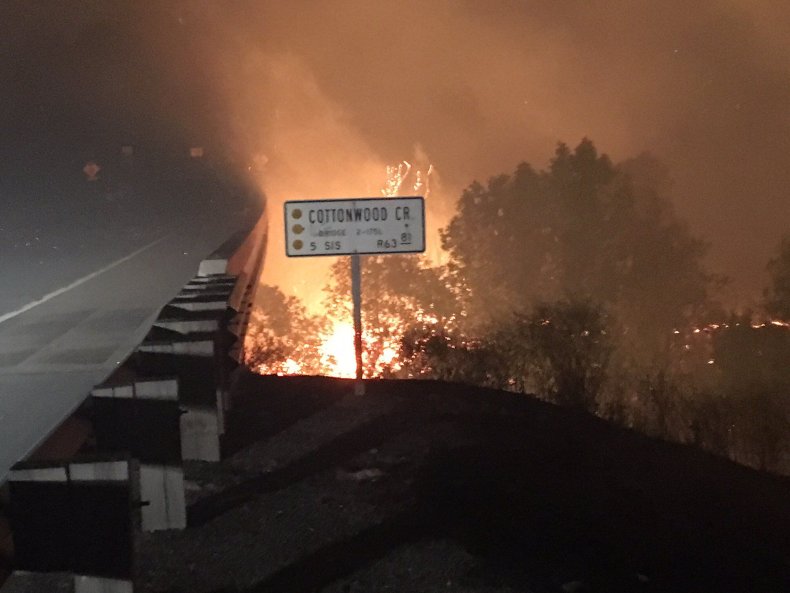 A two-week long fire in Lake County is now 95 percent contained, and evacuations were lifted by the Sheriff on Wednesday. Resources are staying throughout the day on Saturday to maintain control of the area.
Started last Saturday and burning approximately 88,375 acres, a Saturday morning update from Cal Fire reported almost half of the fire was contained. A portion of State Highway 16 has been closed between Rumsey Hall and State Highway 20. Residents west of the highway, north of County Road, and South of the Yolo County line have been asked to evacuate the area.
A fire slightly southeast of Sacramento is 50 percent contained since the area was ablaze Friday afternoon. Burning through 790 acres, evacuations thus far include only Willow Creek Ranch Estates.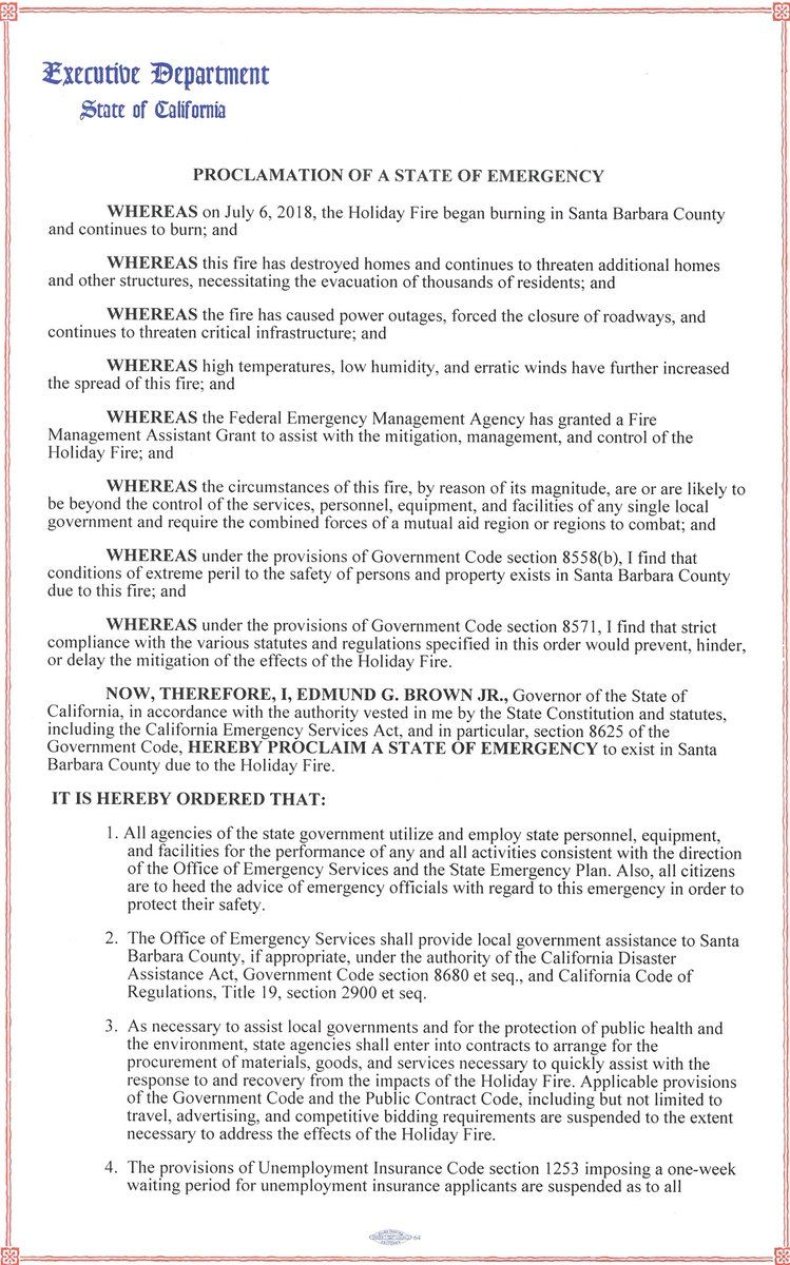 Holiday Fire
350 personnel have been assigned to address a fire that started Friday night, according to a tweet on Saturday morning from a Public Information Officer sharing information on the Santa Barbara County Fire. The fire has burned through 50 acres since officials have coordinated a Goleta Valley Community Center a safe place for people to evacuate, and was five percent contained on Saturday morning. The fire is taking place in what Governor Jerry Brown declared a state of emergency across Santa Barbara County.
Updated late Saturday morning, The Valley Fire started at approximately 1:30 PM on Friday. Currently zero percent contained, the fire is currently 1,000 acres in size and moving into the San Gorgino Wilderness. A smoke advisory has been issued by the issued by the Southern California Air Quality Management District (SCAQMD).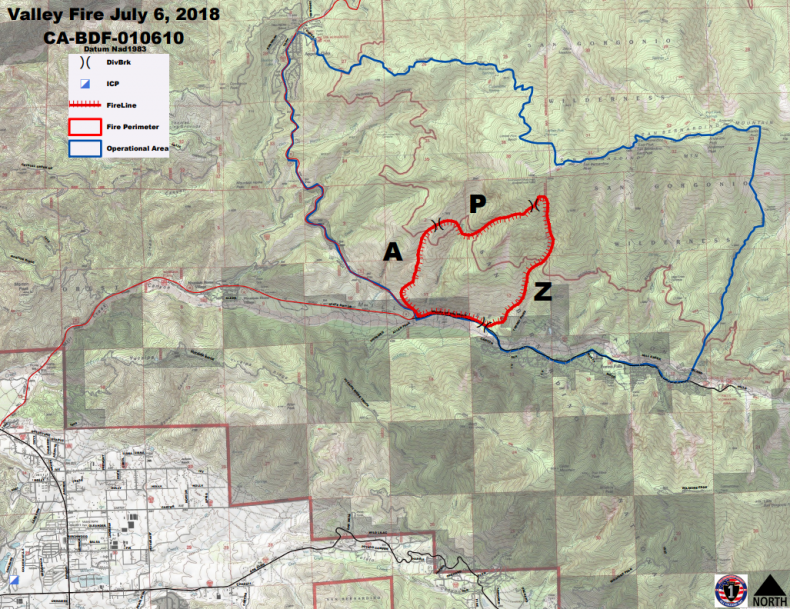 Individuals were urged to immediately evacuate from the Alpine Oaks Estate to the Viejas Casino by San Diego County officials Friday night. So far the wildfire that started near midnight destroyed 18 structures and 400 acres of land. It was 18% contained based on an update on Saturday morning, and roads have remained closed as of Saturday afternoon.