California Wildfire Map Update: Where Are The Fires Still Burning Near Los Angeles?
Millions of Californians around Los Angeles are bracing for evacuation as wildfires sweep the region and forecasters warn that the worst flames are yet to come.
Wildfires have dashed through a California county north of Los Angeles, forcing the evacuation of 27,000 people and destroying more than 85 square miles of land. The disaster started with the Thomas Fire on Monday evening before four other fires started Tuesday afternoon.
In Los Angeles, strong winds have carried smoke and ash through the San Fernando Valley and along northwest Los Angeles County. Officials have instructed the region's hundreds of thousands of residents to stay indoors as much as possible, even if they cannot smell smoke outdoors.
"It is difficult to tell where ash or soot from a fire will go, or how winds will affect the level of dust particles in the air, so we ask all individuals to be aware of their immediate environment and to take actions to safeguard their health," said Jeffrey Gunzenhauser, the county's acting health officer.
Firefighters were able to contain small blazes Tuesday night, but the larger flames are proving difficult to stop. The Creek Fire has consumed 11,377 acres, and the original Thomas Fire has already charred 50,000 acres and eluded containment, the Ventura County Fire Department reported.
"We had a very rough night," Ventura County Fire Chief Mark Lorenzen said. "We were leapfrogging along, protecting structures."
The cause for the fires has not been determined, but officials said extremely dry conditions in California have led to several blazes in the past few months. The National Weather Service said Thursday is expected to be the worst day for firefighting since the forecast is indicating high winds and dry weather.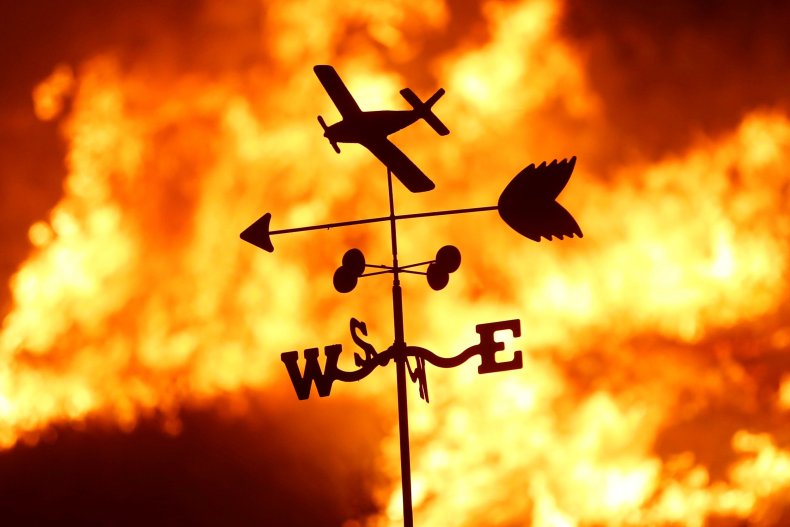 Extreme winds, which are predicted to reach 40 to 60 miles per hour through the county, are helping the fire move quickly and knock down power lines and trees, according to the Los Angeles office of the National Weather Service.
The most recent fires are still small when compared with the October fires that burned more than 128,000 acres of land in Napa Valley—about eight times the size of Manhattan—and killed 31 people. Officials are continuing to update emergency communication systems with information on the growing wildfires.