There are currently eight wildfires, more than 100 acres in size, ablaze in California. See below for maps, containment information, pin points and evacuation measures in the areas concerned.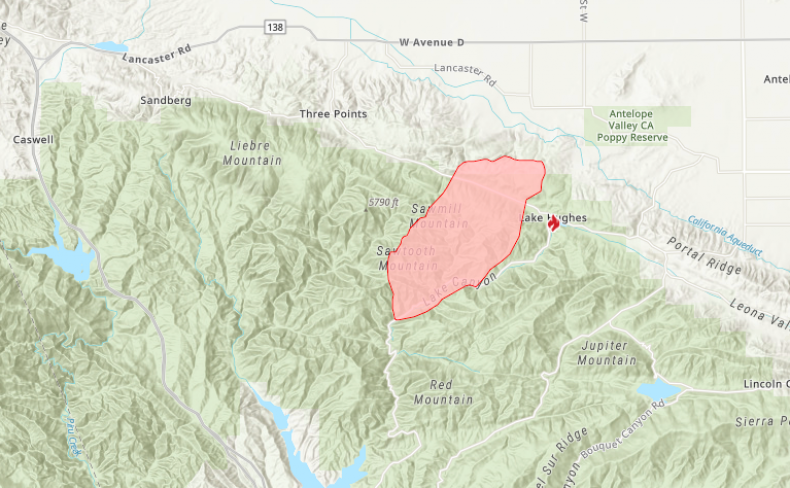 Lake Fire, Lake Hughes
The Lake Fire is one of the most critical infernos in California right now. Starting on Wednesday afternoon, it has reached a size of 11,000 acres. It was only five per cent contained at the time of writing.
Location: Lake Hughes Rd and Prospect Rd, southwest Lake Hughes.
Pin point: Lat 34.679402, long -118.451917
Evacuation: Evacuations of more than 500 homes have been ordered around the areas of Lake Hughes Road, Lake Elizabeth Road and West Trail Mountain View Road, as well as areas south of Highway 138, including Pine Canyon. Evacuation centers have been set up at Highland High School, 39055 25th Street West Palmdale and
Castaic Sports Complex, 31230 Castaic Rd.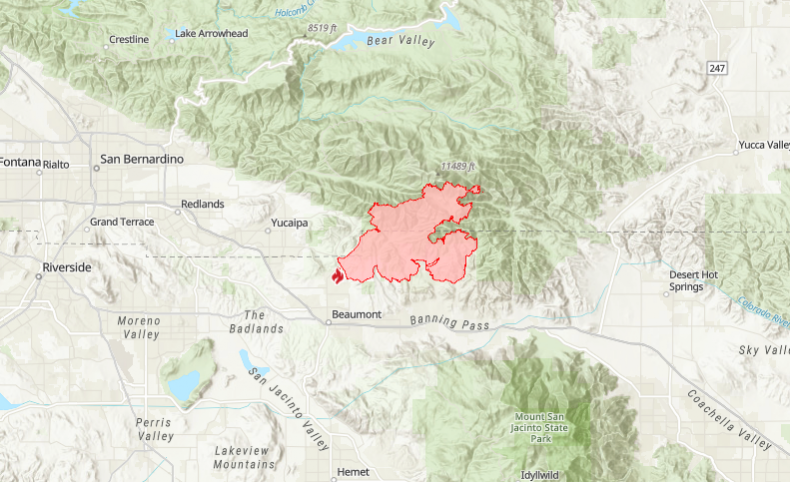 Apple Fire, Cherry Valley
The largest area affected in California by an active fire is due to the Apple Fire, east of Los Angeles, which was 33,000 acres and started at the end of July. It is now 90 percent contained. During the blaze, the Vallecito Fire Crew saved the largest oak tree listed on the National Register of Big Trees from going up in the fire. More than 1,300 firefighters, plus helicopters dumping waster water got the fire under control.
Location: off of Oak Glen Road and Apple Tree Lane, North of Cherry Valley.
Pin point: Lat 33.990352, long -116.963678.
Evacuation: Evacuation warnings are no longer in effect.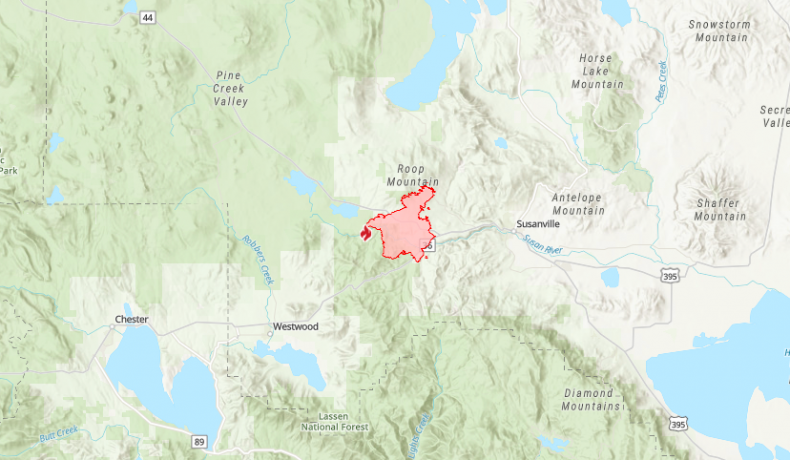 Hog Fire, West of Susanville
One of the least critical on the list is the Hog Fire, which is currently 98 percent contained, but more than 9,000 acres of land have been burned.
Location: Hog Flat Reservoir, West of Susanville.
Pin point: Lat 40.420886, long -120.86375
Evacuation: Residents in the area are no longer required to evacuate.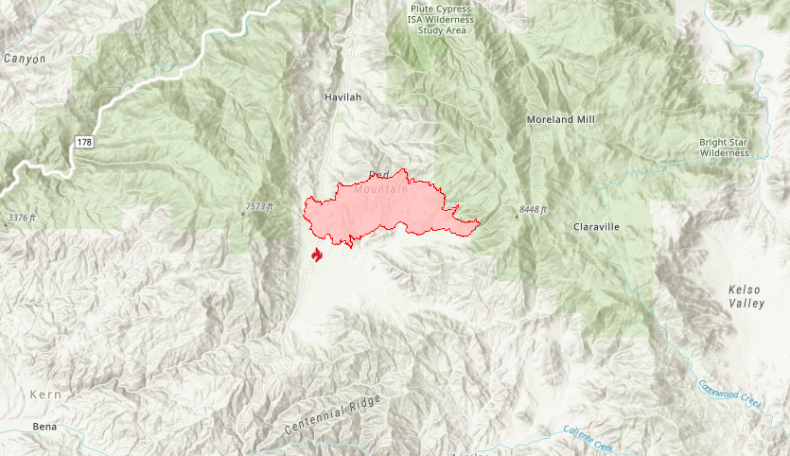 Stagecoach Fire, Kern County
This fire is almost completely contained, and due to drop off the active fires lists, but did affect an area of 7760 acres. One firefighter suffered a medical emergency and passed away while fighting the Stagecoach Fire.
Location: Stagecoach Drive and Piute Meadow Road South of Lake Isabella in Kern County.
Evacuation: People in the area are no longer required to evacuate.
Pin point: Lat 35.43044, long -118.53361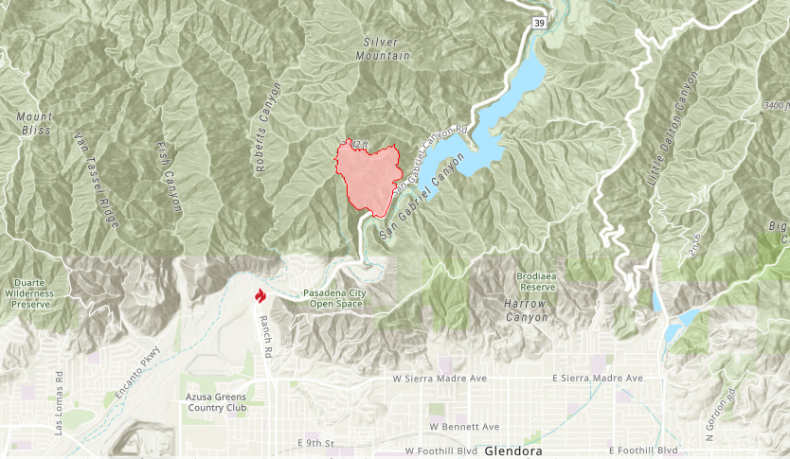 Ranch Fire, Azusa
Highly active, zero percent contained so far, 3000 acres have been set ablaze. Firehawk helicopters worked with firefighters on the ground to steer the fire away from homes in the area.
Location: North San Gabriel Canyon Rd and Ranch Rd, San Gabriel Canyon
Pin point: Lat 34.160265, long -117.910498
Evacuation: Residents of Mountain Cove no longer have to evacuate as the fire has changed direction.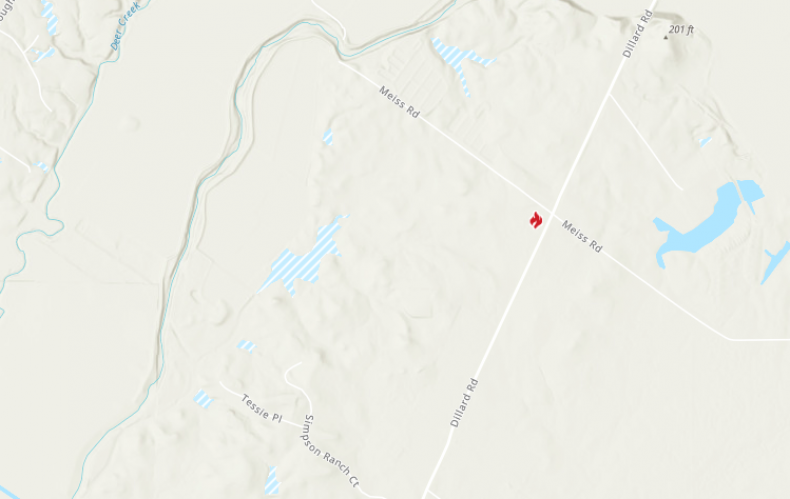 Meiss Fire, southwest of Rancho Murieta
Around 500 acres have been burned in this grass fire, but the blaze is now 60 per cent contained thanks to a quick call to firefighters and a fast response time by the authorities. Fire crews remain on scene extinguishing hot spots and securing containment lines.
Location: Dillard Rd and Meiss Rd, Sacramento County.
Pin point: Lat 38.474502, long -121.172572
Evacuation: Not necessary at this time.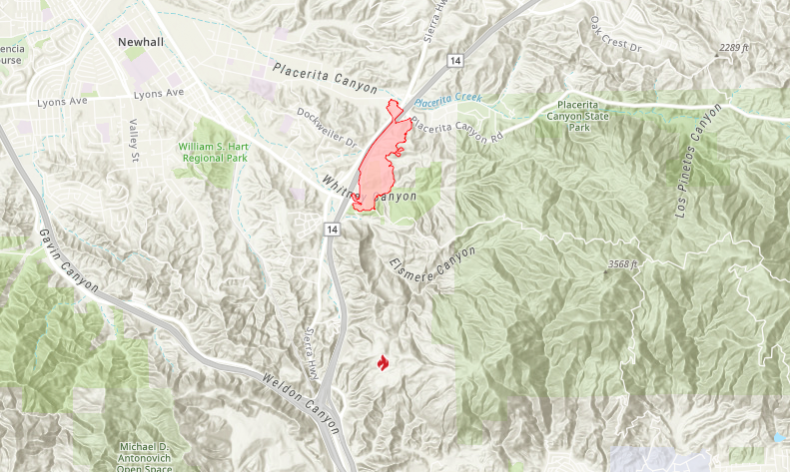 Elsmere Fire, Newhall
Currently 30 percent contained the Elsmere Fire has affected 200 acres. When it started at the beginning of August, it was a fast moving fire, but no structures were damaged or destroyed.
Location: Elsmere Grapevine Rd and Santa Clarita Truck Trail.
Pin point: Lat 34.3428, long -118.49731
Evacuation: A brief evacuation order was in place, but no longer necessary. "We did call our Search and Rescue team to be on hand. They did assist in earlier evacuations but there are none active at this time. It remains a monitoring situation," said Clarita Valley Sheriff Station spokesperson Shirley Miller.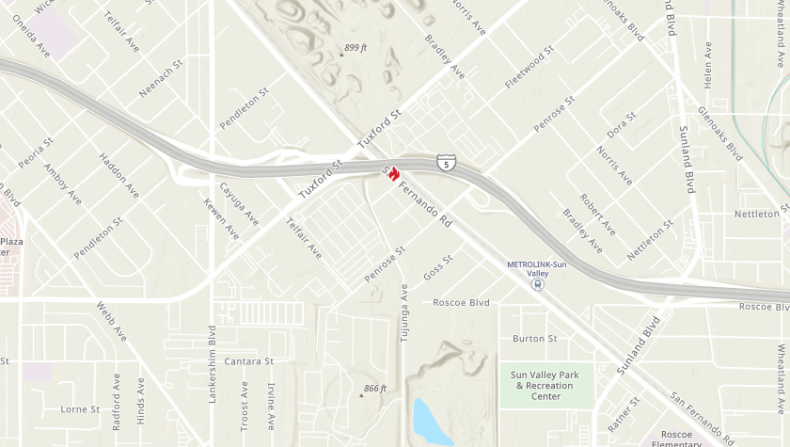 Post Fire, South of Gorman
Approximately 120 acres have been burned in this brush fired, which severely slowed traffic on the NB I-5 due to its proximity to the freeway, and roads were later blocked in the area. It is currently 35 percent contained and 300 firefighters stopped the fire from spreading. No one was injured and no homes were damaged.
Location: NB I-5 and High way 138, Los Angeles County.
Pin point: Lat 34.22664, long -118.37949
Evacuation: Roads were temporarily blocked in the area.
California wildfire season usually runs between August and September when temperatures are high, and there are winds.
According to the California Department of Forestry and Fire Protection, around 6,060 fires have burned some 227,349 acres in the state in 2020.
The National Fire Protection Association says there are a number of things you can do to protect your home from wildfires. Advice includes clearing debris from around your properties, removing flammable materials like firewood stacks and propane tanks to 30 meters of your house, and keeping your lawn hydrated. Plus, creating an emergency evacuation plan, in case you need it. More tips and advice can be found here.