Multiple wildfires continue to burn thousands of acres in California, with evacuation orders in place across the state.
Residents in Sierra County, Los Angeles County, Stanislaus County, and Napa County have been issued mandatory evacuation orders, as others have been told to prepare to leave their homes if conditions worsen.
Loyalton Fire
The Loyalton Fire has now burned 39,725 acres and is 10 percent contained.
A mandatory evacuation order has been put in place for the area of Sierra Brooks, effective immediately. An evacuation advisory has been issued for the City of Loyalton and homes on the south side of Highway 49 west of Loyalton to Lombardi Point, and residents should be prepared to evacuate if conditions change.
Mandatory evacuation orders remain in effect for Balls Canyon Road, Long Valley Road, and Copperfield, and advisory evacuation orders remain in effect for the areas of Cold Springs and Bordertown, Chilcoot and Vinton, and the area of Highway 49 and 70 south to Loyalton, and to the east side of Highway 49.
All evacuation orders in Lassen County have been lifted and residents are allowed to return to their homes.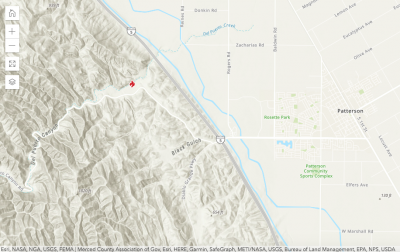 Lake Fire
The Lake Fire had burned 19,026 acres with 38 percent containment as of Monday at 10 p.m. PDT. The fire is burning on the Angeles National Forest near Lake Hughes and is moving northwest towards 100-year-old fuels consisting of Big Cone Douglas Fir, Oak, and Gray pine.
Mandatory evacuations are in place at Lake Hughes Road West of Pine Canyon and North of Dry Gulch Road, East of Ridge Route Road West of Lake Hughes Road and Fire Station 78 North of Pine Canyon and Lake Hughes Road South of SR-138 and 4,570 structures remain threatened.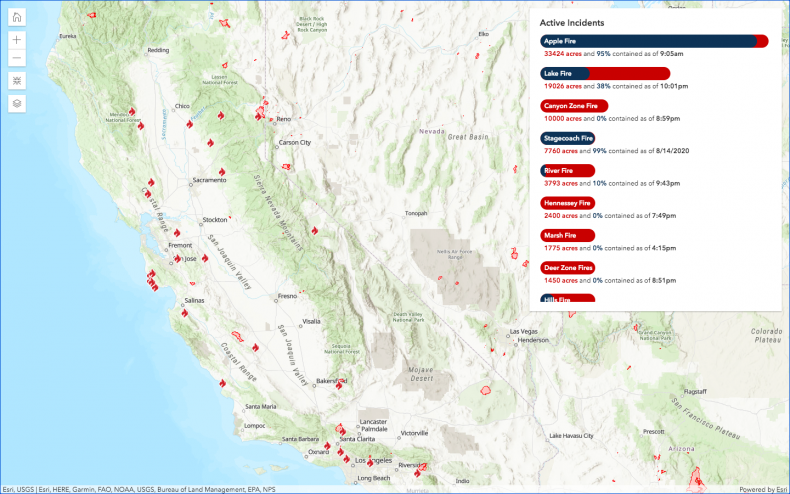 Canyon Zone Fire
Six fires make up the Canyon Zone Fire in the Del Puerto Canyon area and they have collectively burned 10,000 acres and are 0 percent contained.
Del Puerto Canyon Road is under an evacuation order and an evacuation advisory was issued for the Diablo Grande community on Monday evening. An evacuation center has been set up at Creekside Middle School in Patterson.
River Fire
The River Fire has burned 3,793 acres and is 10 percent contained. There are Evacuation Orders in place at Pine Canyon Rd, Parker Rd, Laurel Ln, and Trimble Hill Ln.
An evacuation advisory has been issued South of River Rd from Tara Dr. to Pine Canyon Rd, Southwest of Parker Rd, Northwest of Corral del Cielo Rd and Rana Creek, southeast of the intersection of Chualar River Rd and River Rd, northwest of Limekiln Rd/Creek, Harper Canyon Area, all areas north of San Benancio Rd, west of Troy Ln, southeast of Harper Canyon Rd, to include Harper Canyon Rd, Weather Rock Way, and Rimrock Canyon Rd.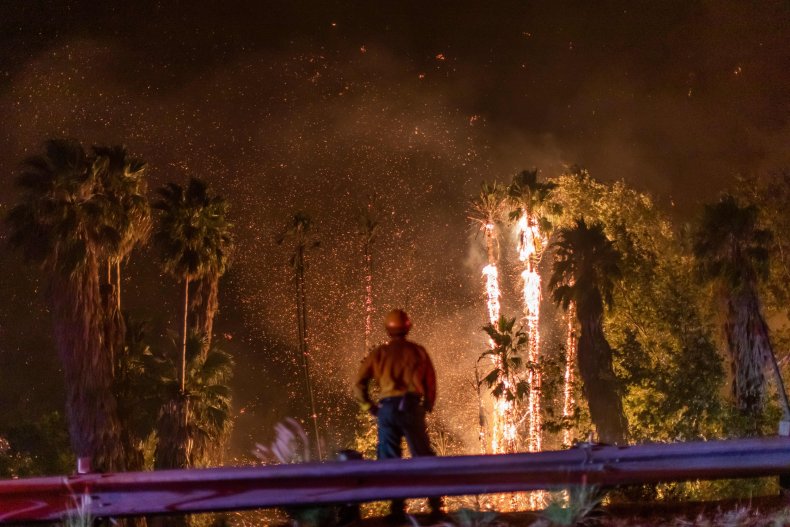 Hennessey Fire
The Hennessey Fire has burned 2,400 acres and is 0 percent contained.
Evacuation orders are in place at Highway 128 from Lower Chiles Valley Road to Monticello Road, Highway 128 from Chiles Pope Valley Road to Lower Chiles Valley Road, Chiles Pope Valley Road from Highway 128 to Lower Chiles Valley Road, and all of Hennessey Ridge Road.
Evacuation warnings have been issued to Highway 128 at Silverado Trail to Chiles Pope Valley Road, including the Pritchard Hills Area, and Highway 128 at Lower Chiles Valley Road to Turtle Rock.
Holser Fire
The Holser Fire has burned more than 1,500 acres but the fire is not predicted "to make any major runs through the night," according to the Ventura County Fire Department.
The fire is burning in a remote area at the Holser Canyon in the unincorporated area of Piru, and is moving east toward Los Angeles County.
An evacuation warning has been issued for Piru Canyon Road, North to Lake Piru, South to Highway 126, excluding the community, East to the LA County Line, and West to Piru Canyon Road.