California Wildfire Map, Updates on Loyalton Fire, Brentwood Fire, Azusa Fire
California is experiencing several major wildfires amid a record-breaking heatwave. Thousands of acres have been burned and evacuation orders are in place across various counties, including Los Angeles and Monterey.
The National Weather Service forecasts that the heatwave will continue across the west coast of the U.S. for the next few days, with excessive heat warnings and heat advisories in place.
Record high temperatures are forecast and the persistent heat and dry conditions will also promote wildfires across the region. Additionally, thunderstorms could produce dry lightning that could lead to the development of additional fires.
Loyalton Fire
The Loyalton Fire has burned 20,000 acres so far and is 0 percent contained. The Loyalton Fire originated east of the town of Loyalton and southwest of Mount Ina Coolbrith and is burning north and east adjacent to the areas of Beckwourth Pass and Hallelujah Junction.
There are evacuation orders in place at the intersection of Red Rock Road and Hwy 395 to the State line, Scott Road on the north side of Hwy 70, from the intersection of Hwy 49 and 70 east to Hwy 70 and Hwy 395, Hwy 395 south to the state line, (this encompasses everything south of Hwy 70 and west of 395), the north side of Hwy 70 and the east side of Hwy 395.
Brentwood Fire
The four Deer Zone fires near Brentwood in Contra Costa County have burned 400 acres and are 0 percent contained.
There are mandatory evacuation orders for all of Morgan Territory Road and all of Marsh Creek Road, on both sides, from the intersection with Morgan Territory road going east to the Round Valley Regional Preserve parking lot.
Azusa Fire
The Ranch Fire near Azusa in Los Angeles County has burned 2,256 acres and is 7 percent contained. A man accused of starting the Ranch Fire has turned himself in and is currently in police custody.
Evacuation orders were lifted on Friday and no injuries or structural damage has been reported.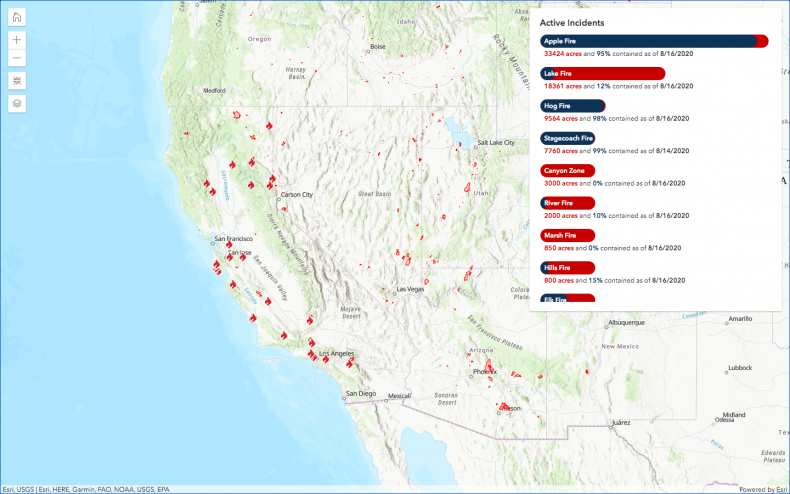 Lake Fire
In Los Angeles County, 18,361 acres have been burned in the Lake Fire, which is currently 12 percent contained.
Evacuation orders are in place at Lake Hughes Road West of Pine Canyon and North of Dry Gulch Rd, East of Ridge Route Road, West of Lake Hughes Road, and Fire Station 78, North of Pine Canyon and Lake Hughes Road, and South of SR-138.
River Fire
In Monterey County, 2,000 acres have been burned and the River Fire is 10 percent contained.
Evacuation orders are in place at Pine Canyon Rd, Parker Rd, Laurel Ln, and Trimble Hill Ln, and evacuation advisory issued at Indian Canyon, Mt. Toro Access Rd & San Benancio Rd from Troy Lane to Corral de Tierra, including Corral del Cielo Rd, Lucie Lane, and Covie Lane.
Canyon Zone Fire
In Stanislaus County, 3,000 acres have been burned and 0 percent of the Canyon Zone Fire is contained.
Marsh Fire
The Marsh Fire has burned 850 acres in Santa Clara County and 0 percent of the Marsh Fire has been contained.
Hills Fire
The Hills Fire in Fresno County has burned 800 acres and is 15 percent contained.
Elk Fire
The Elk Fire has burned 727 acres and the fire in Glenn County is 50 percent contained.
California Fires Mostly Contained
July Complex Fire
The July Complex Fire started on July 24 and has burned 83,261 acres. It is currently 97 percent contained and there are now 15 active fires in the Modoc National Forest.
A mandatory evacuation for Tionesta remains in place, though several other orders have been lifted.
Apple Fire
In Riverside County, 33,424 acres were burned in the Apple Fire, which has now been active for 16 days and is currently 95 percent contained. There are no evacuation orders in effect.
Hog Fire
The Hog Fire in Lassen County has been active for 29 days and 9,564 acres have been burned. It is 98 percent contained and all evacuation orders and warnings have been lifted.
Stagecoach Fire
The Stagecoach Fire in Kern County has burned 7,760 acres and is 99 percent contained. There are no evacuation orders or warnings in place.
Cal Fire said that in Northern California in August, the lower grass-dominated areas will return to normal due to the lack of wind events and that upper elevations will experience above-normal large fire potential.
In Southern California, Cal Fire said that normal fire potential is expected across the region during the outlook period, except across the coastal areas and adjacent ranges where below normal fire potential is expected.