California Wildfire Map: Where 4 Fires are Burning as Blistering Temperatures Reach day 4
At least four wildfires are currently burning across California, as the state faces its fourth day of extreme heat conditions.
According to a map from Cal Fire, there are currently four active wildfires in the state including the Rock Fire in Shasta County; the Dairy Fire in Tehama County; the Kathryn Fire in Riverside County; and the Flats Fire in Riverside County.
The Flats Fire, which is burning approximately 10 miles southwest of La Quinta, Calif., is the largest of the four, as it has burned at least 341 acres and is currently 85 percent contained, according to data from the National Interagency Fire Center. Fire officials reported on the InciWeb national wildfire information system that the Flats Fire's size was reduced from 400 acres on Wednesday "due to more accurate mapping." The Flats Fire was first reported on June 13, according to Cal Fire.
According to the National Interagency Fire Center, the Dairy Fire, which is located seven miles south of Willows, Calif., has burned approximately 165 acres and is currently 30 percent contained.
Data from the Cal Fire incident map shows the Rock Fire, near Redding, Calif. has burned approximately 108 acres and is currently 65 percent contained, while the Kathryn Fire, located in Riverside County, has burned approximately 15 acres and is 25 percent contained.
The Dairy Fire, Rock Fire and Kathryn Fire were all first reported on June 15, according to Cal Fire.
A screenshot shown below from the Cal Fire website shows the four different fires burning in the state. The active fires are shown with a red icon.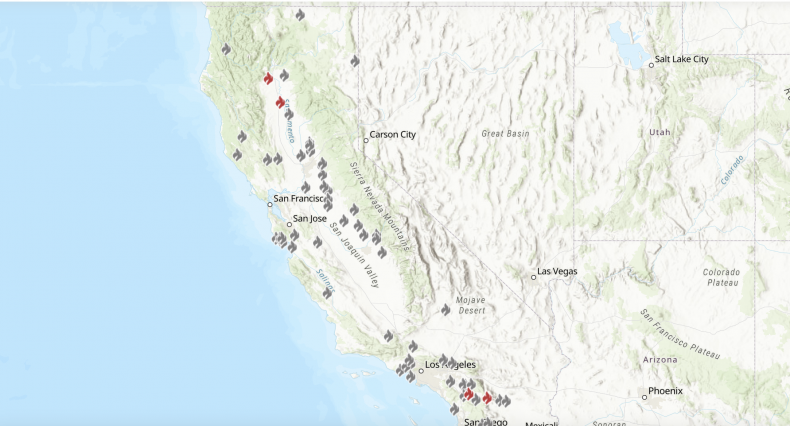 The wildfires across California come amid a wave of extreme heat in the state over the past several days, with high temperatures expected to continue through Sunday.
The National Weather Service in Los Angeles reported numerous record-breaking temperatures in areas such as Palmdale, Lancaster and Sandberg. All three cities reached triple-degree temperatures on Wednesday, surpassing previous records set in 1961.
In a tweet on Wednesday, the National Weather Service Prediction Center announced that a total of 46.5 million residents in California and surrounding states were placed under a heat advisory or excessive heat warning.
According to Cal Fire, since the start of the year, at least 19,070 acres have been burned from wildfires in the state.
While speaking with Newsweek, Cal Fire public information officer Lynnette Round said, "as of our last year that we had with the 2020 fire siege we did realize that of course resources are always necessary...our governor did approve 1,400 extra firefighters that we have re-hired and trained and they're on the front lines now helping us."
"We need to be extra vigilant and prepared as we always are and ready for wildfire because at any time they can ignite and since it is so dry and this week we are having a heatwave, we're extra prepared," Round told Newsweek. "Because if something were to break, we want to get our resources on it quickly and extinguish it."