10 Devastating California Wildifire Photos That Show the Destructive Impact of the 2019 Blazes
Fires in Northern and Southern California spread rapidly on Thursday, causing devastation across miles of land in both regions of the state.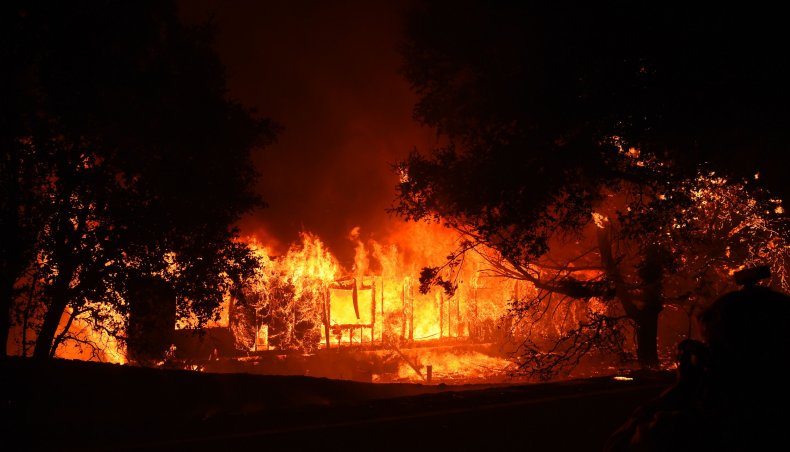 Along with the flames, plumes of smoke from the fires stretched across miles of sky, prompting people to share photos and videos of the destruction. Others shared horrifying images of homes burned to the ground.
In Northern California's wine country, the Kincade Fire expanded from a 10,000-acre blaze to one covering 16,000 acres in Sonoma County by Friday morning, according to California's Department of Forestry and Fire Protection (Cal Fire). The fire, tracking some 25 square miles, led officials to mandate evacuations for about 2,000 residents living in the nearby town of Geyserville.
Despite hundreds of firefighters being positioned in the area, they managed to contain only 5 percent—an estimated 800 acres—by Friday.
"It's outpacing us," Amy Head, Cal Fire battalion chief, told San Francisco Chronicle. "We're just trying to keep up with it and bump ahead of it. It's growing very rapidly in a short amount of time."
While there were no reports of injuries or fatalities, the fire damaged or destroyed 49 structures and homes by Friday. As for the vineyards, two buildings at deLorimier Winery's Crazy Creek Vineyard in the Alexander Valley were damaged by the flames on Thursday. The Sonoma County Vintners organization told Newsweek it was monitoring further damage to wineries.
"Sonoma County Vintners is in contact with Cal Fire, county officials and our wine community. We are monitoring the status and impact of the Kincade Fire in the northeast area of Sonoma County," said Michael Haney, executive director of the organization. "At this time, we have no confirmation of significant winery damage in the affected area."
Meanwhile, in Southern California two fires erupted, resulting in 40,000 people having to leave their homes in Santa Clarita, in the foothills north of Los Angeles County. The Tick Fire, which has blackened 3,950 acres of land since it started on Thursday, was only 5 percent contained by Friday morning.
The Tick Fire, initiated by brush catching fire, is responsible for the destruction of six homes so far, but there is concern that number may soon rise as the fire rages on while wind speeds remain high.
When the Tick Fire first started, wind speeds across Los Angeles reached 20 miles per hour, with wind gusts tracked at 40 miles per hour. The National Weather Service reported that wind gusts, caused by the Santa Ana winds, had increased overnight.
"Strongest #SantaAnaWinds will continue to be focused across LA/Ventura counties this morning with gusts 40-65 mph, strongest in the mountains. Very rapid fire spread and extreme fire behavior possible with new ignitions. #TickFire #LAweather #CAwx," the department wrote on Twitter on Friday.