California Wildfire Smoke: Map, Health Concerns With Air Quality Levels
California's recent wildfires have caused an influx of smoke not only across the state but across the country.
Following the recent string of wildfires, which began on November 8, the air quality in California diminished. On Thursday, the Environmental Protection Agency (EPA) reported Yuba City and Marysville, California, in the northern part of the state, had the worst air quality and had a value of 369 on the Air Quality Index (AQI). Also discovered to be in the hazardous air quality category was Gridley, California, which had an AQI of 367.
Hazardous air conditions are classified on the AQI scale as value indexes between 301 and 500. During a period of time when the air is considered hazardous, residents with heart or lung disease, older adults and children should stay indoors and be as inactive as possible. The EPA recommended no one venture outside when the air is such poor quality.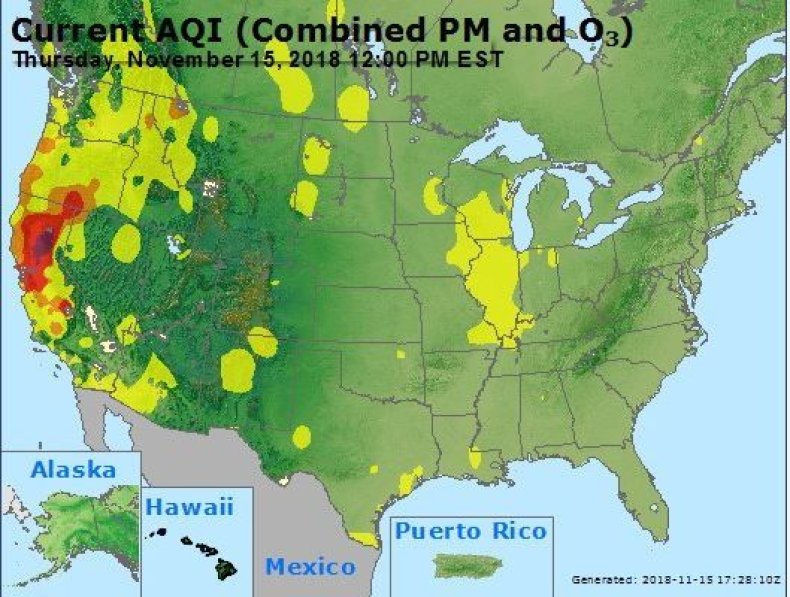 The areas of Chico, California, Sacramento, California, and Arden-Arcade, California, all had a very unhealthy air quality at 242, 229 and 215 respectively. To put the numbers in perspective, the AQI tops out at 500.
When air is considered to be at a very unhealthy level, people with heart or lung disease, older adults and children should avoid outdoor activities. Very unhealthy air is considered to be air that ranges from 201 to 300 on the AQI.
Visibility has also been affected by the increase in smoke and during hazardous conditions visibility will be less than three-quarters of a mile. When air quality is very unhealthy, visibility is reduced to under 1.25 miles.
A map released by the National Oceanic & Atmospheric Administration (NOAA) showed the worst of the smoke to be near San Francisco and Sacramento, California, with between 60-100 micrograms of smoke per cubic meter of air.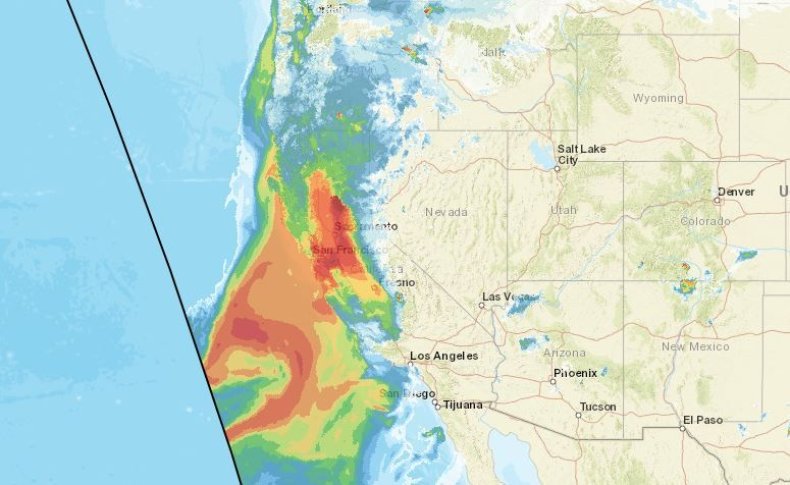 On Wednesday, the Butte County Air Quality Management District and the Butte County Public Health Department issued a joint air quality advisory to inform the public of the poor air quality and potential health hazards. The advisory said unhealthy to very unhealthy conditions are possible through the weekend because the Camp Fire is still active.
The statement explained that everyone could experience discomfort from the reduction in air quality, but people who are young, elderly, pregnant, smoke or have a respiratory condition are at greater risk for more aggravated symptoms. Coughing, watery and itchy eyes and difficulty in breathing were categorized as aggravated symptoms.
Along with remaining indoors, the joint advisory recommended that all residents keep doors and windows closed as much as possible and wear a mask rated N-95 or better if they have to go outside. Although it may seem like a quick way to clear a property, the joint advisory told residents to not use leaf blowers to clean away ash because airborne ash can have negative health consequences.
California isn't the only state feeling the effects of the wildfires and maps released by the NOAA on Monday showed smoke caused by the wildfires traveling across the United States to Maine.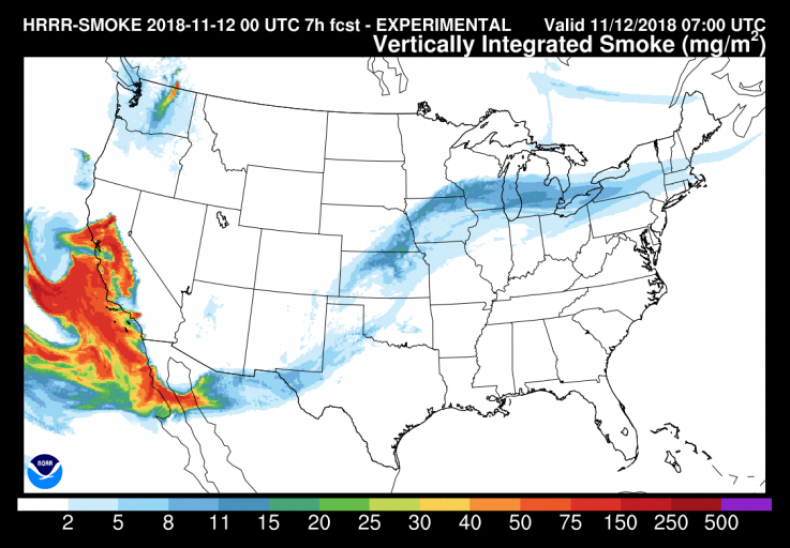 Wildfire smoke is a mix of gasses and fine articles from various materials including burned vegetation and building materials, according to the Centers for Disease Control and Prevention (CDC). Along with remaining indoors, the CDC recommended residents avoid adding to indoor pollution.
Ways residents can add to indoor pollution is by burning candles or fireplaces. Vacuuming can also stir up harmful particles that are already in a person's home, so it's best to avoid cleaning.
The Camp Fire began on November 8 in Butte County, California. It has since burned 140,000 acres, according to the California Department of Forestry and Fire Protection. Burning farther south in the state is the Woolsey Fire, which also broke out on November 8. Since it began, it's burned 98,362 acres in Ventura County and Los Angeles County.