California Wildfire Smoke: What Is an N95 Smoke Mask? How Long Does It Last? How Do You Use It?
Wildfire smoke in California has reached harmful levels, prompting officials to recommend residents remain indoors or wear a protective mask to protect against air pollution.
Air in parts of California reached very unhealthy and hazardous levels after a series of wildfires ravaged the state. To protect against the potential health danger, the California Governor's Office of Emergency Services (Cal OES) advised residents to wear a mask. However, not all face masks offer the same amount of protection and Cal OES specifically recommended a mask rated N95.
The N95 mask, formally called an N95 particulate filtering facepiece respirator, is one of seven particulate filtering facepiece respirators and the most common, according to the Centers for Disease Control and Prevention (CDC). The respirator filters out 95 percent of airborne particles to help protect lungs from damage.
Masks are sold at hardware stores and pharmacies, although several stores in California experienced a shortage in their inventory when the fires sent an influx of customers. The proper mask will have the word "NIOSH," written on it to indicate that it has been approved for use by the National Institute for Occupational Safety and Health. For masks that protect best against wildfire smoke and ash, it will also have either "N95" or "P100" printed on it.
Some residents opted to use paper or surgical masks for protection after they were unable to find an N95 respirator. However, the California Department of Public Health said those masks and bandanas will not offer lung protection. Unlike the paper masks that have two straps that go around a person's ears, the N95 mask has two straps that are designed to go around the user's entire head.
To use the mask, a person should place it over their nose and under their chin. One strap should sit below the ears and the other above. Then, a person should pinch the metal part of the mask to tighten it on their nose.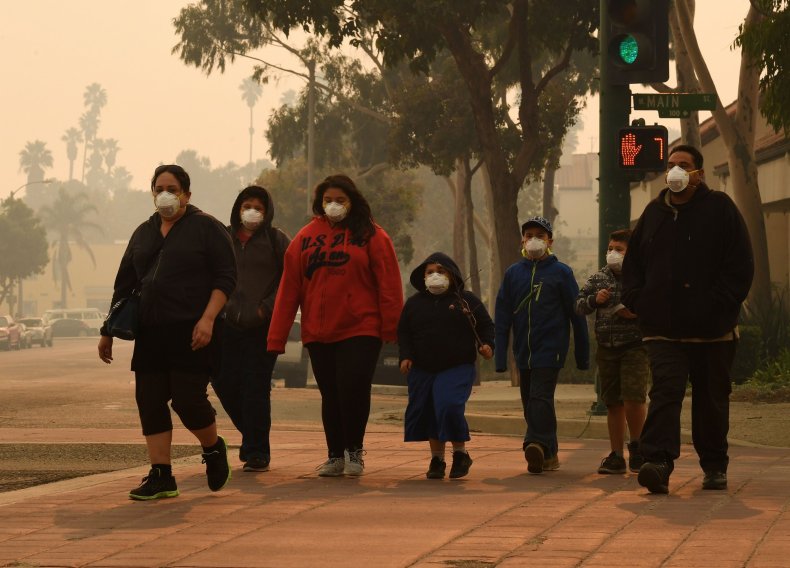 The longer a mask is worn, the harder it will be to breathe and the California Department of Public Health advised people to throw masks away if it gets hard to breathe or dirty. If possible, a new mask should be worn each day.
While masks can help prevent health complications that come from wildfire smoke, wearing one can be harmful for people who already have trouble breathing because it makes it even more difficult.
On Sunday, Sacramento, California, officials announced that N95 masks would be handed out in response to the smoke caused by the Camp Fire in Butte County, California. After handing out about 67,000 masks, city officials announced on Thursday that the program would end soon because they were unable to obtain additional masks.
Since breaking out on November 8, the Camp Fire burned through 142,000 acres in northern California. Almost 10,000 homes were destroyed as of Friday morning, according to the California Department of Forestry and Fire Protection. Butte County Sheriff Kory Honea reported 63 people lost their lives, making the Camp Fire the deadliest in the Golden State's history.
Burning farther south in California is the Woolsey Fire, which also broke out on November 8. Since it began, it's burned through 98,362 acres and claimed three lives. Over 600 structures were destroyed by the flames, which were 69 percent contained on Friday morning.
Smoke from the flames was found as far east as Massachusetts, although it was most abundant throughout California. Wildfire smoke can cause anyone to become sick, according to the CDC, although people who are young, elderly, pregnant or have preexisting respiratory and heart conditions are more at risk. Immediate health effects include:
Coughing
Trouble breathing
Stinging eyes
Scratchy throat
Chest pain
Headaches
Fast heartbeat
The best way to prevent having health problems caused by wildfire smoke is to remain indoors as much as possible and keep doors and windows closed.