California Wildfire Smoke Is so Severe It's Visible From Space
The National Oceanic and Atmospheric Administration has captured images from 23,000 miles above the Earth which show thick plumes of smoke streaming out into the Pacific Ocean from the massive Kincade wildfire currently raging in California.
The images—snapped by the GOES-17 satellite—highlight the scale of the fire which has now spread to cover an area of more than 50,000 acres and is only five percent contained, according to the California Department of Forestry & Fire Protection (CDFFP.)
The National Weather Service has warned that a combination of strong offshore winds alongside very dry conditions is creating "potentially historic" fire conditions across parts of California. And on Sunday, California Governor Gavin Newsom declared a state of emergency in response to the natural disasters.
Alongside the Kincade fire in Sonoma County, several other blazes are currently raging in various parts of the state. These include the Tick and Saddle Ridge fires which have burned nearly 5,000 and 9,000 across respectively in Los Angeles County.
"Critical and extreme threats are likely to persist in north-central and southern California through midweek," the NWS said in a statement.
The Kincade Fire—located northeast of Geyserville, Sonoma County—has grown rapidly in just four days, fuelled by strong winds in the area.
"A Red Flag warning will continue through Monday morning," a statement from the CDFFP issued on Sunday read. "Forty-fifty mile per hour wind gusts are still a possibility throughout the evening while narrow roads and steep terrain are making access to the fire areas very difficult."
"These Northeast winds coupled with low humidity create critical fire weather conditions. Firefighters will continue to mitigate structure threats and find opportunities construct control lines," the statement read.
The National Weather Service issues Red Flag warnings—the highest level of alert—for weather events which could cause "extreme fire behavior" within 24 hours. Residents living in areas where a watch should exercise extreme caution, because even a tiny spark can ignite a major wildfire.
So far, fires in the state have forced the evacuation of nearly 200,000 people and led to widespread blackouts after Pacific Gas & Electric shut off the power supply to around 1 million customers, CNN reported.
In a statement, Governor Newsom said the statewide emergency was declared due to the effects of "unprecedented high-wind events" which have resulted in fires and evacuations across California.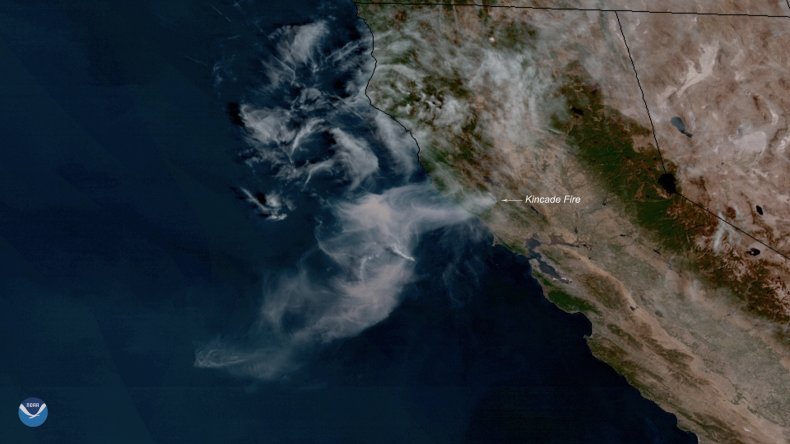 "We are deploying every resource available, and are coordinating with numerous agencies as we continue to respond to these fires," Newsom said in the statement. "It is critical that people in evacuation zones heed the warnings from officials and first responders, and have the local and state resources they need as we fight these fires."
Unfortunately for Californians, there will be no let up as strong winds will continue blowing Monday through to midweek, forecasters predict.
In the previous two years, California experienced the deadliest and most destructive wildfires in its history, causing the deaths of more than 100 people and destroying thousands of homes.
Wildfires in California are not unusual, however, the length of the fire season is growing every year—a trend which scientists have linked, in large part, to climate change.