Massive California Wildfire's Spread is Slowing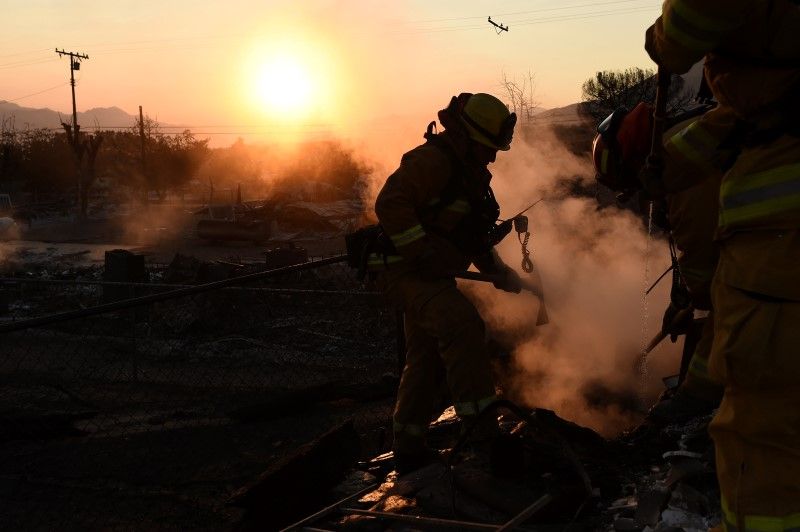 Firefighters have begun to contain a wildfire in central California which has killed at least two people and destroyed 150 homes, state fire officials said on Sunday, as six other blazes rage in the state in an already intense wildfire season.
The fire known as Erskine, now about 110 miles (180 km) north of Los Angeles, melted steel, exploded structures and reduced homes to ash, Kern County Sheriff's public information officer, Ray Pruitt, told NBC affiliate KCRA news in Sacramento.
Erskine has ripped through 36,810 acres—or nearly 60 square miles—and is 10 percent contained, California Department of Forestry and Fire Protection (Cal Fire) public information officer, Daniel Berlant, tweeted.
More than 1,700 firefighters are working on the Erskine fire at the southern end of the Sierra Nevada range, and hundreds of people from more than 10 communities have had to evacuate their homes, the California Bureau of Land Management said. As well as the homes that were destroyed, another 75 were damaged.
A total of 4,900 firefighters are in action, Cal Fire said.
By late Saturday, Erskine had shown no signs of being contained at all as crews worked in steep, rugged terrain, fighting flames fueled by hot, rainless weather and brush, grass and chaparral left bone dry by a five-year drought. Helicopters and air tankers were also in action.
"Stunning and shocking; the adjectives are difficult to find to describe the disaster that has befallen us," Kern County Supervisor Mick Gleason told a community meeting on Saturday, that was transmitted live on the Internet. "We are full bore on this thing and we're not going to stop until it's done."
California Governor Jerry Brown has declared a state of emergency for Kern County.
Dozens of people, anxious to know whether their homes had survived and concerned about potential looting, met with fire and emergency officials at the community meeting on Saturday.
Fire officials said they hoped to let people back to fire-hit areas by noon on Sunday, but warned people not to return until emergency workers screened areas for toxic materials.
The two people who died in the fire have not been identified, while their families are informed. Officials said they were investigating a third set of remains found in one badly burned structure to see whether they were human or animal.
"We have not determined at this point if those remains are human, we do have ... investigators on that scene," Pruitt told the community meeting.