California Wildfires 2018 Maps: Where the Delta, Snell and Irving Fires Continue to Burn
Firefighters in California continued to battle a number of wildfires engulfing the fire-weary state.
Officials in several counties have fought to contain the rapidly growing fires that have scorched thousands of acres of land. In Shasta County alone, fire crews have battled two fires—the Hirz and Delta Fires.
Newsweek has rounded up the latest information on California's more urgent fires.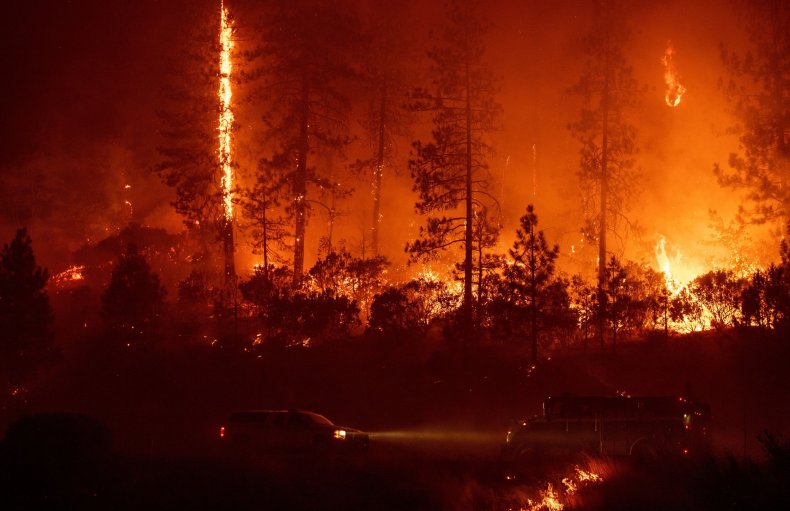 Delta Fire
Shasta and Trinity Counties
53,311 acres, 5 percent contained
In less than a week, the Delta Fire grew to more than 50,000 acres in Shasta and Trinity counties. The human-caused fire, reached 53,311 acres and was five percent contained, officials said on Tuesday.
The fire initially prompted the closure of Interstate 5, a key north-south transportation gateway in California. Officials announced that the freeway was reopened between Redding and Mt. Shasta, though travel was reduced to just one lane in each direction.
Evacuations were issued for residents living along the Interstate 5 corridor from exit 707 at Vollmers north to exit 714 at Gibson by the Shasta County Sheriff's Office. Meanwhile, the Trinity County Sheriff's Office issued a mandatory evacuation notice for anyone living on East Fork Road to Ramshorn Road east to the Shasta-Trinity county line.
More than 2,400 fire personnel were working to contain the fire.
Hirz Fire
Shasta County
46,150 acres, 97 percent contained
Before the Delta Fire ignited, the Hirz fire kept firefighters in Shasta County busy. The massive, human-caused fire first ignited on August 9 in Shasta-Trinity National Forest. Since then, the fire burned through 46,150 acres. As of Tuesday, 97 percent of the fire was contained.
A total of 248 fire personnel continued to fight the Hirz Fire. Officials said Tuesday that crews would focus on "holding and mopping up contained areas and securing the remaining uncontrolled edge of the fire near South Fork."
Snell Fire
Napa County
2,490 acres, 50 percent contained
The Snell Fire ignited in Napa County on Saturday and burned through nearly 2,500 acres, prompting evacuations and road closures. As of Tuesday, the fire had scorched 2,490 acres and was 50 percent contained.
Cal Fire announced Monday that all evacuations and road closures relating to the Snell Fire had been lifted. Residents were reminded to "stay alert and vigilant as fire conditions can always change."
More than 1,200 fire personnel, as well as 132 engines, 31 fire crews, seven helicopters, 20 dozers and 20 water tenders, are working to contain the Snell Fire.
Irving Fire
Marin County
115 acres, 35 percent contained
The Irving Fire in Marin County has only burned through 115 acres since it ignited late on Monday, but it has threatened 150 structures, according to Cal Fire. The fire, which is 35 percent contained, has threatened the communities of Lagunitas and Forest Knolls.
Despite its relative small size, the Marin County Fire Department issued an evacuation notice for residents living in Mountain King Road, Portola Avenue and Alamo down to Barranca. Residents were told to evacuate to the Lagunitas School "and wait for further information."
The Marin County Fire Department also noted that the Arroyo Road remains closed.