California Fires Cause 'Hazardous' Air Quality as People in Affected Areas Told to Stay Inside
Dust storms and smoke from recent wildfires continue to affect the San Francisco Bay Area, Los Angeles Area and San Joaquin Valley, some of which were reported to have extremely dangerous air conditions.
According to an official San Francisco Bay Area smoke outlook report for Tuesday and Wednesday by the Wildland Fire Air Quality Response Program: "Dispersion will be good for most areas impacted overnight by lingering smoke. The exception will be adjacent to the fire along 101. Major areas of impact today will be Santa Rosa, Healdsburg, and Guerneville. The Napa Valley East to the Sacramento Valley should see improved AQ [air quality] by early afternoon. Expanded smoke production will affect regional air quality into midweek.
"Denser smoke for short periods can aggravate symptoms for sensitive persons without changing overall 24 hour AQI levels," it adds.
Speaking to Newsweek, Bill Magavern, policy director at Coalition for Clean Air, said: "Fires are causing unhealthy air quality in parts of California this morning [October 28], with the highest levels of fine particulate matter in the North and East Bay Area because of the Kincade Fire."
"Some unofficial sensors on the PurpleAir network are showing air quality numbers in those areas that are over 400, which indicates highly hazardous emergency conditions. Fine particulate matter causes heart and lung disease and premature death, among other adverse health outcomes. In addition, a debris fire in the Coachella Valley has led to a smoke advisory there.
"People in the affected areas should stay inside as much as possible," he added.
The air quality reading on PurpleAir had reached as high as around 582-640 in one spot near East Windsor, just outside Santa Rosa, an area affected by the massive Kincade Fire. Any readings above 401 indicate "health warnings of emergency conditions if they are exposed for 24 hours. The entire population is more likely to be affected."
AirNow, which provides real-time data (ozone & particle pollution) in the form of an Air Quality Index (AQI) for the U.S. and parts of Canada, currently shows California's Calexico and Imperial Valley areas have an AQI of 163, which indicates an unhealthy level of air quality where "everyone may begin to experience health effects" while "members of more serious groups may experience more serious health effects."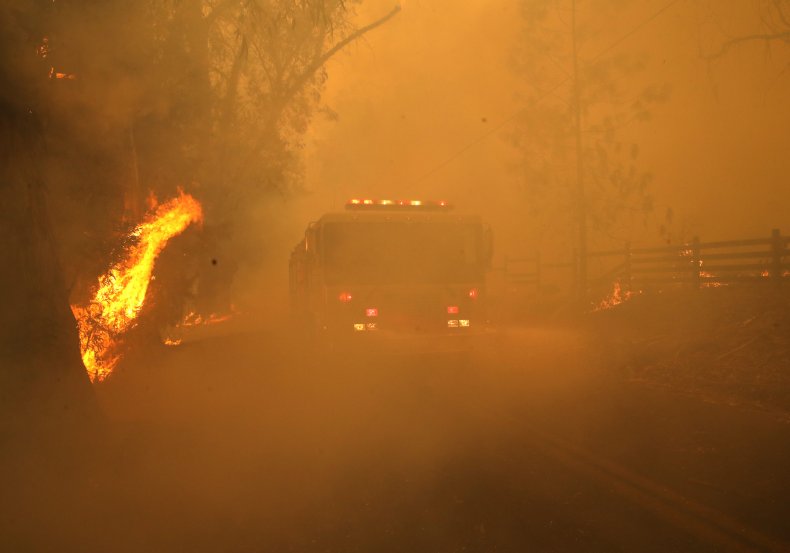 Dave Clegern, public information office at the California Air Resources Board (CARB), told Newsweek that the AQI readings "give you a sense of the health risks/dangers associated with levels of air pollution...specifically, PM2.5, or particulate matter that is smaller than 2.5 microns, since those particles lodge deeply into the lungs and can enter the bloodstream."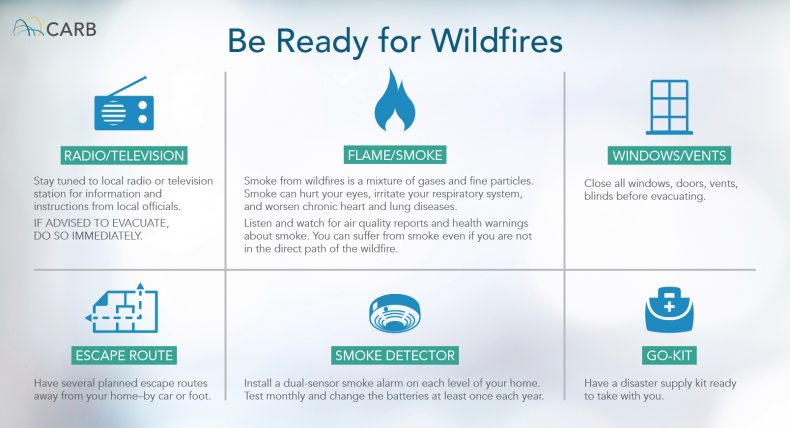 "The major concern is when the smoke from the wildfires is blown into the urban areas. This happened last year with the Bay Area and levels rose for days to very unhealthy and even hazardous. Schools and universities were closed, for example. Sacramento also suffered from extremely high levels of smoke/particulate exposure, and people were wearing masks (N95) when outdoors," he said.
Several pockets dotted within and around Santa Rosa on the PurpleAir network were also shown to have an air quality reading of the same level as AirNow's 163 AQI reading which indicates an "unhealthy level for sensitive groups," according to AirNow.
"People with heart or lung disease, older adults, and children should reduce prolonged or heavy exertion," the website states.
"These sensitive groups are advised to limit outdoor activities, especially when the Air Quality Index (AQI) reaches 'Unhealthy for Sensitive Groups.' Air quality has been reaching 'Unhealthy,' 'Very Unhealthy' and even 'Hazardous' levels in some places over the past week. Even healthy people may experience symptoms in smoky conditions or after exposure. Pets also can be affected by unhealthy air and should be brought indoors, if possible," AirNow advises.
Those affected are advised to monitor air quality reports from AirNow or the U.S. Forest Service Wildland Fire Air Quality Response Program for real-time updates on air quality in your local area, CARB states on its official website.
Wearing an appropriate respirator mask can help reduce your exposure to wildfire smoke, CARB notes.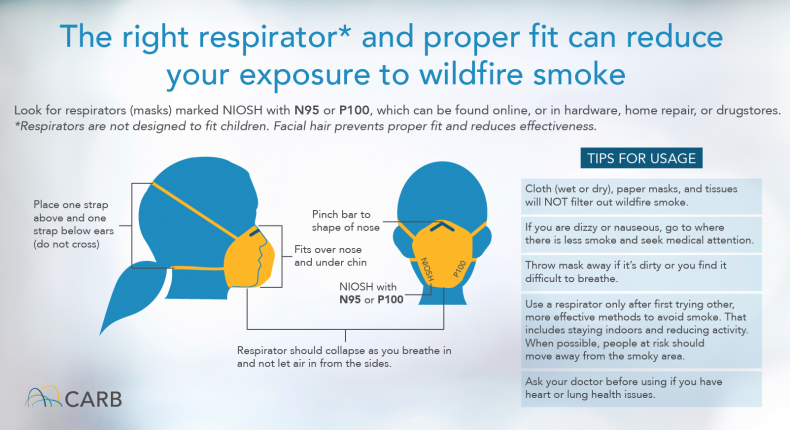 "Look for respirators (masks) marked NIOSH) with N95 or P100, which can be found online, or in hardware, home repair, or drugstores. Respirators are not designed to fit children. Facial hair prevents proper fit and reduces effectiveness," it advises.
Newsweek has contacted the Bay Area Air Quality Management District and the South Coast Air Quality Management District of the Los Angeles area for further comment on the long-term impact of the fires on air quality and residents' health.